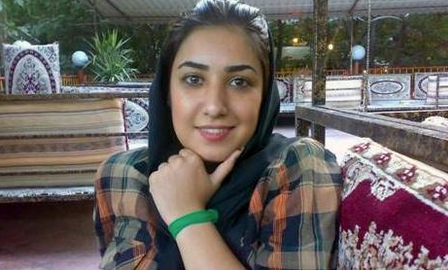 A female artist and activist serving a 12-year prison sentence in Iran is facing additional charges, including "indecent conduct," after shaking her male lawyer's hand.
Atena Farghadani, 29, was arrested in August 2014 after drawing a cartoon that depicted members of the Iranian Parliament as animals. After a trial lasting only half an hour, she was found guilty in June 2015 of multiple charges, including spreading propaganda, insulting the president and colluding against national security, according to Amnesty International.
Farghadani was sentenced to 12 years and nine months behind bars. After the trial, her lawyer, Mohammad Moghimi, shook her hand while visiting her in prison. This led to them being charged with "indecent conduct" and having an "illegitimate sexual relationship short of adultery."
"The laws on the books in Iran are a kind of arsenal or tool kit always available for use by the authorities in their efforts to suppress any form of expression they don't approve of," Elise Auerbach, Iran country specialist at Amnesty International, told The Huffington Post.
The additional charges were handed down in June, but Farghadani's case is receiving renewed media attention after The Independent ran an article about her on Wednesday. Amnesty International told HuffPost the organization is not aware of any updates to Farghadani's case in the months since she was sentenced.
Auerbach said that a "typical" sentence for "indecent contact between unmarried people of the opposite sex" is "74 lashes." She noted that was the sentence handed down to Mohammad Ali Taheri, a spiritual leader who touched the wrists of women in his group.
Both Farghadani and her lawyer are set to face trial at some point, but Auerbach did not know when, and noted that the date may not even be announced beforehand.
When Farghadani was initially arrested in August 2014, she was incarcerated until November. After she was released, she recounted in a YouTube video and interviews the brutal treatment she had suffered in detention, including beatings and 9-hour interrogations. Amnesty International believes she was re-arrested in January 2015, and ultimately convicted, because she talked openly about her prison experience.
Related
Popular in the Community