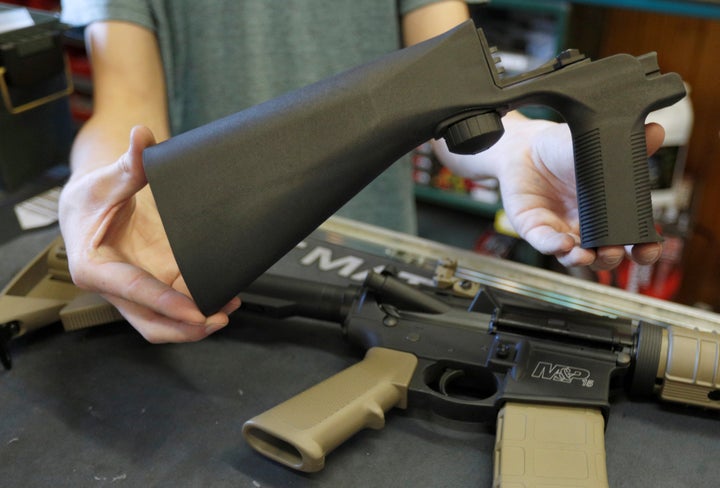 WASHINGTON ― The head of the federal agency tasked with regulating firearms said Wednesday it does not have direct authority to regulate or ban bump stocks ― devices that allow semi-automatic weapons to function like machine guns ― but is looking into whether can reclassify them as firearms to regulate them under existing law.
The Bureau of Alcohol, Tobacco, Firearms and Explosives, or ATF, initiated a new review of the legality of bump stocks with the Justice Department on Tuesday. Over two months ago, a gunman used weapons retrofitted with the devices to kill 58 people and injure more than 500 others at a country music festival in Las Vegas.
The review is likely to take months, however, and it's unclear whether the agency can impose restrictions on firearm accessories without aid from Congress.
"If that wasn't a possibility, in the end, we wouldn't initiate the process," ATF Acting Director Thomas Brandon told lawmakers at a Senate Judiciary Committee hearing on Wednesday.
But Brandon conceded it was equally possible for the agency to complete its monthslong review, which includes a 30-day public comment period, and come to the conclusion that it cannot regulate the devices without an update in federal law. The admission prompted one Republican senator to suggest a legislative solution instead.
"Congress exists actually to move forward sometimes more quickly, and I think it's something we should all look at, rather than wait several months and find out we may have to act to specifically focus on the bump stock issue," Sen. Thom Tillis (R-N.C.) said.
Democrats have introduced several bills banning bump stocks in the immediate wake of the Las Vegas shooting, including one with bipartisan support in the House. The effort stalled, however, after the National Rifle Association, the powerful gun lobbying group, said the matter ought to be handled via existing regulations rather than through new laws, prompting Republicans to back down.
The ATF already told Congress, in 2010 and 2013, that it cannot take action on bump stocks. The agency's decision to review the matter yet again is likely to delay action and bury it further in the mind of the public. Meanwhile, manufacturers of bump stocks have resumed sales of the devices after a brief suspension, with at least one offering a Black Friday sale over the Thanksgiving holiday.
"Legislation is the only answer and Congress should not attempt to pass the buck by waiting for the ATF," Sen. Dianne Feinstein (D-Calif.), the ranking Judiciary Committee member, said in a statement. "Congress banned automatic weapons more than 30 years ago. It should also ban new devices that allow semi-automatic weapons to mimic machine guns. This should be a no-brainer and is the least we could do in the wake of the deadliest mass shooting in U.S. history."
During the hearing on Wednesday, senators also expressed concern about gaps in the National Instant Criminal Background Check System, or NICS, after a Texas man who should not have been allowed to purchase a weapon due to a domestic violence conviction did so. He opened fire on a church in the city of Sutherland Springs, killing 26 people, including children.
Senate Majority Whip John Cornyn (R-Texas), who is working on bipartisan background check legislation, said Wednesday that the system had a "huge, gaping hole" and that the government "just simply [has] to do better."
Meanwhile, House Republicans are expected to vote Wednesday on legislation that would address the NICS system and expand the ability of out-of-state visitors to carry concealed guns in places like Los Angeles or New York City, effectively overriding strict state and local prohibitions. It is the first gun bill to receive a vote in Congress since the mass shootings in Texas and Nevada.
Popular in the Community