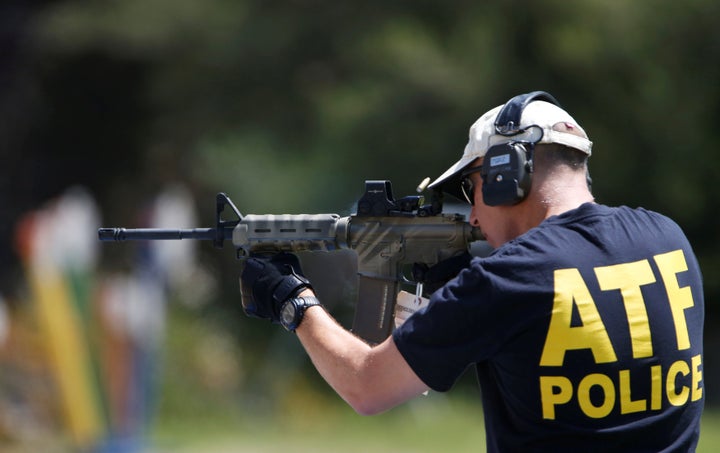 The U.S. gun industry has grown explosively over the past decade, leaving the federal agency responsible for regulating it, the Bureau of Alcohol, Tobacco, Firearms and Explosives, struggling to keep up with the rising flow of guns into the civilian market. And if the ATF stumbles, it could mean serious consequences for public safety.
Production at U.S. gun companies more than doubled under the Obama administration, with manufacturing totals going from 5.5 million firearms in 2009 to 11.5 million in 2016, the latest year for which federal data are available. Gun sales appeared to go up by similar margins over that period. At the same time, the number of federally licensed gun dealers increased by about 9,000, topping out at 56,754 in 2016, while the number of federally licensed firearms manufacturers more than tripled, according to the ATF.
The ATF's budget, which includes funds for monitoring the network of gun manufacturers, wholesalers and dealers, has increased only slightly amid the recent boom, and it has remained unchanged at $1.25 billion over the last few years. The agency hasn't had a Senate-confirmed director since 2015, and, as The New York Times reported on Thursday, the National Rifle Association has been part of a campaign to ensure that the ATF remains a small agency grappling with a wide-reaching set of duties, including prosecuting gun crimes, combating gun violence and trafficking, and regulating firearm commerce in the U.S.
"As an organization, personnel wise, ATF is smaller than the Broward County Sheriff's department, which would be law enforcement in the Miami area," said David Chipman, a former ATF agent who now serves as senior policy adviser for the Giffords Law Center to Prevent Gun Violence. "The last aircraft carrier cost $13 billion, so that'd be like 10 years of ATF budgets."
In 2016, the ATF employed 821 industry operations investigators, who were in charge of regulating more than 100,000 federal firearms licensees, or FFLs. These agents periodically inspect gun dealers and manufacturers to make sure their businesses comply with federal law. ATF investigators review paperwork at gun stores to confirm sales have been legally conducted and properly recorded, so firearms can be traced if they're used in a crime. For gun manufacturers, the ATF examines inventory and transaction records to make sure the company has distributed its products according to the law.
"The inspector comes in, they take a sample of the forms ― the key is it's got to be a random sample because they're not looking at them all ― he looks for troubling answers that shouldn't be there. If he finds them, he tries to get them resolved or he refers them to law enforcement to get resolved," said Howard Wolfe, a former ATF supervisor.
By catching illegal sales, straw purchases and other improper dealings, these inspections keep guns out of the hands of those who are not allowed to own them. The inspections also allow the ATF to proactively identify and crack down on the relatively small number of bad actors who are responsible for a disproportionate number of crime guns.
"Although most gun dealers are law abiding and their compliance is pretty good, when you have a dirty dealer, they can push out so many guns into the criminal market quickly, so you'd want to be on top of that immediately," Chipman said.
But with meager resources and no law specifying how frequently the ATF must inspect firearms licensees, or even mandating that it conduct the inspections at all, the agency is fighting to keep up. From 2007 to 2012, the ATF failed to inspect 58 percent of all FFLs, according to a 2013 Office of the Inspector General report. In 2016, the agency estimated that it conducted 9,790 inspections, only about 7 percent of the 137,464 active licensees.
"You've got many dealers that haven't been inspected in five or 10 years, and that can have dramatic impacts," Chipman said. "I don't know about you, but I'd probably shy away from eating at a restaurant that was only health-inspected once a year."
"You've got many dealers that haven't been inspected in five or 10 years ... . I don't know about you, but I'd probably shy away from eating at a restaurant that was only health-inspected once a year."
Of those 137,000 federal licensees, more than 57,000 are firearms collectors. The ATF's failure to inspect those collectors is less of a concern to Wolfe, because they're rarely the source of guns used in crimes. But Wolfe admitted that keeping tabs on gun dealers alone remains difficult.
"The FFL license is good for three years, so ATF's goal is to get each dealer inspected once every three years, but I doubt if they're making it because there are just way more firearms licensees than there are inspectors," he said. "The more records an inspector has to look at, the harder his job is. He's got to do more statistical sampling, he's got to cut back to a number of records he can actually look at, which increases the chances that he could miss something."
Although there has been some discussion of mandating routine ATF inspections for each licensee over a certain period, Wolfe said that it would be impossible for inspectors to abide by such a standard with the agency in its current financial shape.
"The powers that be need to realize that if they demand a higher number of inspections with the same number of people, they're going to get lower quality inspections, and that means things are going to get missed," he said.
The ATF has pleaded for more funding over the past few years in order to patch up some of these holes.
"The growth in firearms commerce is an external challenge that has strained ATF's ability to meet the needs of the firearms industry and the citizens of the United States," the agency wrote in a recent budget request for fiscal year 2019.
"As the volume of firearms commerce continues to increase, the number of individual firearms records and transactions that FFLs maintain has significantly increased, leading to lengthier inspection times," the document explained.
In its request, the ATF calls specific attention to the lack of timely inspections of FFLs, saying it "presents a significant risk to public safety."
For the time being, however, the agency doesn't appear to be getting much help on the regulatory front.
President Donald Trump's recently released 2019 budget proposal requests an additional $66.6 million for the ATF. The largest increase would go to bolstering the agency's ability to process applications for equipment regulated under the 1934 National Firearms Act. These items include gun silencers, machine guns and short-barreled rifles, which have surged in popularity in the last decade.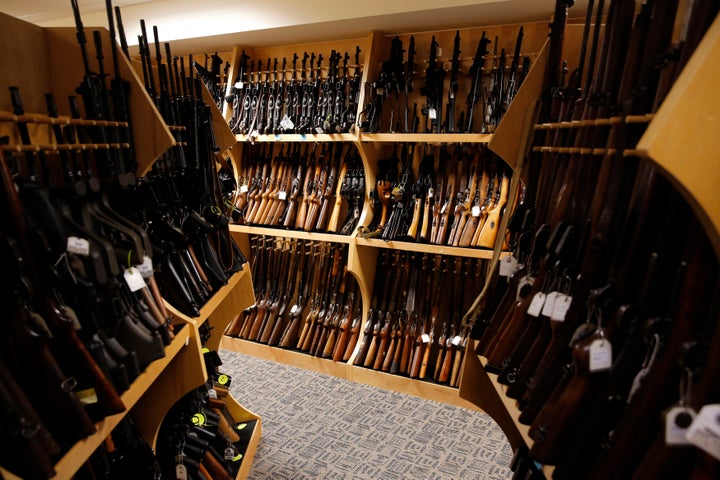 If the federal government is truly committed to addressing gun violence and responsibly regulating a rapidly growing gun industry, it could start by investing in the ATF, Chipman said.
"We can't have a strategy of trying to win gunfights and punishing people who do bad things really seriously. We have to be on the front end and work together to make sure these guns never get into the wrong hands in the first place."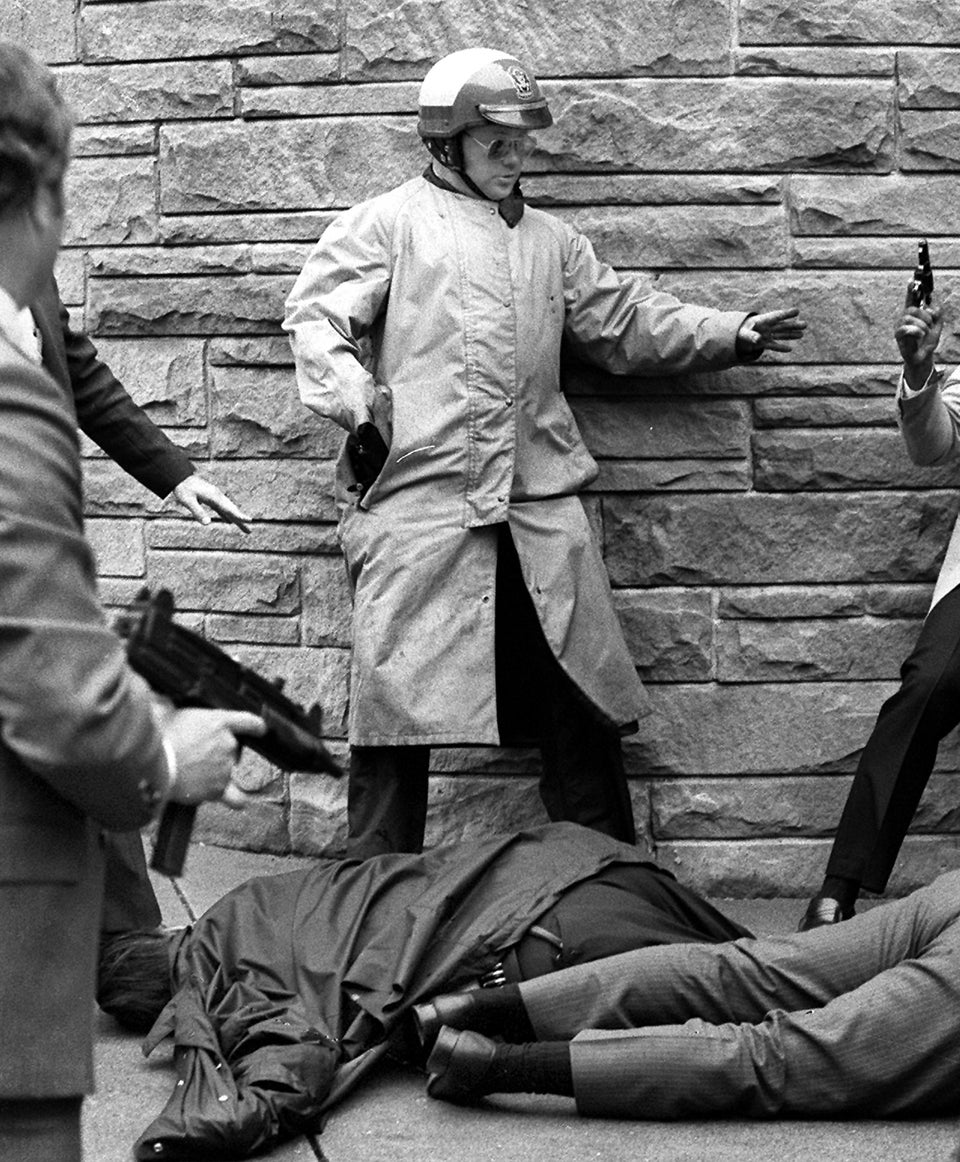 Pivotal Moments In The U.S. Gun Control Debate