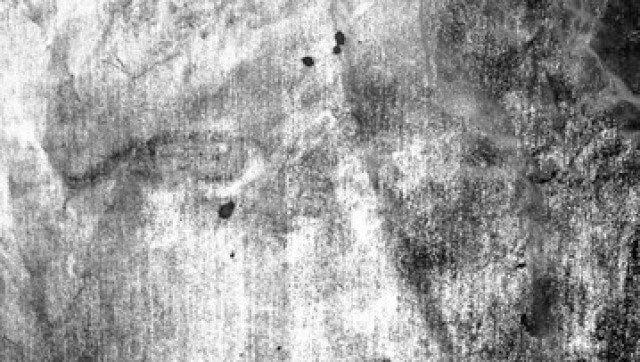 Virginia artist Athalyn Rose says she did not have this particular thing in mind when she asked for a miracle in 1998.
"What I was hoping for was prosperity and abundance," she says.
What she got was a large piece of cloth that, when painted black and backlit, contains images -- a white-winged horse, a serpent's head, angels, the Virgin Mary, Satan, an owl, a literal double-edged sword -- portending the apocalypse.
PHOTO GALLERY
Details From Athalyn Rose's 'Miracle Cloth'
In August of 1998 in Montclair, VA, an awesome miracle occurred which brought with it the ancient message from the Bible. Biblical mages strangely manifested themselves within the threads of this 9ft x 15ft muslin cloth. The life-sized main image, situated directly in the middle of this muslin, was approximately 5ft tall by 2¾ ft wide. It first appeared as an old bearded, winged white horse charging toward the viewer, as if in motion. This beautiful white horse was accompanied by three silhouetted black angels and one white angel-like image, carried upon the white horse's head. The white angel-like image wielded a cross-shaped sword, which proceeded from the angel's head section and continued downward, dividing the horse's head into two halves. A small owl was perched on a branch on the right side of the horse's right wing. The "lake of fire" was directly below the main image. (A good representation of the "lake of fire" is not fully accessible in these photos.) These images parallel Revelation 19:11 – 20:3.

This unusual painting was not painted on either side of this gigantic cloth. The images were deeply embedded within the fibers of this cloth and could only be seen if the cloth were backlit. Otherwise, the cloth remained black on both sides.
Rose says that some people have been taken aback by the "Miracle of 1998," as she calls it. "You'll have to take that up with the painter," she says. "It doesn't make me nervous at all. It's the most beautiful thing I've ever seen."
You can see for yourself. Rose's cloth -- and other artwork of mysterious provenance, including Polaroid photographs made by a Chicago bellhop who claims he created the images through thought alone -- are on display at the Maryland Institute College of Art in Baltimore until March 17, as part of the "Materializations: Uncanny Images" exhibition.
Calling all HuffPost superfans!
Sign up for membership to become a founding member and help shape HuffPost's next chapter