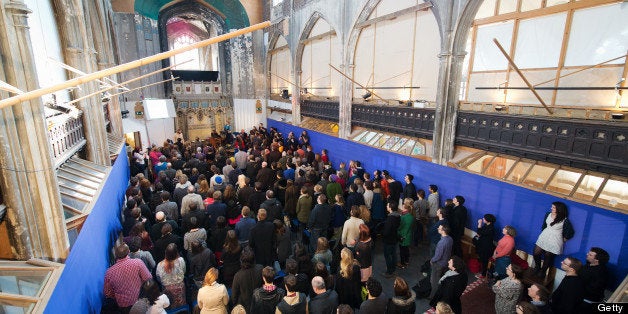 A wildly popular British atheist group that's become known as the "atheist church" is planning to give secular fellowship a shot in New York City. The Sunday Assembly, which draws about 600 people each week in London, plans a gathering Sunday at Tobacco Road, a dive bar in Manhattan. The British atheists, who launched their services in January in a deconsecrated church, currently meet in Bethnal Green's York Hall. While the United Kingdom and Europe as a whole are known to be significantly more secular than the United States, the New York atheists event is creating a buzz among the growing American secular community. (Hat tip: New York Post).
"The theme of the event is 'Coming Out' because it is the day of pride ... we've all got to come out as someone," says the event's invitation. "Expect brilliant songs, an awesome speaker, great readings and, afterwards, tea and cake with wonderful people who want to live good lives just for the hell of it."
Recent reports, such as one from the Pew Forum on Religion and Public Life, have shown that the number of religiously unaffiliated Americans is quickly growing, with one in five people saying they do not have a religion. That includes atheists as well as people who are "spiritual but not religious" and those who may believe in God but not identify with a particular religion. Atheists, meanwhile, make up a smaller minority of Americans.
"Ancient' Jewish ritual baths discovered

While their use of the word "ancient" may be slightly off, Haaretz reports that a mikvah from the late 19th century has been discovered in Chesterfield, Conn., making it one of the oldest in the country. The finding is surprising, according to historical ritual bath expert and University of Connecticut professor Stuart Miller, because the Russian Jews who settled in agricultural areas such as Chesterfield were thought to be secular, not religious, with "their socialist leanings greater than their [religious] commitment."
A slightly older mikveh, from the 1840s in Baltimore, which always had religious Jews, as well as one on New York City's Lower East Side from about 1910 (now paved over by a parking lot) had been previously identified. But this is the oldest to have been discovered outside of a major city, [Miller] said.
At the Chicago Tribune, religion reporter Manya Brachear dives into the world of child abuse among Christian missionary groups.
In recent years, dozens of adults, known in evangelical Christian circles as 'MKs,' or missionary kids, have come forward to report decades-old abuse at the hands of other missionary families or boarding school staff.

These children suffered, advocates say, either in silence out of respect for their parents' work or because their cries for help were ignored. But years later, as adults, they have coalesced into a national movement that is calling on the more than 200 evangelical mission agencies to address past physical and sexual abuse and help keep the next generation of missionary kids out of harm's way.
Boy gives first communion money to charity
Here's a sweet tale. WMFZ in Allentown, Penn. is reporting that 8-year-old Alex Trinidad, who recently had his first communion, turned over to charity the hundreds of dollars he received as gifts. Alex said he was "inspired by Pope Francis because he said 'feed the poor'" and that he feels "good because everybody gets to eat." HuffPost Sr. Religion Editor Paul Raushenbush has more details here.
Though the graduates are not the first women to take up positions as religious leaders within the Orthodox tradition, they mark the beginning of an institutionalized role for women who want to take their place as guides in their communities.
"I need to voice a serious and disturbing suspicion: that the E.U. is under the control of Satan or Satanism."
In case you missed it, the New York Times ran a front-page look at the the religious-secular divide in Europe, where religious leaders such as Roman Catholic Archbishop Stanislav Zvolensky of Bratislava, Slovakia, are bemoaning a "rising a tide of militant secularism at a time when Europe is struggling to forge a common identity."
Reports Andrew Higgins: "At a time when Europe needs solidarity and a unified sense of purpose to grapple with its seemingly endless economic crisis, religion has instead become yet another a source of discord. It divides mostly secular Western Europe from profoundly religious nations in the east like Poland and those in between both in geography and in faith like Slovakia."
The bolded quote, by the way, is from Rafael Rafaj of the Slovak National Party, which the Times describes as a "far-right nationalist party."
The American Civil Liberties Union has filed a federal lawsuit against the New York Police Department, claiming its surveillance program on Muslims amounts to religious profiling that violates the constitution.
The lawsuit, filed along with the New York Civil Liberties Union and the Creating Law Enforcement Accountability and Responsibility project of Main Street Legal Services, Inc. at CUNY School of Law, comes more than a year after the Associated Press first reported about a widespread program in which it said the NYPD spying on mosques, Islamic leaders, Muslim business owners and Islamic college groups throughout the Northeast.
The NYPD has repeatedly denied wrongdoing in the case. HuffPost New York has extensive coverage of the issue here.'
Popular in the Community