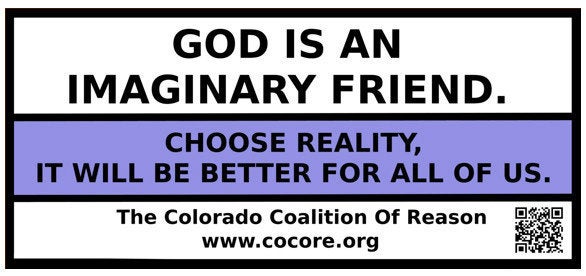 On Monday, the Boulder Atheists along with the Colorado Coalition of Reason (COCORE), will be putting up three new billboards in Denver and Colorado Springs that are sure to get the attention of believers and non-believers alike. The billboards will read: "God Is An Imaginary Friend - Choose Reality, It Will Be Better For All Of Us."
The Daily Camera reports that billboards will be located on Colfax Ave. and S. Federal Blvd. in Denver as well as along I-25 near Elkton Spring Road in Colorado Springs.
One of the reasons we put the billboard up is that we are concerned when religious people feel they have not only the right, but the obligation, to force their religious views on others. Examples are proselytizing in the military, educational systems, and government. Another example is the attacks by religious people on gays, lesbians, and abortion providers.

If you agree with the sentiments of the sign and live in Colorado, there is probably a secular organization near you. You will be surprised how much we do, both as activists and in the social arena. Most of the COCORE groups have monthly meetings, book discussions, lunches, and social activities. The Atheist Alliance of America will be having their national convention in Denver in 2012.

If you disagree with the sentiments of the sign, please don't be offended. We are more interested in opening a dialogue than upsetting you. We don't ask you to stop believing in your version of a super-natural being. We do ask that you consider not forcing your religious views on others.
This is not the first time COCORE, an umbrella organization for secular, Colorado-based groups -- of which Boulder Atheists is a member, has put up billboards like this. 7News reports that in 2008 the group paid for billboards that asked, "Don't believe in God? You are not alone." and then in 2010, the group also paid for billboards protesting the Denver City County Building nativity scene.
LOOK -- the text of the Boulder Atheist billboard: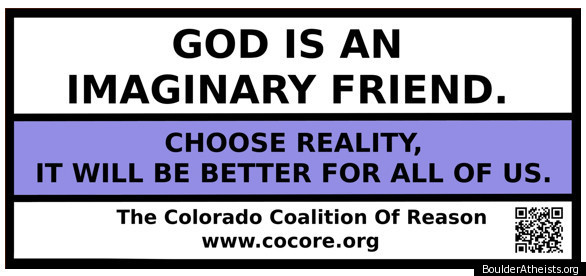 Related
Popular in the Community