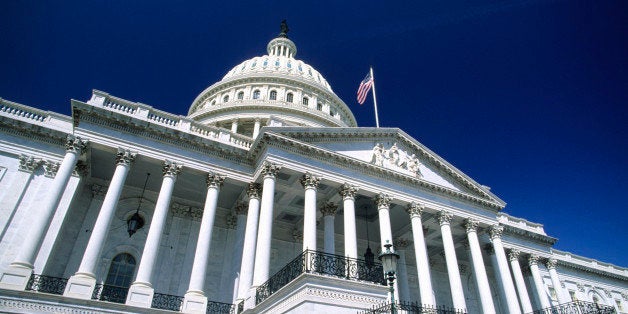 WASHINGTON -- Although a growing number of Americans say they are not affiliated with any religion, Congress has just one member who says the same. A new political action committee is hoping to level the playing field.
On Wednesday, the Center for Humanist Activism launched the Freethought Equality Fund PAC, which it's billing as the first nontheist political action committee with a full-time paid staff.
"I am pleased that we're able to meet this need for political representation for atheist, humanist, and other freethinkers," Roy Speckhardt, the group's executive director, said in a statement. "To be able to provide financial assistance to candidates who support secular government will benefit all Americans, including those who value the absence of government entanglement in religious beliefs."
The PAC will back humanist, atheist and agnostic candidates at all levels of government. Freethought's coordinator, Bishop McNeill, told The Huffington Post that it would also be open to supporting candidates who identify with a religion if they are committed to protecting the separation of church and state and defending the civil liberties of secular Americans.
Nonbelievers have expressed concerns about religious lawmakers who are hostile to legislation based on scientific research because it conflicts with their faith.
"Whether we recognize it or not, Americans are held captive to the will of Religious Right leaders who remind us of our inferior position by using the power of government to enforce laws that put truth claims about religion in front of us at every turn," Maggie Ardiente, Freethought's director of development and communications, said at the group's press conference Wednesday morning at the National Press Club. "We have to spend our tax dollars on schools in most states where educators refuse to teach that the evidence massively supports a theory of evolution that unites everything we know about biology."
The PAC has not yet endorsed anyone, but McNeill identified Reps. Judy Chu (D-Calif.), Rush Holt (D-N.J.) and Bobby Scott (D-Va.) as possibilities, as well as Democratic congressional candidates Lee Rogers in California and Will Brownsberger in Massachusetts. Officials said on Wednesday they would be open to endorsing members of either party, although right now, they're not finding many Republicans who agree with their positions.
Rep. Kyrsten Sinema (D-Ariz.) is the only member of Congress to declare herself as unaffiliated, even though about 20 percent of the public identifies that way. The 113th Congress also includes Rep. Tulsi Gabbard (D-Hawaii), the first Hindu to serve in Congress, and Sen. Mazie Hirono (D-Hawaii), the first Buddhist to serve in the Senate.
The last atheist to serve in Congress was former Rep. Pete Stark (D-Calif.), who was defeated in the 2012 elections.
Freethought believes there are at least a couple dozen closeted atheists currently serving in Congress.
"I believe that there are currently no 'out of the closet' atheists in Congress because of the negative stigma attached to the word atheist," McNeill said. "America is still one of the most religious countries in the world, and politically, its difficult to win elections if you come out as an atheist."
Data from Pew Research on the religious makeup of the current Congress, at the start of the session:
This article has been updated to include comments from a Wednesday morning press conference.
Calling all HuffPost superfans!
Sign up for membership to become a founding member and help shape HuffPost's next chapter
BEFORE YOU GO
PHOTO GALLERY
Biggest Religious Lobbying Groups