Controversy surrounding Super Bowl ads is nothing new. From the scandalous, to the silly, to the provocative, ads during footballs biggest night bombard viewers, some of whom might actually be fairly invested in what's happening on the field...Invested enough to pray, even.
This year a new brand of advertising makes its way to Metlife Stadium, and it's encouraging sports fans to do anything but pray for the teams they love.
"Prayer is superstition, plain and simple," said David Silverman, President of American Atheists, which has launched an anti-prayer billboard directly across from the Super Bowl stadium.

"It's 2014; it's time to stop believing that prayer works," Silverman said in an American Atheists press release. "Give credit where credit is due and celebrate what this is really about—coming together to cheer on hard-working athletes doing what they do best."
With the message, "A 'Hail Mary' only works in football," the billboard mocks the common Christian prayer used to ask for the Virgin Mary's intercession. Some may find the billboard to be offensive and even proselytizing, and, well, they'd be right. (The billboard also promotes the group's upcoming national convention in Salt Lake City.)
But the American Atheists aren't the first ones to use the Super Bowl to promote an ideology. Last year's Super Bowl featured a commercial sponsored by the Church of Scientology, and the year before that a pro-Bible ad that was originally rejected by Fox Sports aired unexpectedly in Washington, D.C. and Birmingham, Alabama. Both commercials contained promotional messages for the religions they supported.
The American Atheists billboard might strike some as unique in this category, though, because it uses mockery rather than inspiration to promote its message. But Managing Director Amanda Knief characterizes it differently:
"During the Super Bowl, people of all religions and atheists come together as a community. Like many in New Jersey, we at American Atheists are excited to be part of this event and with this billboard share our voice."
Support HuffPost
The Stakes Have Never Been Higher
Related
Before You Go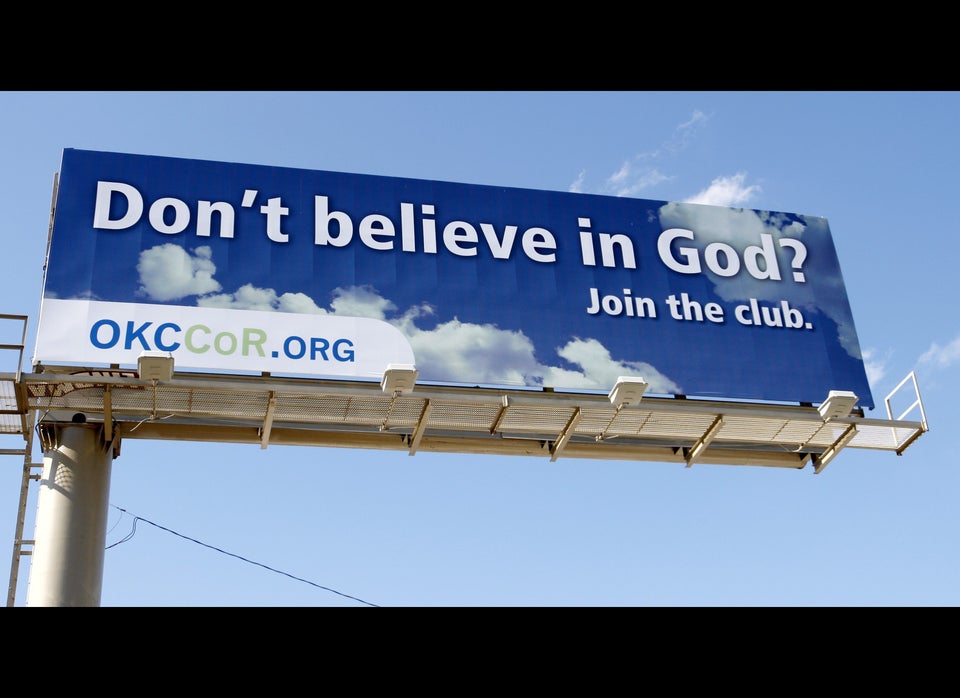 Atheist Billboards
Popular in the Community