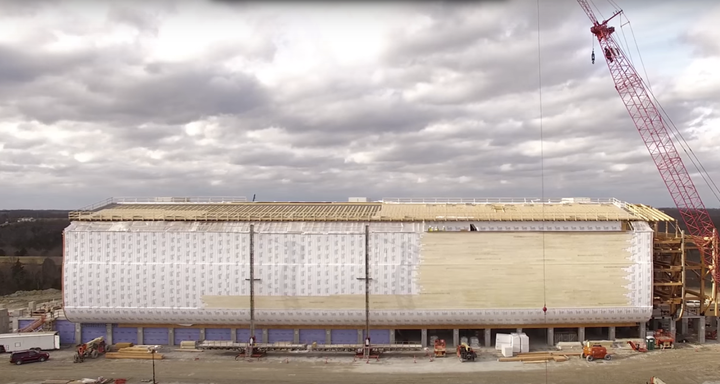 The biblically themed Ark Encounter amusement park is set to feature a 200,000-square foot "Noah's Ark" structure and a pre-flood walled city when it opens this summer in Williamstown, Kentucky, but an atheist group has a grand counter-plan of its own.
The creationist organization behind the family friendly entertainment center claims the $150 million project is intended to be historically accurate, but the atheist group the Tri-State Freethinkers said in a campaign announced this week that the Ark Encounter "celebrates a biblical parable of genocide and incest."
"In Genesis Chapters 6-9, the God of the Bible was unhappy with man, so he decided to kill every living thing, except for one family and two of each animal," Jim Helton, president of the Tri-State Freethinkers, told The Huffington Post in an email on Friday. "We see no other way to look at this other than mass genocide. This is the second time that incest was used to populate the world. We are taught this story as children as a fun story, as a good story, filled with animals and a boat. People rarely take a look at the actual story because when they do, they realize how immoral it is."
He said the Tri-State Freethinkers is planning a counter-protest to celebrate "reason and logic" over "superstition and myths." The group of freethinkers, atheists and agnostics seeks to raise money to mock the biblical story, first by erecting billboards along roads leading to the attraction, calling it a "Genocide and Incest Park."
Helton told HuffPost that they're "working on several community service projects in the area to benefit the area instead of profiting from it."

The group says in its IndieGogo campaign that while the creationists have a "legal right to celebrate their mythology," the Tri-State Freethinkers find it immoral and highly inappropriate as family entertainment.
If the Tri-State Freethinkers are wildly successful in their fundraising campaign, Ark Encounter might not be the only theme park in town. The group said if it receives $150 million in donations, it will actually build the Genocide & Incest Park. Helton told HuffPost that attractions would include the "Dead Gods Zoom Flume," a "De-baptism Waterfall" and a "Rainbow Zipline."
They'll ask for state tax incentives, of course, and promise not to discriminate against any potential employees. As of Friday afternoon, the campaign had raised just over $3,000. A bit short of their goal, but more than enough to put up one billboard.
Ark Encounter has drawn controversy in Kentucky for discriminatory hiring practices and for receiving tax breaks worth tens of millions of dollars from the state tourism industry. The state later blocked the incentives amid concerns that Answers in Genesis, the group that has coordinated the construction of the park, was using Ark Encounter as an extension of its ministry. Answers in Genesis sued to have the tax breaks reinstated, however, and won in January.
Calling all HuffPost superfans!
Sign up for membership to become a founding member and help shape HuffPost's next chapter
BEFORE YOU GO
PHOTO GALLERY
Atheist Billboards