It's becoming more common not to believe in God or organized religion these days, so it would only be natural for a few atheists to have made their way to Congress, right?
Below, we've managed to cram all of the atheists serving on Capitol Hill into one important GIF:
Yeah, there isn't a single admitted atheist currently in Congress.
For purposes of demonstration, however, the cat can represent former Rep. Pete Stark (D-Calif.), who left Congress in 2012 as its only avowed atheist. Much like the flying feline, he fell a bit short of his mark after having his legs taken out from under him by another Democrat, thanks to California's "top-two" primary election system.
A few months after retiring, former Rep. Barney Frank (D-Mass.) also announced his nonbeliever status, a declaration he made more than 25 years after coming out as the first openly gay member of Congress.
That Frank felt more comfortable going public with his sexuality in 1987 than he did with his secular beliefs at any point during his House career says a lot about the stigma surrounding atheism in electoral politics. In 2011, Herb Silverman of the Secular Coalition of America told the Guardian that his group was aware of 27 members of Congress other than Stark "that have no belief in God." It's unclear who they were, or are, but none of them -- perhaps except Frank -- have since decided to speak out.
Atheists may have thought they had a new congressional ally last year, when Democrat Kyrsten Sinema won a seat in Arizona's 9th Congressional District. Sinema's staff has since regularly pushed back against the "nonbeliever" label that had initially been ascribed to her, instead clarifying that the congresswoman prefers a "secular approach." Though Sinema "does not consider herself a member of any faith community," her communications director has said, she "is a student of all cultures in her community."
The political picture looks no brighter for atheists in state legislatures, many of which have laws barring nonbelievers from holding public office. By most counts, there's only one atheist currently in office: Nebraska state Rep. Ernie Chambers, an independent who has not shied away from his secular views and belief in the separation of church and state.
The total lack of atheist congressional representation is somewhat surprising in the broader context of nationwide faith and non-faith trends. The latest Pew poll on religion found that out of nearly 20 percent of Americans who call themselves unaffiliated, 2.4 percent identify as atheists. Another 3.3 percent are agnostics, and about 14 percent described their religious beliefs as "nothing in particular." More than a quarter of those "nothing in particular" respondents said they don't believe in God or a universal spirit.
A poll taken during election season last year found that only 54 percent of Americans would vote for a "well-qualified" atheist presidential candidate. While this was the highest total since Gallup began asking the question in 1958, atheism proved the biggest negative influence on a hypothetical candidate's viability, with fewer respondents saying they would be willing to vote for an atheist than either a gay or a Muslim candidate. Another survey taken in 2012 found that 50 percent of Americans believe atheism is "threatening" to them.
The group's organizers plan to provide financial support to humanist, atheist and agnostic candidates at all levels of government, and will support candidates who identify with a religion, so long as they are committed to protecting the separation of church and state and defending the civil liberties of secular Americans.
At a press conference on Wednesday, Maggie Ardiente, Freethought's director of development and communications, explained why the group is concerned about a political system that has been monopolized by religious lawmakers.
"Whether we recognize it or not, Americans are held captive to the will of religious right leaders who remind us of our inferior position by using the power of government to enforce laws that put truth claims about religion in front of us at every turn," Ardiente said. "We have to spend our tax dollars on schools in most states where educators refuse to teach that the evidence massively supports a theory of evolution that unites everything we know about biology."
Before You Go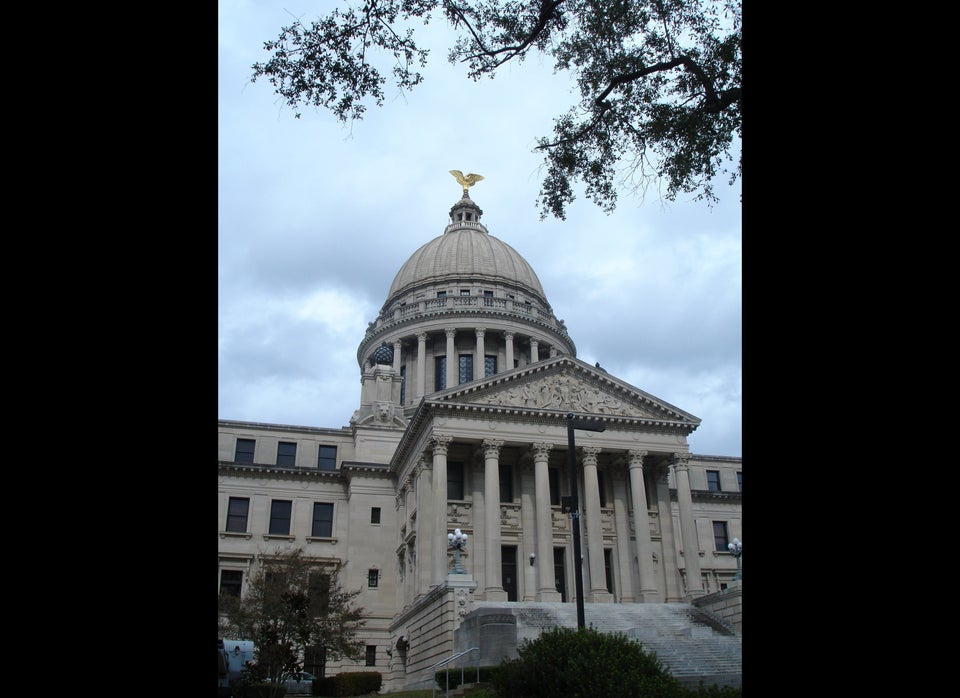 Top 10 Most and Least Religious States
Popular in the Community