Many of the lifestyle mavens we meet are in somewhat of a second act, banishing corporate career paths in favor of more Instagram-worthy pursuits.
Yet you could say that Althena Calderone has always lived somewhat of a dream life. Before launching her blog, Eye Swoon, she traveled the world with her husband and son, "absorbing different cultures and culinary experiences and gaining an appreciation for design and architecture," she tells The Huffington Post. "While I treasured this incredible time with my family, all of my friends were starting to develop themselves in the career space, so I often felt as though I was missing something," she says.
And, naturally, the groundwork was laid, not only for Calderone's daily musings on food and design and "bringing people together," as she puts it, but for our twinge of envy at the fabulousness of it all.
HuffPost Home: If you could pinpoint one moment that set you on this path, what would it be?
Althena Calderone: I would have to say designing my mid-century modernist beach house in Amagansett. I really pushed myself creatively to use raw and organic materials, and to juxtapose the modern architecture with antique oddities. I'm incredibly proud of that home -- it truly transformed my family and I, bringing us closer to nature and each other, while also being the catalyst for my career in interiors.
HPH: Biggest challenge staying the course?
AC: Now that Eye-Swoon is my full-time job, I've had to learn how to turn what began as a purely creative project into a viable business. This is a pretty steep learning curve: Picking and choosing the right partnerships, coming up with fresh and original content weekly or daily while remaining true to my original vision, etc. I am so grateful for this path and outlet, but the digital space can be very demanding. I'm often juggling numerous roles at once: Photographer, cook, model, prop stylist, fashion stylist, recipe tester, writer/editor, techie, social media, etc. Picture me prepping food with one hand, and photographing with the other, all while balancing on a ladder, and that about sums it up. The ultimate challenge has been the growing pains: learning how to expand my team and my business, while still remaining present with myself and my family (i.e. remembering to step away from my computer and phone!)
HPH: One thing you do everyday without fail?
AC: I always look for an beautiful composition and make sure to capture it through a lens. It could be a vivid color that pops out, a shadow or the way the light hits a room, a distinct texture, or a simple combination of ingredients that draws me in.
HPH: Fave mass-market find to decorate with?
AC: PAINT. It is the easiest way to transform a space, a piece of furniture or an object. I have a simple Ikea platform bed that I painted a soft gray/blue, the same tone as my bedroom walls, which created such a serene vibe in my bedroom. I painted what were originally cream-colored pendant lights above my kitchen island a matte graphite grey. I also took a modern apartment that was rather stark and painted all white and saturated it, instead, with navy blues and shades of gray to transform it into a lush and sophisticated space.
What's the first thing that comes to mind when asked what you're...:
...working on: The redesign of EyeSwoon
...reading: A Kitchen in France: A Year of Cooking in My Farmhouse by Mimi Thorisson
..watching: Homeland
...listening to: Zella Day
...tinkering with: The composition of the art gallery wall in my office
...browsing: A light fixture from Apparatus
...inspired by: My dear friend Laure & Fabio who have an organic farm in upstate NY called Westwind Orchard. They create and produce the most beautiful organic products, their own maple syrup, honey, apple cider vinegar, jams, etc., all grown and harvested on the farm & created with love.
...challenged by: The constant connection to my computer and iPhone!
...imagining: What my experience will be next month as I go on safari with my husband and son in Africa.
...wishing for: Some stillness and quiet space for myself.
Are you an architect, designer or blogger and would like to get your work seen on HuffPost Home? Reach out to us at homesubmissions@huffingtonpost.com with the subject line "Project submission." (All PR pitches sent to this address will be ignored.)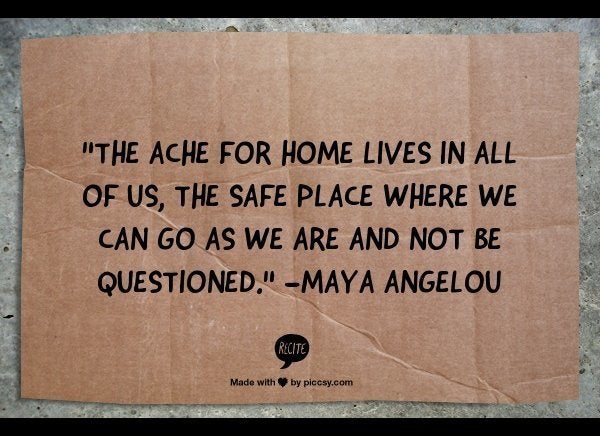 Inspirational Home Quotes