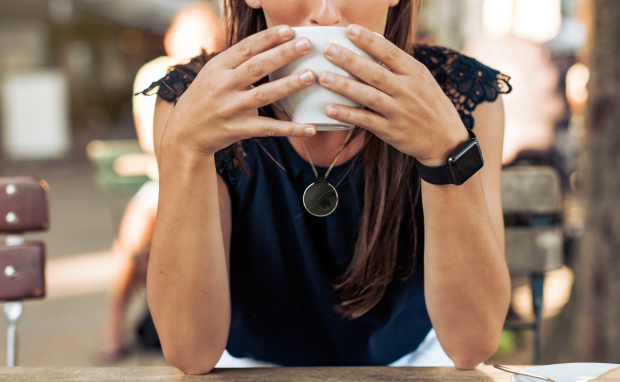 Created by a start-up called Roar for Good, Athena is a coin-sized button that can be clipped onto one's clothes or accessories. When pressed, Athena emits a loud alarm and sends the user's location to a list of designated emergency contacts. The button's settings can also be changed so that only alert messages are distributed without triggering the alarm.
In two weeks, more than $150,000 has been raised on Indiegogo to fund Athena. The original goal for the smart jewelry -- $40,000 -- was surpassed less than two days after its launch.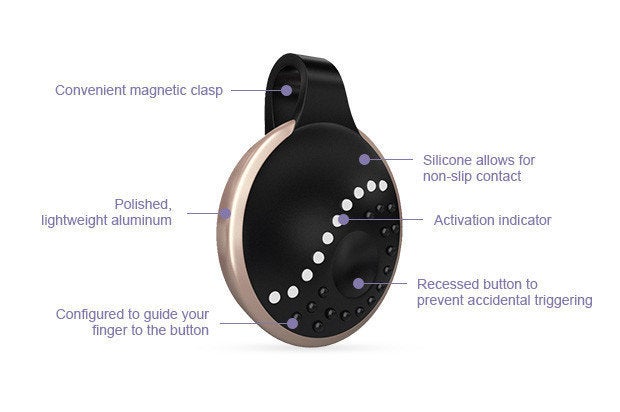 Roar for Good co-founder Yasmine Mustafa says the idea for Athena began during a solo backpacking trip across South America, a journey that the entrepreneur describes as incredible, but also one shrouded in anxiety.
Soon after Mustafa returned to the United States, a woman was abducted near her Philadelphia apartment and raped. The crime struck a deep nerve, and she felt compelled to act.
"Every two minutes, a woman is attacked in America," she told Fast Company. "What can I do?"
Together with Anthony Gold, Roar's other co-founder, Mustafa started fleshing out the idea for Athena, a protective device named after the Greek goddess of courage and wisdom.
"During mock attacks with our prototypes, we discovered the least effective place to wear a safety device is on your wrist as it restricts access when you need it most. As such, Athena was designed to be worn on on various locations on your body to provide you easy access."
The personal safety alarm also has a crowdsourced mapping function, which will allow users to report trouble areas or neighborhoods, such as a quiet or poorly-lit street or a location where harassment has been reported.
Roar for Good also stressed that the device has been designed to be unisex. It will come in three colors: black, silver and rose gold.
Using wearable tech as a way to prevent sexual assault is not a new concept. Safelet and Revolar, for instance, are both wearable alarms that send the wearer's location to emergency contacts. The Personal Guardian, designed by a 22-year-old woman named Rebecca Pick, alerts police to the exact location of a user via a monitoring station.
Apps with similar alert messaging functions have also been developed.
Thus far, the response to this sort of tech has been overwhelmingly positive (Revolar's Kickstarter campaign raised $83,000 earlier this year), but there have also been critics.
Some sexual violence awareness groups, for example, say the promotion of personal alarms like Safelet or Athena ignores the root cause of sexual violence, instead putting undue responsibility on victims to prevent their own assault.
"Society already tells women to watch what they wear, how much they drink and where they walk in order to prevent assault. Women have also been told to wear rape whistles and personal alarms for decades. This concept is nothing new and hasn't lead to the change we need to see," the group wrote. "It also can easily lead to victim-blaming, where victims are made to feel responsible for their own victimization because they did not take the proper precautions."
"While [these alarms] may provide a feeling of comfort when walking around ... it does not address the root cause of sexual assault and thus has little chance of actually eradicating it," the university group said.
Roar for Good says it recognizes that a device like Athena can only act as a "band-aid" in the prevention of sexual assault. In response, the company plans to donate some of its proceeds to organizations specializing in consent and sexual violence education.
"Building these self defense tools or safety tools to us is kind a short term strategy," Mustafa told Mashable. "The whole idea is educating young children on what constitutes a healthy relationship with the goal of not needing these devices one day."