Athens, a Holistic Experience
The pulsing heart of Modern Greece is Athens, a city that can represent an overwhelming experience for first-time visitors. If you've never been in town before, it's fair to be advised.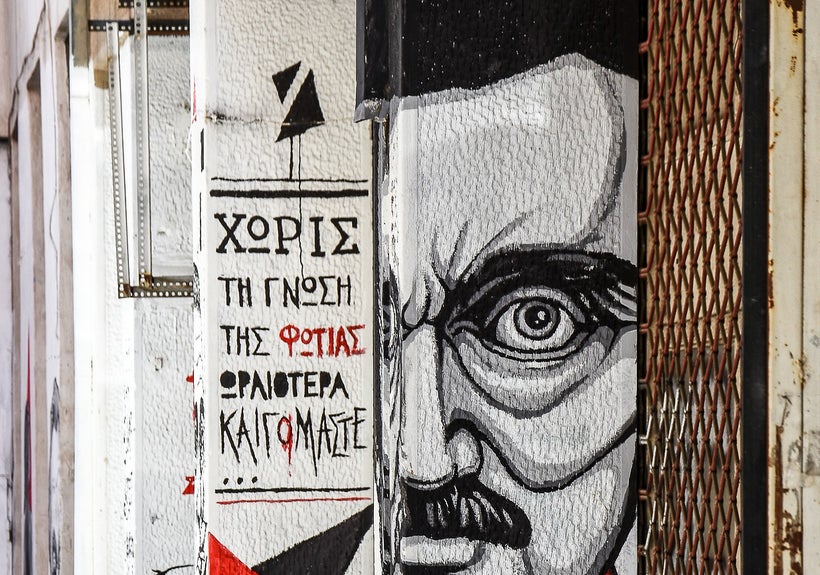 Athens will dazzle you at first, with ideas and images. It will bewitch you with Ancient sights and sites. And with myths resembling the current lives of Athenians, full of thought and contradiction. Later, Athens will seduce you with light and shadows, with painful contradictions. Finally, it will conquer you, carelessly, but fatally. When the moment to leave arrives, you will only depart after promising to set a date to return.
Athens represents a complete unity that includes every possible color of a complex reality. It's a ying-yang in technicolor simply because B&W would never be enough. Colors, scales, shades and gradations, color everywhere. Color in the people, in the markets, in street art graffiti.
Color also in the tastes and mainly in its new gourmet food.
Sense Rooftop Food & Bar
In a city where the visual component plays a leading role, where art is very much present in the lives of locals, images could not be of less impact when choosing a place to dine. Close to the Ancient center of the city, across the Acropolis, images flow naturally from the surrounding spaces while perfect snapshots of balance arrive directly from the kitchen.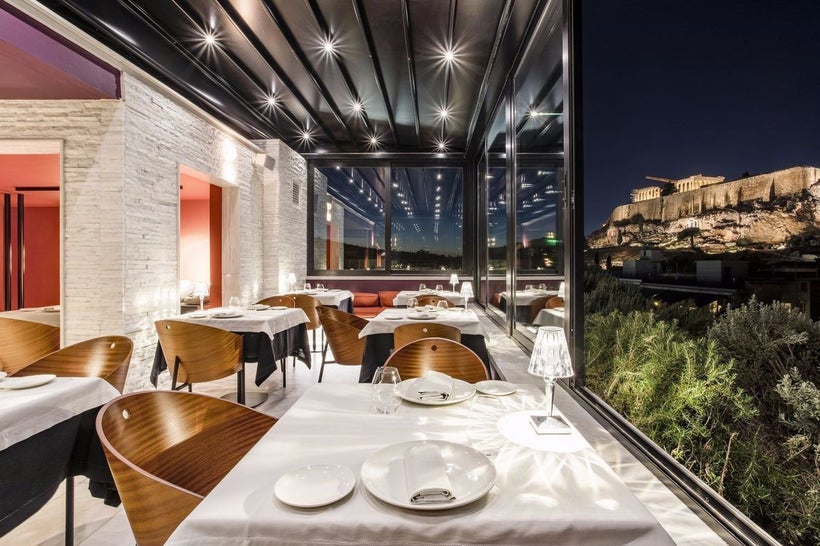 Gazing at the Acropolis rock couldn't get any better. But it did.
On the rooftop of AthensWas Hotel, Sense Rooftop Food & Bar finds a natural home. There, the expert hands of Thodoris Papanikolaou create a refined palette of color and expectation. It's a place where all senses get a moment of their own.
Gourmet Athens
Amusing bouches
Papanikolaou lifts the curtain with the most stunning trio of amuse bouche ever combined on a dish. A triptych of childhood memories, a reminiscence of grandma's kitchen. Simplicity knows how to hide behind techniques reaching the sphere of molecular cuisine. The result is provoking and quirky and ravishing!
Follow the instructions and eat in this order: Start with Spanakopita, next go for Baguette with sea bass and fava mayonnaise, end with Chicken with potatoes in the oven. Three bites in crescendo encompass an explosion of creativity. Taste buds can't seem to get enough.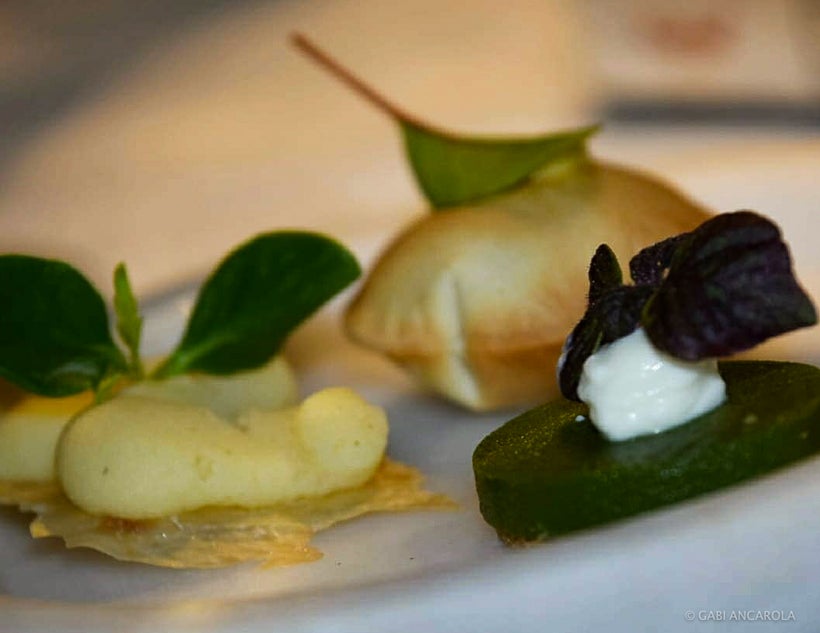 First Things First with Starters
Greek tradition is turned upside down, completely reinvented and revamped. And it is still as inviting as ever confirming that not all times gone were better. Thodoris Papanikolaou's Pastitsio proves it. This dish of homemade pasta sends your nostrils to another dimension. Just by making it to the table, the woody aromas of minced mushrooms and porcini are a natural match to the creamy bechamel and to the mild Athenian winters.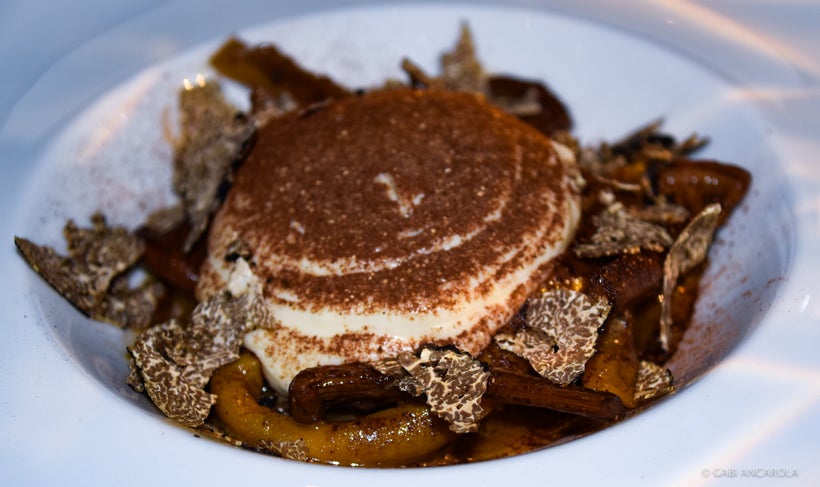 The Octopus Giouvetsi, instead, includes a generous amount of gnocchi, clam foam and glorious bites of grilled octopus. In the expected event of not being able to make up your mind, choose both.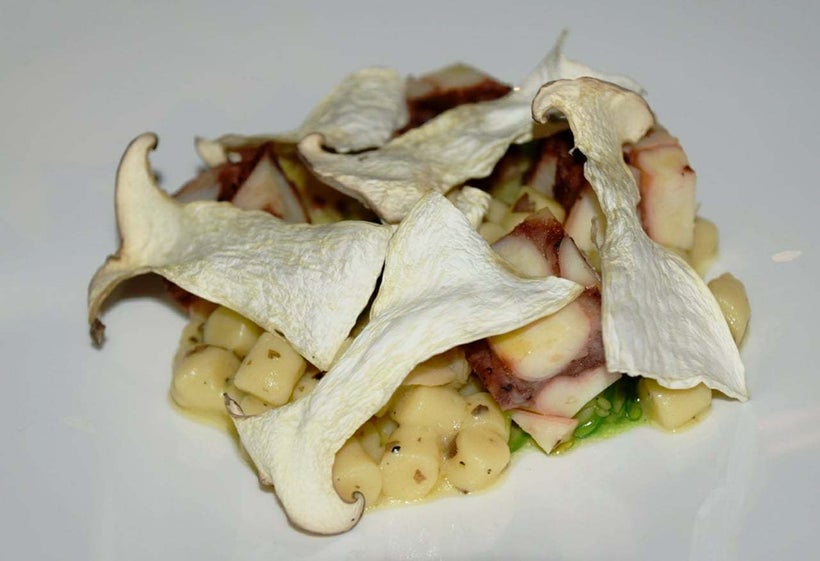 Mains
It's time for the clue question: Meat or Fish? If your mind goes blank and you can't find the answer, blame the chef. Seafood lovers will adore the Gurnard, an abstract painting made of color and texture including the green from the vine leaves stuffed with rice and mussels, the red from bisque skin, and the yellow from Greek fish soup cream. A touch of white citrus foam and... picture perfect.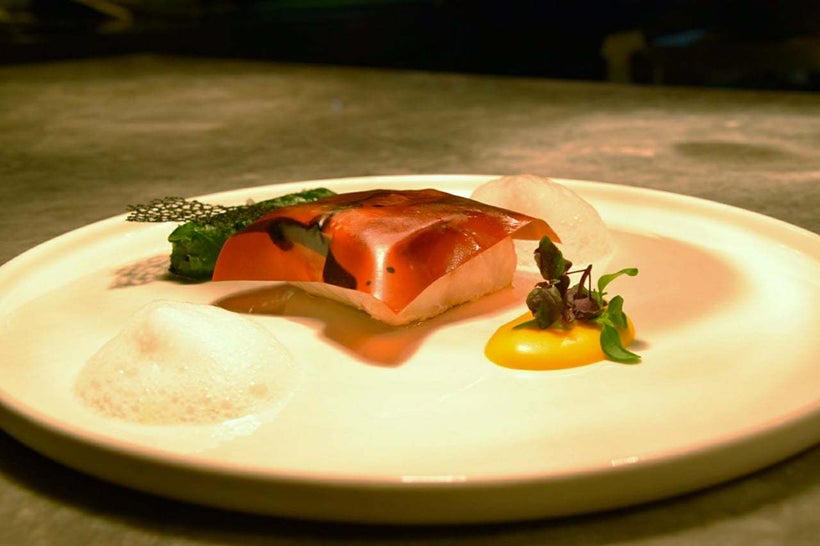 Among meat dishes, Lamb describes itself pretty well. Two solid columns of lamb saddle sauté, artichoke fricassee, pistachio, raspberry and sweetbreads cooked in stout beer. Thodoris Papanikolaou reaches pure equilibrium with a sober dish. Extreme class.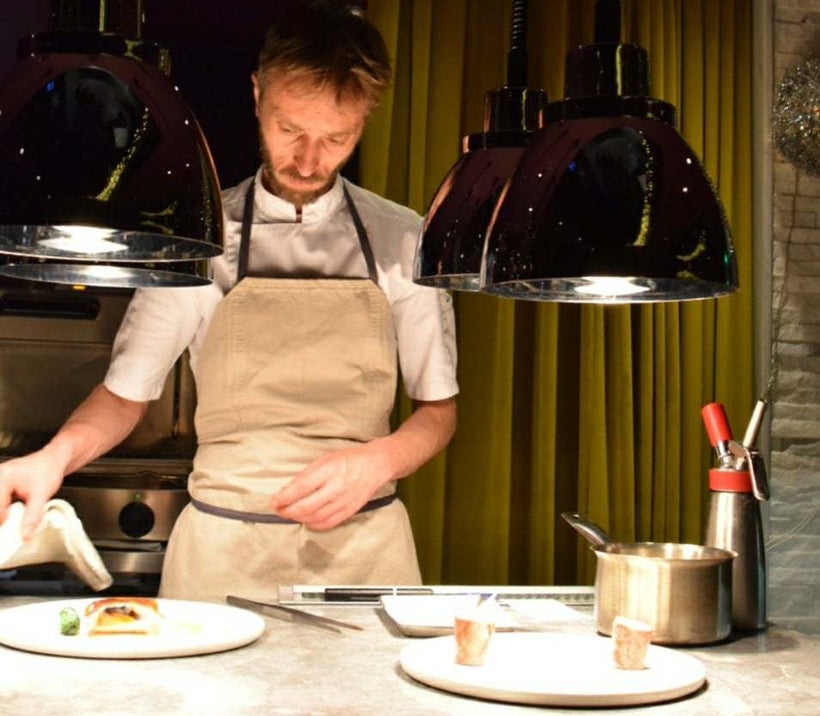 Sweet Finale
Concluding an intelligent dinner with the same kind of wit could be nerve wrecking for many. Still, seeing this chef at work is nothing but soothing. There's no doubt each award obtained is a fair recognition. He's detailed, careful and yet joyful when he creates. Detail, care, and joy are served at your table.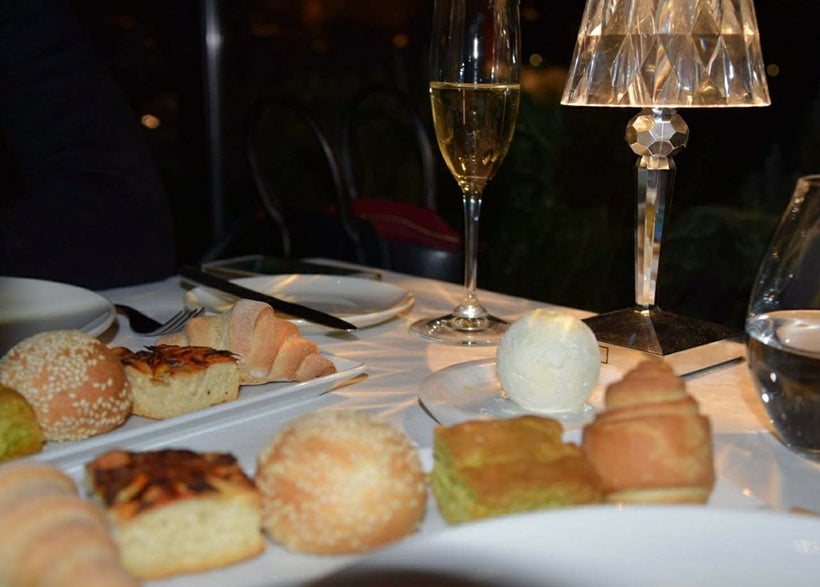 Sense fine dining is a feast that lives up to its promising name until the end. The new kid on the block is a Greek version of Tiramisù that, like the most precious gem, comes to the table wrapped with extreme care. Open it slowly. Still, it won't last.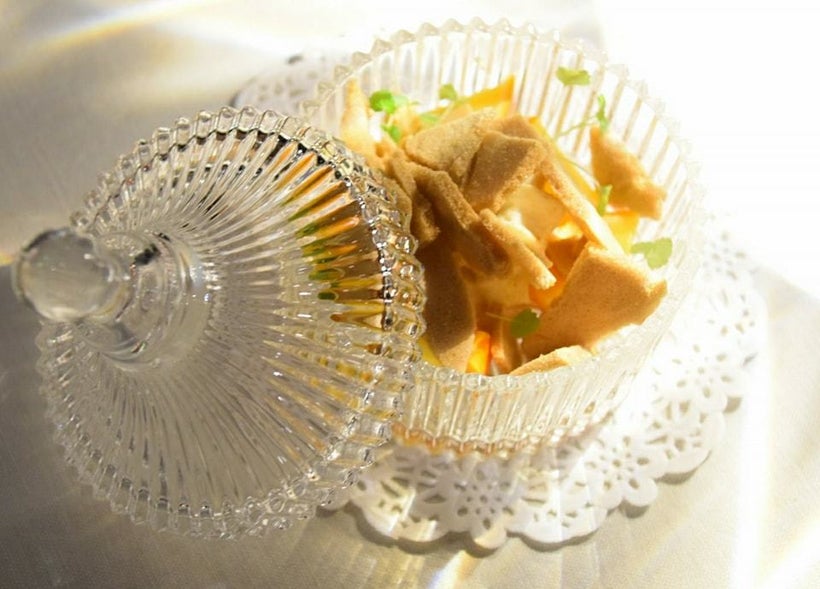 This magnificent dinner is best enjoyed with five different types of freshly-baked bread and an artisan spread made of olive oil and butter.
Sparkling Greek wine from Naoussa paired perfectly well.
Calling all HuffPost superfans!
Sign up for membership to become a founding member and help shape HuffPost's next chapter
This post was published on the now-closed HuffPost Contributor platform. Contributors control their own work and posted freely to our site. If you need to flag this entry as abusive,
send us an email
.