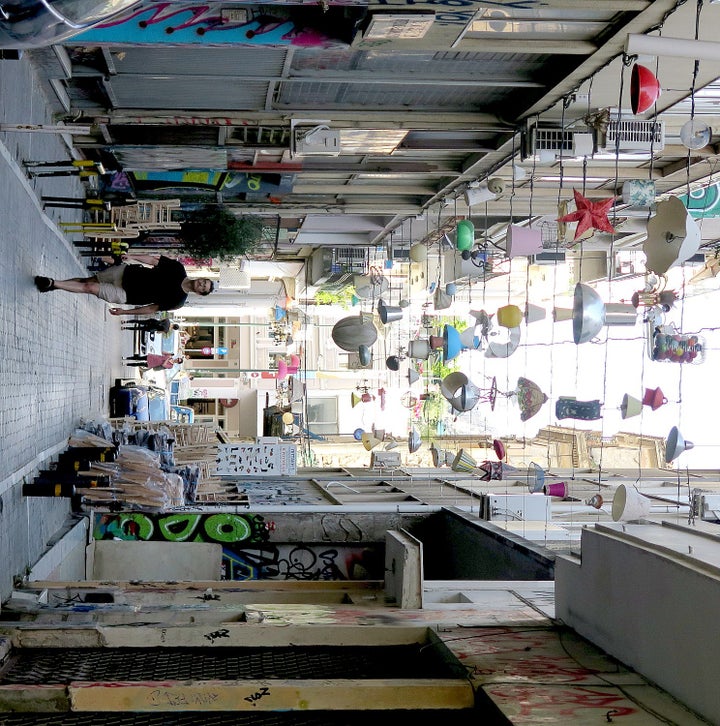 It's quite by accident that I during my stay in Athens I hear of a free program through the city's tourism bureau, "Athens with a Native," to introduce visitors to a local volunteer who takes you around for a couple of hours to show you their own city. In the few days I've been in Athens, I've covered the city's monumental highlights and was most interested to have someone show me modern Athens.
I am introduced via email to Constantine E. Cavoulacos, and we exchange emails to coordinate our meeting. I tell Constantine (Costis), "fyi, have also toured the Acropolis, Roman Agora, Hadrian Library, Jewish Museum - am hoping to see some places that are not 'top of mind' for visitors."
We agree to meet by the owl statue at the Acropolis Museum.
As I sit beside the owl statue – the wise, prophetic owl became the sacred bird of the city's namesake, the Goddess Athena and therefore a symbol of Athens – I think about how North America was in the Stone Age when Greek civilization was flourishing here, giving birth to Western democracy. Yesterday I had visited those monuments and even those structures of the long-ago "everyday" Athens. Today, I have asked Constantine to show me "modern" everyday Athens, particularly as it has been affected by the national economic crisis.
I keep watching the steps – about a football field away – to see who my guide might be. I am expecting a college kid in jeans. Instead, the fellow who comes toward me looks like a businessman, and has a suit jacket slung over his shoulder in the heat of the day.
Constantine E. Cavoulacos is an architect in his family's firm, which turns out to have designed hundreds of projects throughout the city - many of the prominent office buildings, hospitals, train stations as well as two of the Olympic facilities (including the residence for journalists). I am thrilled because so much of what we appreciate most about Athens are its constructions, and how these fit into the political, social, economic order. Think of what produced the minds who first created those columns, the society that built such monumental structures as the Parthenon. Athens, like all ancient communities, is a story of repurposing, as one social group replaces another over time. This is particularly true in Athens, as I discover during the course of my visit with an Athens native.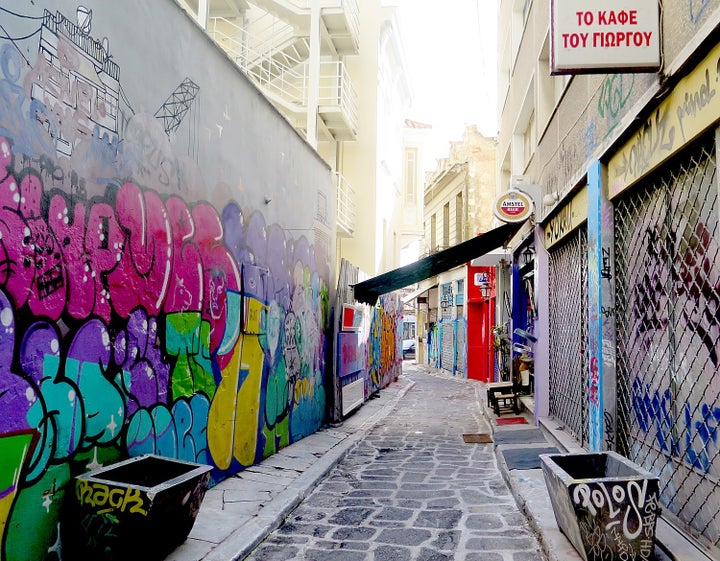 But my visit comes during Greece's financial crisis, and Constantine is able to show me how the city has been impacted. But at this point in time – before a new wave of forced austerity by the European Union in exchange for new loans to get the country over a credit hump – Greece had actually turned a corner, was making great progress. What I see is a revitalization, repurposing and reuse of buildings that had housed generations-old shops that had been shuttered converted into hip wine bars or cafes, a chic townhouse turned into a business incubator. I also see a renewed spirit of the people, as exemplified by my guide, Constantine.
He tells me he enrolled three years ago as a volunteer for the "Athens with a Native" program because 1) work slowed down with the economic crisis and the aftermath of the build-up for the Olympics and 2) as his effort to counter the negative impression of his beloved city because of media coverage of protests, tear gas, "hooligans" burning things, in response to the economic crisis. He wanted to show international visitors the city he knew. "Things are better now," he tells me
I am excited to be able to speak with an expert to get better insight into such things as how the city is integrating sustainability into its projects, for example, through the countryside I have been impressed by solar panels and wind farms. He tells me that 20% of Greece's energy needs now come from solar; 10% from wind; another 12% from hydroelectric dams (which are controversial); and geothermal.
But how impressed am I when he shows me how the modern Athens still preserves the past: he shows me where a modern office building has a glass floor built over ancient ruins. (The owner of the building is required to conserve antiquity and restore it.)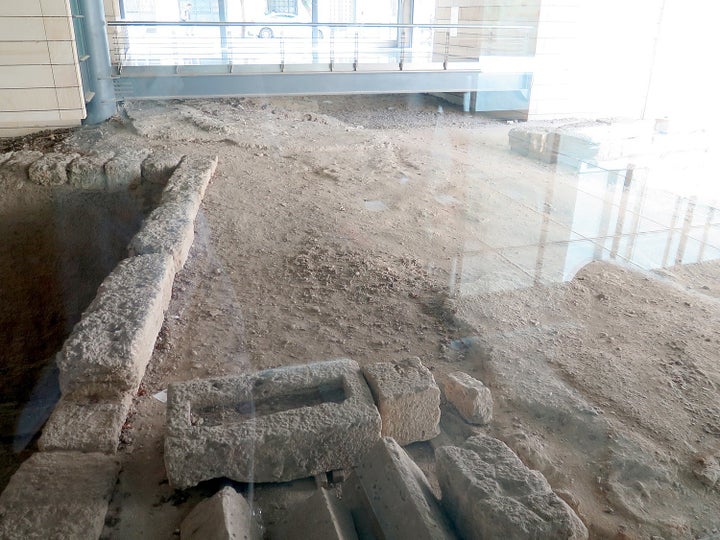 He points out the magnificent architecture – a marble building restored by the Onassis Foundation; a memorial which has the oldest Corinthian column; a 10th century church (when they did the work, they found a temple on the same location; they probably used part of the building materials).
How did the early Athenians afford such structures? The Athenians were rich in the 11th century, he tells me. In the 19 th century, buildings were covered with marble slabs; after that, they used reinforced concrete.
Most magically, Constantine, who went to graduate school at MIT, takes me into the Architects' Club (not open to the public) to show me the back wall which contains fortifications dating back to Pericles. They know that because of the enormous size of the stones. A corollary of how the fortifications were built: "Half the population of Athens at the time were slaves, taken from other places."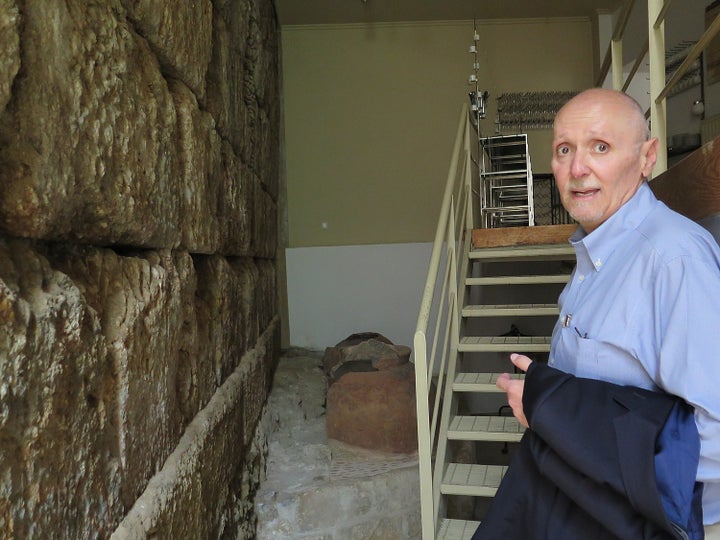 Buildings used to be constructed with courtyards, which is why they didn't build public parks (an argument that was used in Great Neck, Long Island, an early suburb, against purchasing land for a public park because private homes had their own backyards).
Now we come upon the Merlina Mercuri Foundation Exhibition & Cultural Space. The famous movie actress led the cause to force British Museum to return the marble statues, attributed to the sculptor and architect Phidias, that Lord Elgin plundered from the Acropolis and took to Britain, literally ripping them down from the frieze 200 years ago. Mercuri started the campaign to construct the New Archaeological Museum to prove they could properly and securely display the statues.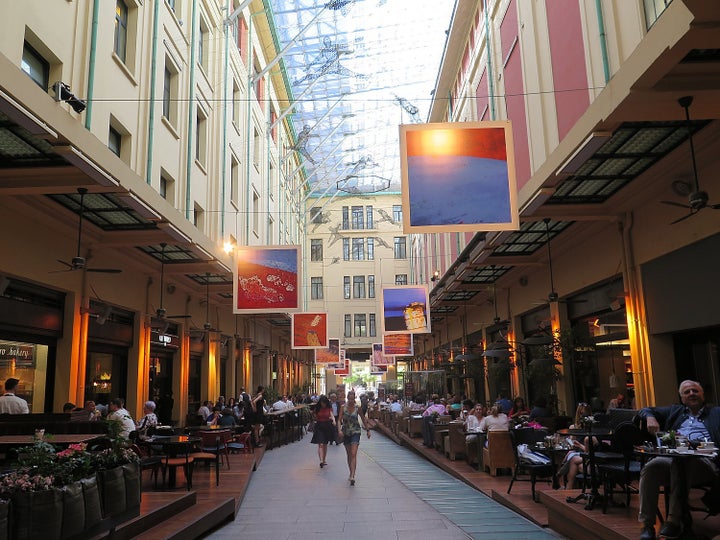 We come to a street which has become a "museum of vernacular art". He takes me where fabric stores (like New York City's Garment District) have been converted into quaint cafes and wine bars over the last five years.
He takes me to a business district with tall office buildings, and in a small alley, there is a kind of pop-up restaurant, Panagiotis, providing outdoor seating. The young owner/chef, Constantine tells me, lost his job with a big restaurant, one of many that shuttered because of the economic crisis. So he opened his own restaurant that is only open for lunch and is his own boss. The eaterie is literally in the shadow of an office building Constantine's father built, one of some 950 projects his father's firm had done.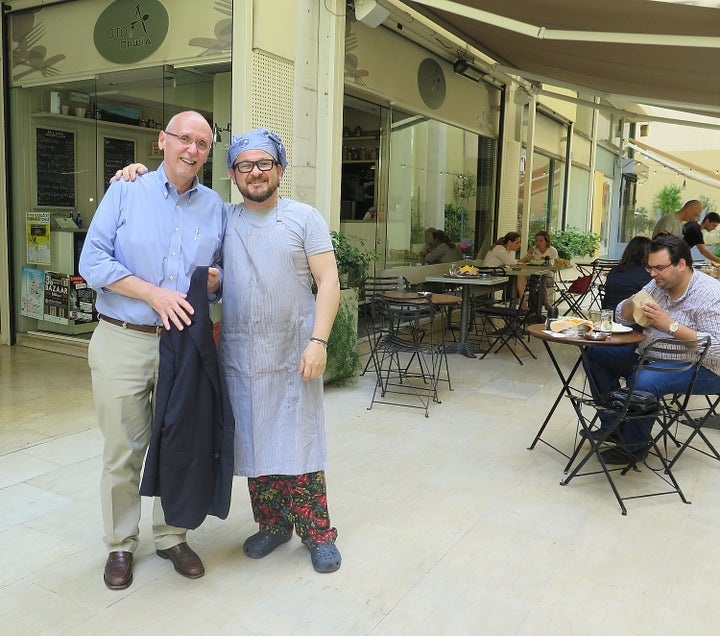 Constantine shows me things I never would have been able to see, or would not have had the awareness to focus on.
"I became a volunteer 3 years ago," he tells me as we eat lunch. The city was coming down – protests, tear gas. It was important to show the brave people who visit us that the city has a lot to offer. I had little work and was in sorrow over the city. I wanted to show visitors around and the experience the city as I do." He is quite literally a good will ambassador.
Our walking tour is supposed to only last a couple of hours, but Constantine has more he wants to show me.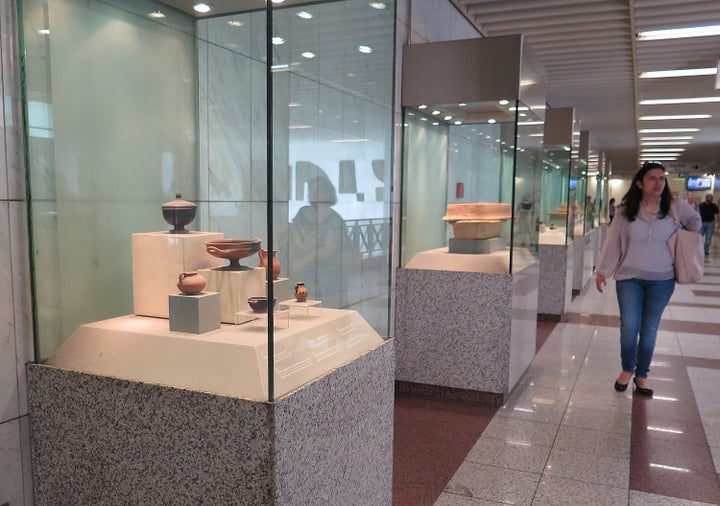 He takes me down into the Korai Street metro station to show me the exhibits of excavations there (many of the metro stations have amazing exhibits.)
He points out the Army Building (now Attica, the most popular department store in Athens), which is owned by a fund that gives money to army vets. The building used house offices. This has become quite a fashionable district.
Constantine's firm also did the engineering for a theater that has taken over another group of old buildings.
He shows me a modern office building, where the architect, Mario Butto, in the process of building it, uncovered antiquities. He realized that this was originally an ancient road that went to the village of Harness (now a suburb of Athens). He excavated the original gate to Athens, and then, when he excavated to make the parking garage, found the road. "We realized that the modern road follows the same road – a modern interpretation of the past. The Road to Harness. We knew there was a road to Harness in ancient times, but it was only revealed 20 years ago."
The discovery of the road literally connected one age to another.
"Every era has its genius technique," he tells me, with reverence.
He takes me to Sente Irene (St. Irene Square) – the plaza, he tells me, would have been completely empty three years ago, now is vibrant and bustling.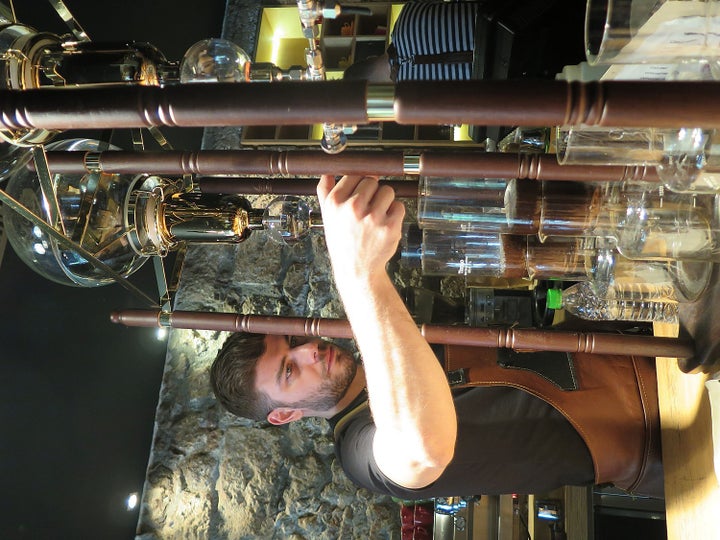 Constantine takes me for coffee at TailorMade, a micro Roastery and Cocktail Bar, that has taken over one of these former fabric stores (they use the "patterns" as wall decorations), where Brazilian music plays and the aroma of coffee is intoxicating. (Interestingly, he tells me that Starbucks is not doing well in Athens.)
"The cafes are mostly new. Young people who lost their job took over the closed down shops. In July 2011, everything was abandoned. There were protests, tear gas. The young people said, 'Enough.'".
The young people of Athens are highly educated.
He takes me to the Social Impact Hub – a building turned into a business incubator – which is part of a ImpactHub (ImpactHub.net) global community (in New York, there is one at 394 Broadway). (SocialImpactAward.gr).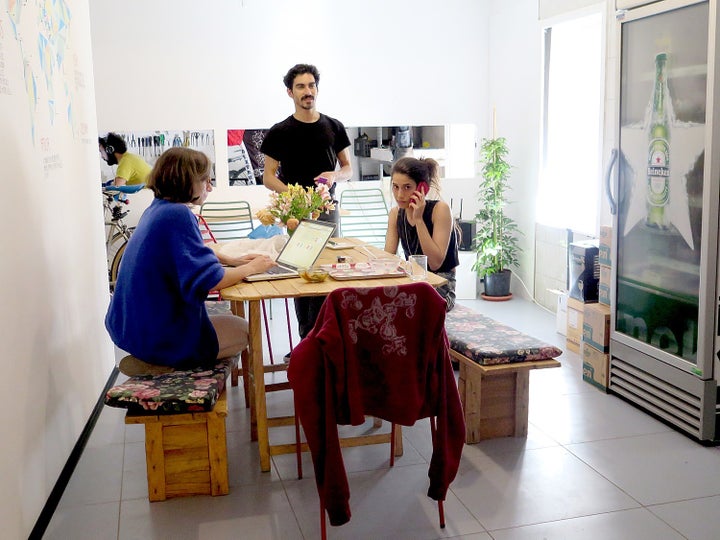 It makes me wonder why international businesses – tech companies, particularly – have not come here. With the economic crisis, real estate is cheap; the educated workforce is cheap; and Athens is simply a magnificent place to be.
He takes me to a district so he could show me "weird". We go to Pittaki Street, where all the shops have closed down. Instead, locals strung lights (lamps and such) across the street, making it decorative – literally replacing darkness and despair with light and energy brought new vitality to neighborhoods that were in decline (it reminded me of Austin, Texas, where slogan, said with pride is is "Keep it Weird."
Around the corner, I see where a hostel, AthenStyle Beds, Suite & Bar, has opened – it is bustling with activity (private room for any age, 45E, double 60E, studio 80E, w private bathroom. AthenStyle, Agias Theklas 10, 10554 Monastiraki, www.AthenStyle.com, info@athenstyle.com, Reception +30 210 322 5010, Skype: AthenStyle).
What I saw in Athens was a revitalization, a spirit, a place renewed investment. Greeks are genius at improvisation.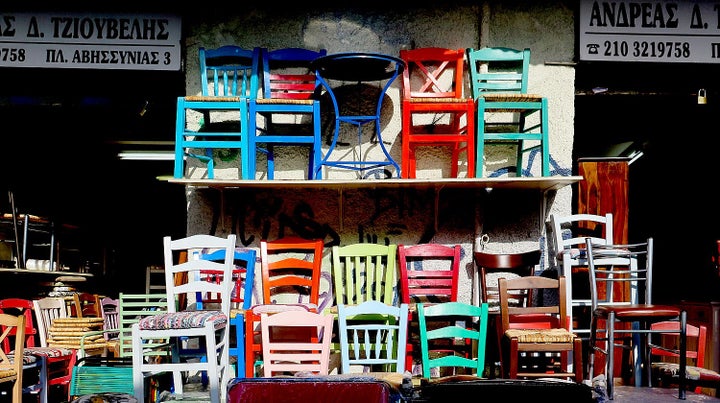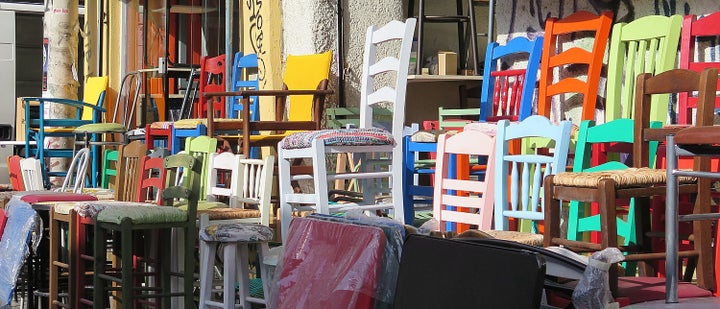 Constantine takes me into a tiny church, which dates from 1065 to show me a painting by El Greco who spent a few years in Athens. The church is well below street level, showing where the street was then. A city constantly reinventing itself, repurposing itself.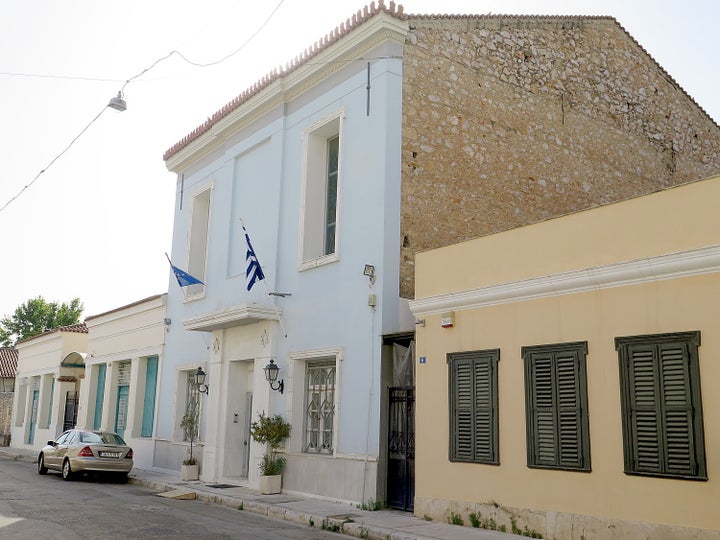 Constantine has really spent a lot more time with me than normal (the visit is supposed to be two hours, but he's been with me for more than four at this point). But he isn't finished. Sensing my interest, Constantine, who tells me that his uncle was an engineer for the Jewish Museum (which I have visited), housed in the private home of an archaeologist, now brings me to the end of Ermou Street where there are two synagogues – old (Ete Haim) and new (Beth Shalom) face each other, across is Pottery Museum, which at one time could have originally housed a Jewish family or even the rabbi. It is a quiet street, set off from the busy neighborhood only a couple of streets beyond, but near (as it turns out), the Agora, the ancient market place where I learned during my walking tour a day before, there had been a synagogue in the 3rd C.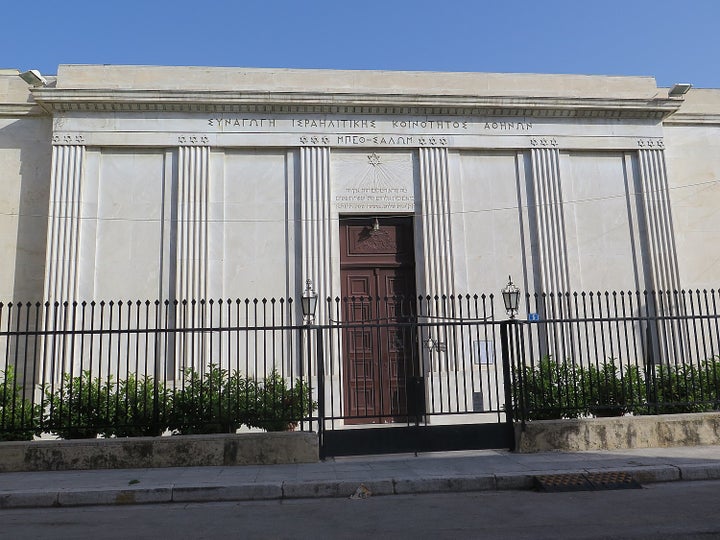 A short distance beyond was the ancient cemetery.
And in a tiny pocket park, Constantine shows me a Holocaust Memorial – a star exploding under a small grove of trees, with the name of each Greek city where Jewish communities were cut down.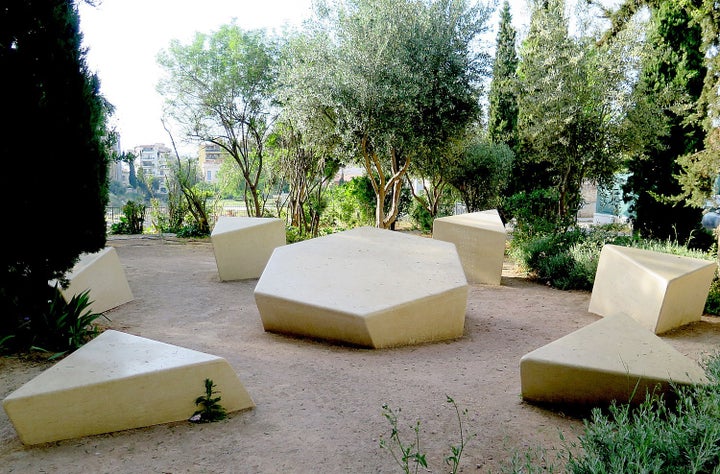 We walk together to the Thissio Station (nearest synagogue and Holocaust Memorial), which in 1896 was turned into a metro for the first Olympics, which he will take to go back to his home.
It's now 6 pm when Constantine leaves me. I realize that the tour was supposed to last 2 hours but we have been together for more than six.
I am completely turned about. I find myself at the bottom of Apostolou Pavlou –part of a wide cobblestone pedestrian walkway that rings the Acropolis Hill – with cafes, parks, arts, street musicians. As I walk up (and around) to get to my hotel, I see foundations of what would have been neighborhoods in ancient times. And I come full circle.
This has been an incredible experience - Constantine showed me Athens in a way I never would have experienced in just the few days I have here, and because of his expertise as an architect, really made the connection between ancient and contemporary that I was so hoping to have – he took me into buildings to see how ancient structures were repurposed and I especially loved seeing how buildings are being repurposed with new cafes, restaurants and even the Social Impact Hub (business incubator), where I got to see young entrepreneurs. It was especially kind to show me the synagogues and Holocaust Memorial. This was truly a memorable experience in a most memorable city
Constantine, an accomplished architect, has taken me to places wouldn't have known existed or thought about, or could have visited on own – like the Architects Club, built incorporating ruins of Pericles-era wall – frescos. He has turned my eye to places I even passed without noticing, just a couple of blocks beyond the busy Monasteraki square.
I come away thinking how prime Athens is for international investment – real estate prices and the cost of living is down, while there is a highly educated young workforce hungering for opportunity, and a setting that is one of the most magnificent of any major city in the world, and think that Constantine would be the best intermediary to help foreigners locate buildings ripe for redevelopment, an architect in Tekem SA, a family architectural and engineering firm that has built more than 1200 projects in Athens, would be the best intermediary to help foreigners locate buildings ripe for redevelopment (c.cavoulacos@takem.gr).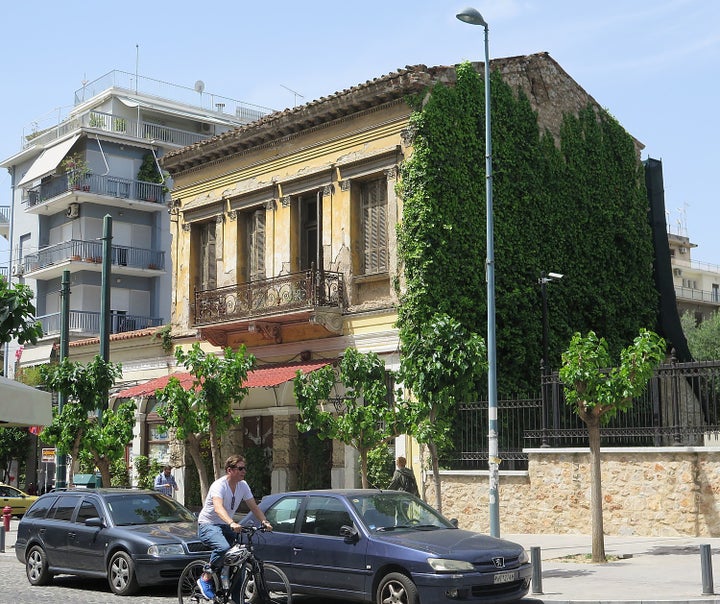 Such properties should be prime for investment - either for villas, or for commercial purpose like a boutique hotel, or retail or office space. But these could also be purchased by foundations, refurbished, and turned into business incubators such as I see at the Social Impact Hub, where dozens of young entrepreneurs have very inexpensive office space in a building that a family owns and makes available (Social Impact Hub, SocialImpactaward.gr, is part of a global community, Impacthub.net). This would also help stem the brain drain: Young educated people are leaving Greece to find jobs. (See "Young Greeks Seek Options Elsewhere," By Niki Kitsantonis, New York Times, Sept. 14, 2010).
"As for the development of that empty real estate, I think it is a brilliant idea," he writes me, "with many people thinking about it but not daring to accomplish anything; I think the novice idea though is what you came up with, that foundations could seize the opportunity and create hubs or resident programs for the youth from all over the world to come and enroll in various programs where Athens is unparalleled, like archaeology and restoration of antiquities but also for new fields like programming and incubating startups;) like my niece did a year and a half ago for 'the muse' when she and her cofounder went to San Francisco!"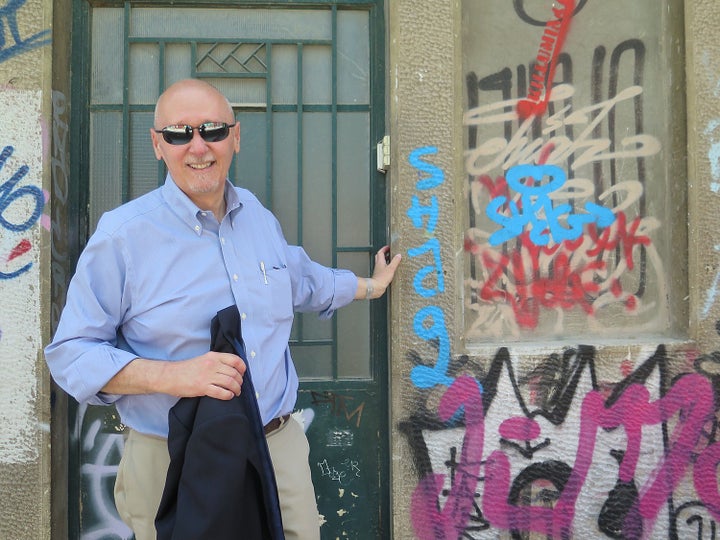 This is truly a memorable and meaningful experience in a most memorable city, and one that I will treasure. I would add that this program is very different (and doesn't replace) the guided walking tours – even the ones that are as intimate as Context Travel offers – because it is so personal and so "in the now" as opposed to transporting you to ancient times.
In the end, seeing today's Athenians coping with current affairs, enables me to actually visualize better the life and times of ancient Athenians in these very same spaces.
"It is an initiative that we especially love, mainly because it is based on Athenians' pure enthusiasm for their city and we know that Constantine is one of our most passionate Athens locals!," says Maria Papadopoulou, with the Athens Development & Destination Management Agency of the Athens Convention & Visitors Bureau.
You can find out more "This is My Athens" program through the official city of Athens visitors' website, www.thisisathens.org, and can be matched with our Athens Locals by filling out a form.
Free tours led by locals. Athens is not the only place where you can link up with a native who wants to share his city: Greeter Tours are free tours run by local who love showing their home town to people from around the world, (GlobalGreeetersNetwork.info). Also check the city's tourism bureau to see if they can connect you, just as Athens does.
Related
Popular in the Community