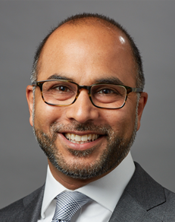 In Memoriam: Ather Ali, ND, MPH, MHS
For a span of many years, I was an inveterate PC user. I knew that Apple was ascending during that time, but that meant change- and I tend to favor the familiar. In my computers, as in the climate. So I stayed put.
I converted some years back when my personal tech guru, Ather Ali, advised me accordingly. That I am now a Mac devotee and something of a walking billboard for Apple is marketing help the folks there don't need. What's germane is that Ather's guidance on the matter of tech was impeccable.
In the years since, I have encountered the inevitable technological challenges, from operating system upgrades, to fire wire transfers, to software compatibility matters. Yes, I could ask the folks at Apple, and sometimes did- but then I still needed to ask Ather to translate what they told me into a language I actually spoke. So, generally, I just asked Ather- and however arcane the issue I brought him, it was resolved within seconds of his reply. I never needed Apple tech support; I only ever needed Ather on speed dial.
The naturopathic Zen master of 21st century tech's most Byzantine conundra? Yes, that was Dr. Ather Ali. If it sounds to you like that title should come with a red cape- I can't disagree. Maybe Ather was the alter ego of a superhero all along.
Prone to mumble, Ather was hard to hear, yet always worth listening to. He was among the most gentle of people I ever met, yet proved over the course of his tragically foreshortened career to be a relentless force for change. He was highly productive while seemingly becalmed in meditative tranquility. He was analytically humanistic, and holistically reductionist- if such things can even be. In Ather, the parts of disparate parties gave up their restive discord, and took their quiet places in a decisively greater whole. What a beautiful thing that was. What a beautiful human being he was.
Ather is gone from us appallingly too soon, a victim of a rampaging esophageal cancer at the age of 42. He leaves behind his wife, Sumiya, and their two children, Rayhan and Yasin. Those children were privileged to have such a father- but deserved to have him here to see them grow up.
He leaves us behind, too, us in our diverse multitudes- us, dispersing from his memorial service yesterday at the Yale School of Medicine- the many of us who differ in so many ways but come together in our appreciation for Ather and the promise of his efforts, only partly fulfilled.
While Ather was able to contain and embody the diverse forces of modern healthcare's better destiny within his single person, it now falls to the body politic to pick up where he left off.
Two currents predominate as modern healthcare navigates its tortuous channel toward an uncertain future. One is the rising standard of scientific evidence in an era of advanced technologies, meta-analyses, and ever more powerful means of probing and parsing. The other is the rising standard of patient empowerment, if not entitlement, ironically also a product of technology. With ever more information (and misinformation) reaching us all via the Internet in all of its incarnations, we have ever more basis to see ourselves as informed, and thus positioned to decide.
Where these currents collide, there is, inevitably, turbulence. Patient preference and p values do not reliably align.
Turbulence, and turmoil, divide us- leaving us to choose a favored bank on which to make our stand. To the one side are those who see only the most stringent interpretations and applications of science as reliable defense against our misperceptions, misguided hopes, and bias. To the other are those favoring the time-honored over the t-tested; prioritizing kinder, gentler treatments and the precautionary principle; inclined to remind that absence of evidence is not evidence of absence.
The reality, of course, is that the primacy of either evidence or empathy suffers for want of the other. The reality is that there are excesses in either direction. RCTs do not deliver us the decisive response to every human need, but we forsake science to coddle our naïve preferences at our peril.
The reality is that those on each bank need something from the other- but in between, the currents roil. Like no one else I have ever met, my friend, Ather Ali, was a bridge over those troubled waters.
I met Ather nearly a decade and a half ago, not long after his graduation from the 4-year, natural medicine program at Bastyr University. His native predilections for holistic, patient-centered care were implicitly obvious. He had chosen the ND degree, not a MD degree. He grew up with an appreciation for the traditional medical practices of India, Ayurvedic medicine in particular.
But we met in the context of the residency program I was helping to lead at the time, in evidence-based integrative medicine. We examined the evidence for every treatment modality considered, and were ruthlessly honest with ourselves and one another when that evidence was deficient. We worked on the generation of evidence, too, in the clinical research lab I have run for 20 years. And when the constructs to guide decision making where human need went on and robust data ran out proved inadequate, we devised new constructs.
In all of this, Ather was at first my student and protégé, and then my partner and colleague, and most recently- an inspiration, and source of pride.
He was the first naturopathic physician ever to join the faculty of the Yale School of Medicine. At the time of his death, he was Medical Director for the program in Integrative Medicine at the renowned Smilow Cancer Hospital. Ironically, and seemingly in the blink of an eye, he became a patient in the very program he helped establish, and directed.
Ather epitomized the possibilities in the still rarefied space where care is scientifically careful, intellectually robust, and profoundly humane. He was an unapologetic advocate for holism and patient-centered medicine, and just as unwaveringly committed to embracing the tenets of evidence-based medicine. Along the course he charted, Ather earned two masters degrees from Yale, one in chronic disease epidemiology, the other in patient-oriented research.
Ather and I secured NIH research funding together, more than once. We published our first peer-reviewed paper together more than a decade ago. Ather went on to publish dozens of peer-reviewed papers, playing a lead role in NIH-funded research demonstrating the effectiveness of massage therapy for osteoarthritis. He secured a coveted K Award from the National Institutes of Health, funding dedicated to his personal development as a clinical researcher. Just a month before his death, Dr. Ali and colleagues published results of an important study of individualized diets for irritable bowel syndrome, which garnered high profile, and well-deserved media attention.
In the large and welcome company of the many who loved him, I simply want Ather here, now. I continue to struggle to accept that he is not. Working through the grief, shared with the many who assembled in his honor yesterday, I have told our closest mutual friends that I keep hearing his voice in my head, and it evokes a rueful grin, since he was so hard to hear when actually speaking. Those grins come and go, as do the tears.
What must remain is the trail Ather uniquely blazed. Maybe no one of us can be what he was, but we can take up the task of it collectively.
What must remain is the light Ather radiated into the world. Maybe no one of us can carry it the requisite distance, but we can pass the torch.
What must remain is the bridge Ather made of himself, above the roiling currents of modern medicine, between the separate banks and disparate factions, over the turbulent eddies of art and science, evidence and empathy, responsible science and responsive humanism. Maybe none of us can be that bridge; but we can cross it, and find one another.
Ather's memory merits no less of us. But, as Ather himself would no doubt consider more important, there are future patients who stand to benefit from the preservation of this work. The best memorial to this man of humble devotion to his patients will be the pain relieved, the suffering assuaged.
To that end, a dedicated fund has been established at the Yale School of Medicine (see details below) to commemorate the life, and sustain the work of Dr. Ather Ali. This is both a means for us to address our sense of loss by taking action in Ather's honor, and the chance to advance the field to which he dedicated his career. That Ather created a rare opportunity even in leaving us is characteristic of his generous spirit.
I wish Ather were here. In his absence, we have that empty space of loss and legacy, purpose and possibility- to fill together.
The friends, family and colleagues of Dr. Ather Ali have established a fund at the Yale School of Medicine in his honor and memory. The Dr. Ather Ali Commemorative Fund for Evidence-Based Integrative Medicine will support Ather's vision and honor his contributions to the field of patient centered, evidence guided, holistic and genuinely caring care. Our collective contributions are intended to create an endowed fund at the Yale School of Medicine where Ather's legacy will be permanently established. The first $10,000 of contributions will be matched by an anonymous donor.
Checks should be made out to Yale School of Medicine:
Yale School of Medicine Office of Development
Yale is a tax exempt charitable organization and all gifts are tax deductible to the extent allowed by law.
Please direct any questions about supporting the fund to:
Associate Vice President for Development
Director of Medical Development
Related
Popular in the Community