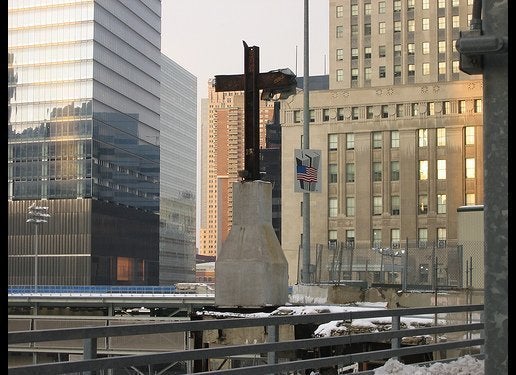 A national atheist group has filed a lawsuit to block the inclusion of the famous '9/11 cross' from a memorial at the World Trade Center site.
The cross, a fused steel t-joint which served to gird the towers before they fell, was unearthed from the rubble following the attacks. Unusual for its proportions resembling the Christian cross, it quickly became a symbol of hope for men and women coping with the horror of the day.
It was moved to nearby St. Peter's church in 2006, where it bore a plaque which read: "The Cross at Ground Zero - Founded September 13, 2001; Blessed October 4, 2001; Temporarily Relocated October 15, 2006. Will return to WTC Museum, a sign of comfort for all."
The cross was moved back to the World Trade Center site on July 23, but according to the American Atheists, it should have stayed at St. Peter's.
"The WTC cross has become a Christian icon," the group's president, David Silverman, said in a press release. "It has been blessed by so-called holy men and presented as a reminder that their god, who couldn't be bothered to stop the Muslim terrorists or prevent 3,000 people from being killed in his name, cared only enough to bestow upon us some rubble that resembles a cross. It's a truly ridiculous assertion."
According to ABC News, Jane Everhart, one of the separate plaintiffs listed in the case, called the cross "an ugly piece of wreckage" that "does not represent anything ... but horror and death."
The group wants equal inclusion of other belief systems - including nonreligious groups - or outright removal of the cross. The 9/11 Memorial Foundation told ABC that other religious artifacts, including a Star of David and a Jewish prayer shawl, will be added the museum ahead of its scheduled opening on September 12, 2011.
See a video report about the lawsuit -- and the cross that sparked the outrage -- here: