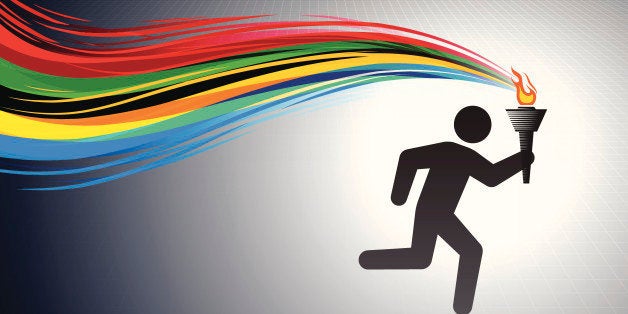 Russia has made its share of headlines lately and it looks like their 2014 Olympic games could have a ripple effect felt for years to come.
Earlier this summer, President Putin signed an anti-LGBT bill into law essentially making it illegal for any Russian citizen (or even tourists visiting the country) to wear "gay propaganda" or proclaim his or her homosexuality in public for fear of receiving fines or being imprisoned.
This is disturbing in its own right, but what makes matters worst is the Sochi Olympics will be held in Russia next year, bringing the country and its anti-gay discrimination directly into the spotlight. The Russian government also stated they will not lift the anti-gay laws for the Olympics, making the climate even more stressful for lesbian, gay, bisexual and transgender Olympians.
Athlete Ally, a non-profit organization which works to help end discrimination and ignorance towards LGBT athletes in organized sports, has turned to social media in hopes of ensuring that future Olympics are held where LGBT athletes are welcomed.
To avoid incidents like those currently taking place in Russia, Athlete Ally has begun a social media campaign where users can use the hashtag #ChooseMadrid to let the International Olympic Committee know their choice for where the 2020 Olympics should be held.
The non-profit is specifically designating principle 6 of the Olympic Charter as a rally point. It reads: "Any form of discrimination with regard to a country or a person on grounds of race, religion, politics, gender or otherwise is incompatible with belonging to the Olympic Movement."
On September 7, the IOC will choose the city for the 2020 Olympic games and the top three contenders for the host city are Tokyo, Madrid, and Istanbul. Of those three cities, Madrid is regarded as the most LGBT friendly, with same-sex marriage being legal in Spain since 2005, making it the third country in the world to legalize gay marriage.
When speaking to MSNBC, Olympic diver Greg Louganis, an Athlete Ally Advisory Board member, spoke about the role the #ChooseMadrid campaign could have: "The IOC has an opportunity in September, when the choice for the next Olympic site is chosen. Madrid is the one candidate who is very open and accepting -- take the Olympics to a place where its ideals and the Olympic movement can thrive."
This summer has already seen it's share of personal protests against Russia, such as gay bars pouring out vodka into the streets. Will the #ChooseMadrid campaign make an impact and force the IOC to consider the host country's stance on LGBT issues before choosing a city for the 2020 games? Only time will tell.
REAL LIFE. REAL NEWS. REAL VOICES.
Help us tell more of the stories that matter from voices that too often remain unheard.
BEFORE YOU GO
PHOTO GALLERY
Straight Allies