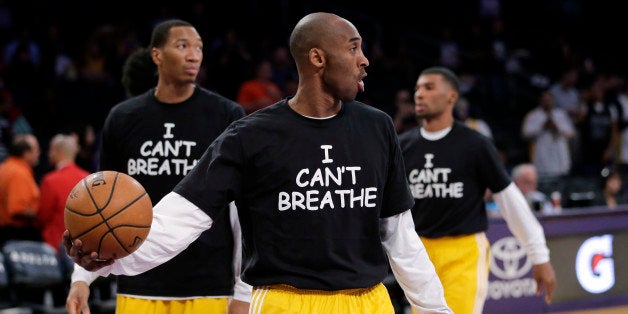 John Carlos had been waiting a long time for Kenny Britt and Kobe Bryant.
The former U.S. Olympian, along with Tommie Smith, became synonymous with athlete activism by raising a gloved fist in a Black Power salute while on the medal stand at the 1968 Olympics. In the decades since that galvanizing gesture, athlete activism waned, seeming to exist in inverse proportion to rising salaries and increased marketing opportunities.
"How about those Rams? They may be under contract to play football, but greater than that, they have a right to care about humanity," Carlos told Dave Zirin of The Nation in December after a group of St. Louis Rams players, including Britt, showed solidarity with those protesting in Ferguson, Mo., following the lack of an indictment following the police killing of Michael Brown, an unarmed black teenager.
"They have the right to feel whether something is just or unjust. They are entitled to their opinions, most centrally that Michael Brown's life should not have been taken. Asking them to just 'shut up and play' is like asking a human being to be paint on the wall. They have the right to say what they feel in their heart. A lot more athletes need to step up and speak up as well. These atrocities have been going on and we are saying enough is enough. I remember saying in 1968, you think I'm bad, just wait until this new generation comes out. I feel like that new generation is here at last."
Hall of Fame football player Jim Brown, another outspoken athlete activist, also took note of the increased social consciousness among athletes toward the end of 2014.
"The thing that I feel most about is the emerging of young players that are intelligently protesting what they feel are injustices," Brown told The Associated Press in December.
From Kenny Britt and Kobe Bryant to LeBron James and Reggie Bush, here are several athletes explaining why they chose to stand with protestors in Ferguson, New York and across the country:
Calling all HuffPost superfans!
Sign up for membership to become a founding member and help shape HuffPost's next chapter