The WNBA, whose players regularly speak out against racial injustice, announced in the morning that it was canceling all three of its Thursday games.
"As the WNBA players continue discussions and reflection on recent events, the WNBA announced that the three games scheduled for this evening (Chicago Sky vs. Indiana Fever; Dallas Wings vs. New York Liberty; Las Vegas Aces vs. Seattle Storm) have been postponed," the WNBA said in a statement.
The NBA also canceled all of its Thursday playoff games but said that it's "hopeful to resume games either Friday or Saturday."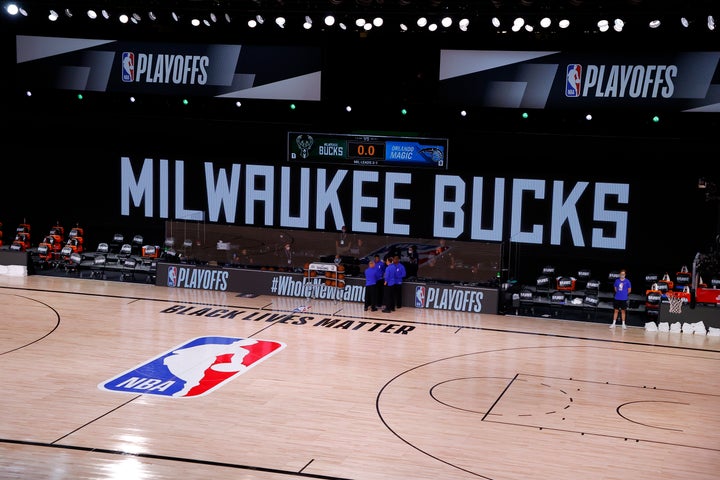 Following a Wednesday protest led by the Milwaukee Bucks, who refused to play their game against the Orlando Magic and inspired other teams to do the same, both the NBA and WNBA canceled all games that day.
"The past four months have shed a light on the ongoing racial injustices facing our African American community," Bucks guard Sterling Brown, himself a victim of police brutality, said Wednesday, alluding to nationwide protests sparked by the police killing of George Floyd in Minneapolis at the end of May.
"Despite the overwhelming plea for change," he continued, "there have been no actions, so our focus cannot be on basketball."
The police shooting of Jacob Blake ― a 29-year-old Black man in Kenosha, Wisconsin, who has been left paralyzed from the waist down ― earlier this week has set off another round of protests across the country. The officer who shot Blake in the back seven times has been placed on administrative leave while the Department of Justice investigates the incident.
Before their game was canceled Wednesday, players for the WNBA's Washington Mystics arrived at the arena wearing shirts that spelled out Blake's name, with seven marks on the backs representing gunshots.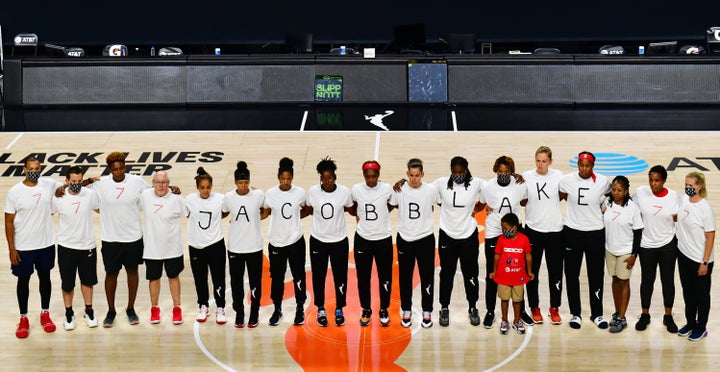 Halting games in solidarity has quickly spread to other leagues. The NHL reportedly decided Thursday that it, too, would not hold any of its games that day.
Players themselves are still leading the charge at the MLB, which has not made an announcement about canceling games. The Oakland A's issued a statement saying they won't play against the Texas Rangers on Thursday.
"All too often we hear about the plight of our fellow man and fail to act. It is long due that these communities are being heard, seen, understood, and supported," the A's players said in a statement.
Several other Thursday match-ups — the Boston Red Sox vs. the Toronto Blue Jays, the Washington Nationals vs. the Philadelphia Phillies, and the Minnesota Twins vs. the Detroit Tigers — will also be postponed, according to various media reports.
On Wednesday night, some NBA teams voiced support for going on strike for the rest of the season, setting off a heated discussion with other teams that wanted to keep playing. The teams reportedly came to an agreement to finish out the season on Thursday morning.
Popular in the Community