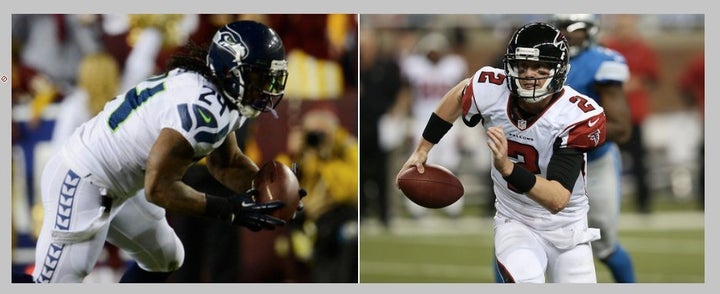 The 2012 National Football League season will forever be remembered as the year of the rookie quarterback. Tremendous attention has been paid to Andrew Luck, quarterback of the Indianapolis Colts, and Robert Griffin III of the Washington Redskins. In addition, rookie quarterback Russell Wilson led his team the Seattle Seahawks to an impressive wildcard win. Now the Seahawks can look ahead to another game less than a week away. Unfortunately, this game will take place in Atlanta and require that the team once again travel from Seattle to the East Coast.
A few hours after the Seahawks and Redskins game, I was contacted by a former NFL general manager. He sent me a text asking, "Should Seattle remain on [the] East Coast to ready for Atlanta?"
We are now wrapping up a football season that opened for players at the end of July. The National Football League (NFL) season is grueling. Travel takes its toll on all teams over a season. As a sleep researcher who focuses on how sleep affects elite athlete, I have studied the effects of travel and disrupted sleep on athletes for many years. The combination of cross-country travel and athletic performance is not pretty. I studied this effect in Major League Baseball (MLB) and found traveling over multiple time zones results in worsened performance.[1] In the NFL, studies have shown similar findings when it comes to East Coast and West Coast teams clashing.[2] Travel and circadian timing matter.
For Seattle, this may be particularly germane as all of their losses prior to Sunday have come on the road. For a typical NFL player, it takes about one day to acclimate to a new city for every time zone traveled. In the case of a transcontinental trip, a player may not be fully acclimated to his new time zone until three days have passed. So in this situation, flying back to Seattle (and readjusting to Pacific Time) and then flying back to Atlanta will set up a very difficult situation for these players. In my research, I describe a concept called "circadian advantage." A circadian advantage refers to a team that is more acclimated to the time zone where the game is being played than their opponent. After Seattle's travel, Atlanta will clearly hold the circadian advantage, along with the home field advantage. Also keep in mind that as the fifth seed in the NFC, they will not play any more games in Seattle, so with a win in Atlanta, more travel to teams happily playing with the circadian and home field advantage looms on the horizon.
Consider this as well: Most athletes perform best in the late afternoon, typically from 3:00 to 6:00 p.m.[3] The game on Sunday is scheduled to start at 1:00 p.m. EST. For a team that is fresh off of their charter plane from Seattle, that game will feel like it is starting at 10:00 a.m. Russell Wilson, the fantastic Seahawks quarterback, is 24 years old. Most 24-year-old guys are still programmed like college students who typically like to stay up late and sleep in as much as possible. A game that kicks off at 10:00 a.m. may be problematic.
How can an underdog like Seattle improve their odds? An intriguing option for a team in this situation is to simply stay put in the East and not pull out their frequent flyer card. By flying back to the West Coast and turning around to simply return a few days later, the Seattle team will have a hard time acclimating to this travel, and it could cost them the edge they need to win the game.
Having worked with many professional teams, I have evaluated and dealt with the drawbacks of this solution. Players and coaches like to be home. They like to be in their own training facility. They like to sleep in their own beds. They like to see their families and friends. The other big downside is cost. Owners incur a much bigger expense when they decide to keep teams on the road for extra days. Hotel rooms, rental cars, and dining expenses add up quickly. Trying to secure adequate facilities for the team can be logistically difficulty and very expensive.
Despite these downsides, I think the choice is clear. I sent a text back to my general manager friend stating that the Seahawks should "absolutely" stay on the East Coast and remain acclimated to this time zone. The circadian advantage resulting from staying on this side of the country could be a huge help to this overachieving team when it enters the Georgia Dome Sunday.
In 2005, the Seahawks won the NFC title and made it to Super Bowl XL. In that game, the margin that separated the two teams was razor-thin, despite the final score of the game. Hopefully, if Seattle decides to travel home, that decision will not doom their quest for their first Super Bowl championship.
1. Winter WC, Hammond WR, Green NH, Zhang Z, Bliwise DL. "Measuring circadian advantage in Major League Baseball: a 10-year retrospective study." Int J Sports Physiol Perform. 2009 Sep;4(3):394-401.
2. Smith RS, Guilleminault C, Efron B. "Circadian rhythms and enhanced athletic performance in the National Football League." Sleep. 1997 May;20(5):362-5.
3. Smith RS, Jamieson M, Dement WC. "A comparison of peak performance, competition, and training in elite athletes." Sleep Research 1996; 25:574.
Related