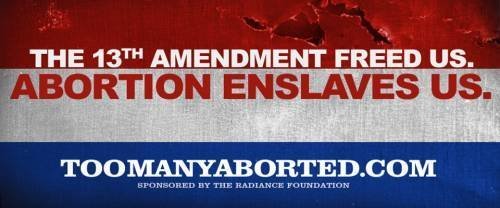 The Radiance Foundation, an Atlanta-based anti-abortion group, launched a billboard campaign on Sunday that compares abortion to the history of slavery in America. The 50 billboards -- which were strategically erected on Juneteenth, which commemorates the ending of slavery in the U.S. -- feature the slogan, "The 13th Amendment Freed Us. Abortion Enslaves Us."
Ryan Bomberger, chief creative officer of The Radiance Foundation, told HuffPost he has "no political aim at all" in launching the campaign—he just wants to expose the negative effect that abortion has on his community.
"When you look at what abortion has brought to the black community, it can't be typified to anything other than present-day slavery," he said. "Roe v. Wade used the 14th Amendment--which finally gave humanity to African Americans—and contorted it to give someone the right to kill an unborn child. It's just like slavery, because you have a class of people who are considered less than human, and therefore they can be treated like property."
The Radiance billboards are the latest development in a growing attempt by the pro-life movement to target black women, who currently account for about 30 percent of all U.S. abortions, but only 12 percent of the population. Radiance launched a previous billboard campaign in 2010 claiming that "Black Children Are An Endangered Species," and Life Always, a Texas-based anti-abortion group, sponsored a controversial series of ads in Chicago earlier this year that featured a picture of President Obama's face next to the message, "Every 21 minutes, our next future leader is aborted."
While black women do account for a disproportionately high amount of abortions, further examination reveals that economic circumstances account for the disparity more than any other racial or cultural factor. African Americans made up nearly a quarter of the population living below the poverty level in 2009, according to the most recent census data, and 42 percent of women who seek abortions are poor. Moreover, the Guttmacher Institute estimates that 62 percent of pregnancies among women below the poverty line are unintended.
The NAACP has historically declined to take a position on the issue of abortion, but the civil rights organization is nonetheless disturbed by the race-baiting ads and their implications.
"Comparing abortion to slavery certainly raises major concerns," Hilary Shelton, director of the Washington bureau of the NAACP, told HuffPost in an interview. "Women are not forced to have abortions the way they were in servitude. Slavery was about not having the right to make any decisions. Women were actually bred to produce children for the purposes of profit. This is so far removed from that, that if it weren't such a serious issue, it would almost be laughable."
Popular in the Community