Once you disrespect Lil B, aka The Based God, by stealing his official cooking dance, you are left with the choice: face his wrath, or own up to it.
Some people, like Houston Rockets star James Harden, simply deny that they know who Lil B is and cook up a lie about the dance originating elsewhere. This, of course, can lead to chaos, potential career destruction and, in worst-case scenarios, the dating of a Kardashian.
So how do you appropriately use the cooking dance without obtaining a curse from The Based God? By simply respecting The Based God. Is that so hard? Let the Atlanta Braves show you the way. Here is step one of a one-step process:
Adequately devoted. Properly respectful. Understandably Based God-fearing. It's everything you need in a single tweet. As such, it received the proper response.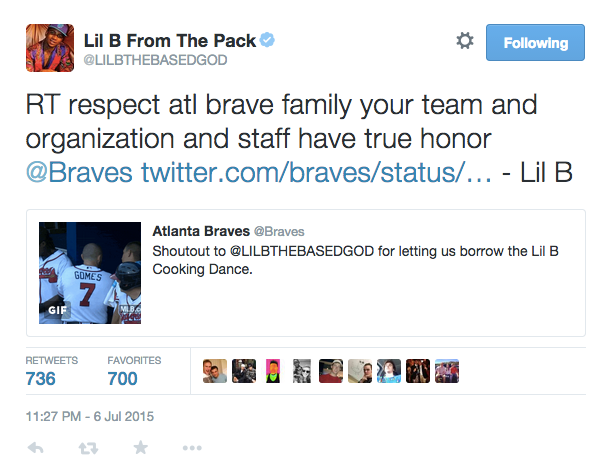 This has been your Tuesday Based God-related public service announcement.
PHOTO GALLERY
The Most Badass Photos From The Women's World Cup Final