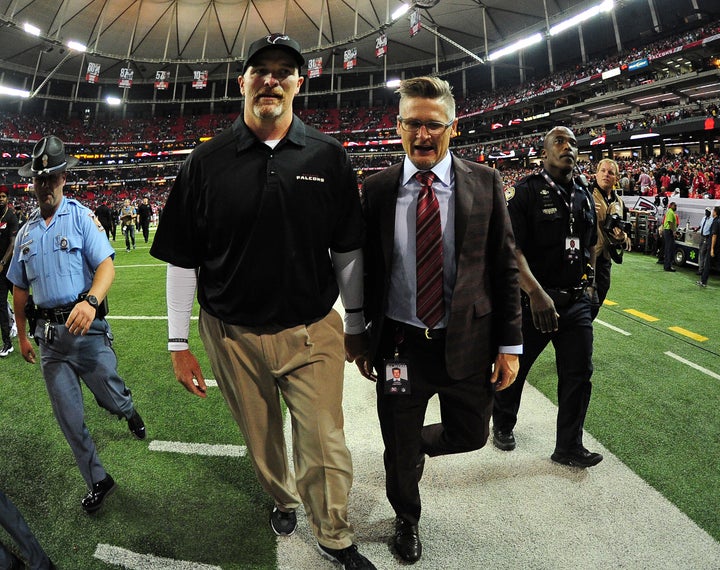 Spend enough time around a professional sports franchise and you'll hear certain words come up again and again: attitude, hustle, respect, win, discipline. They permeate even the most nontraditional coaching staffs and front offices. But here's one word you might not hear as often: culture. What does it mean? And how has it changed the tenor of the Atlanta Falcons?
When general manager Thomas Dimitroff found himself on the hunt for a new head coach after last season, he knew that two consecutive losing campaigns -- and a combined 10 wins -- would not cut it. He also had the benefit of an explosive offense built on a rock-solid quarterback in Matt Ryan and arguably the league's premier wide receiver, Julio Jones. Both were top-10 draft picks for Dimitroff, Ryan in 2008 and Jones in 2011.
While a healthy culture is hardly an automatic guarantee of results, it's been working out pretty well for Atlanta this year. The Falcons sit perched atop the NFC South at 5-0, the second-best start in franchise history. Ryan has always ensured a solid offense, but it's been the defense -- guided by newly minted head coach Dan Quinn -- that has perhaps exceeded expectations the most in 2015, despite returning eight of 11 starters.
"Dan was a coaching candidate that came to the table with a really strong, definitive plan," Dimitroff, 49, told The Huffington Post. "He talked a lot about allowing the players to be the athletes they were, to allow them to play fast, free and physical ... The rest of his coaches are very mindful of the positive aspects of a player, and not stressing the negative."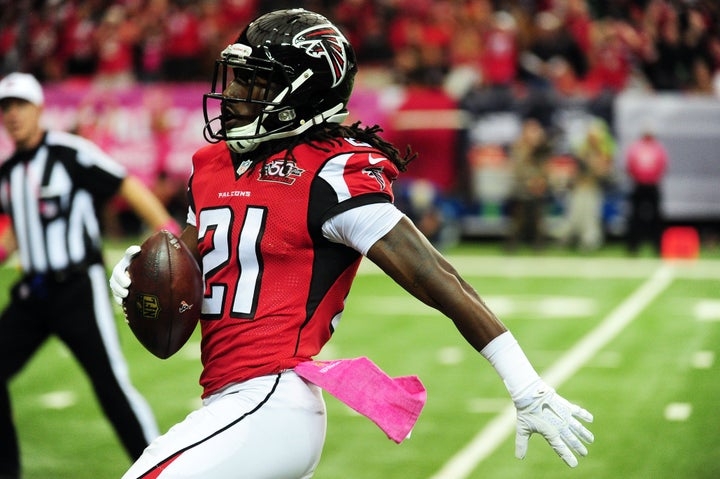 Third-year cornerback Desmond Trufant -- whom Dimitroff nabbed 22nd overall in the 2013 draft and who has quickly ascended as one of football's top-flight cover guys -- has excelled in Quinn's assignment-based yet player-friendly system.
"[The coaches] have simplified what we have to do," Trufant, pictured above, told HuffPost. "The game plan is straightforward, and that allows us to play fast. We don't do too much on the defense, so we know how teams are going to attack us."
Last year's 6-10 disappointment mainly stemmed from a defense that ranked dead last in total yards allowed and 27th in points against. Dimitroff and Falcons owner Arthur Blank both wanted a head coach who would not only scheme at a high level, but also allow guys to maximize their athleticism by playing their game. Dimitroff wanted to forge a shared vision in that respect.
"I just think that Dan has really instilled in a lot of the guys that were holdovers, and in some of the new guys, about that tenacity, about being on the edge, about flying around and not worrying about the consequences of something," Dimitroff said. "It's all about competitiveness. We're a big culture team. Culture is [Quinn's] number one thing."
Quinn, 45, learned the value of culture from Pete Carroll in Seattle, where Quinn was the defensive coordinator on back-to-back Super Bowl teams, including the Seahawks' world championship win over Denver, 43-8, in 2014. Under his tutelage that season, the Seahawk defense led the league in fewest points allowed, fewest yards allowed and most takeaways. It was a masterful defense that will go down as one of the greatest in history.
"Pete was the first one to challenge me from a philosophy standpoint," Quinn told HuffPost. "That part made a huge difference for my own self, about how I'd like to do it if I had the chance."
Dimitroff and Quinn -- who speak upward of 10 times a day -- both believe that the relationship they've built has been crucial to sharing the same vision and translating it into success.
"We interact very freely and openly on so many things," Dimitroff said. "He really wants to have the best partnership ever between a head coach and a GM."
"I knew that I wanted to connect and partner up with somebody that wanted to do the program in the same fashion that I did," Quinn said. "With T.D., the culture we wanted to create was one based on competition. Both of us wanted a positive environment ... We balance each other well."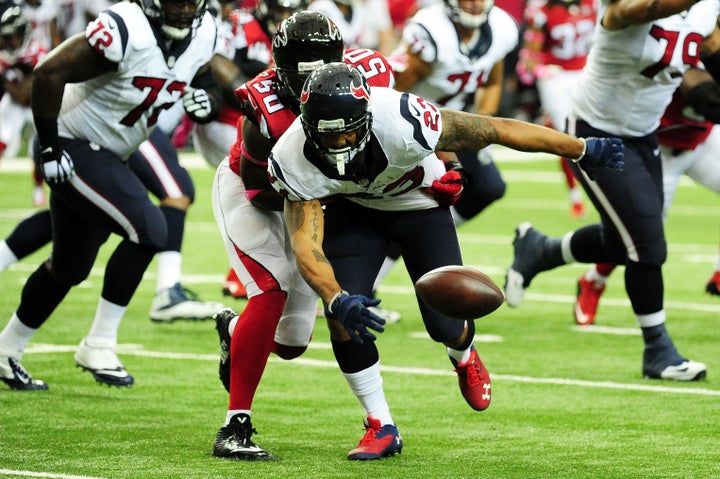 Such a balance has led to dramatic improvements on the defensive side of the ball. Atlanta -- which had a game-winning pick-six against Washington in Week 5 -- currently ranks 15th in points allowed and has become the stoutest unit in the league against the run, ranking first in rushing yards allowed per game.
"They tell us, don't worry about making mistakes, don't worry about anything negative," Trufant said. "Just have fun and be aggressive. Play fast. And it's really showing ... If you do make a mistake, just make it 100 mph. It's just stress-free."
Look at the running backs whom the Falcons have shut down: DeMarco Murray, Arian Foster (above) and Alfred Morris. These are elite guys who've had little or no success for 60 minutes. Moreover, Quinn's defense has generated three scores (one by Trufant) in the past two weeks. That's equal to the total number during Atlanta's previous 29 games.
"The whole program is based on playing fast and physical," Trufant said. "Every play in practice, we going after that ball. Whether it's a strip attempt, whether it's an interception -- everybody is targeting the ball, and it's showing ... We just flying around, man, and everybody has that mindset. Every call that they give us is to get the ball back."
"[Dimitroff] and I both think that toughness is a talent," Quinn said. "You have to be freed up mentally so you can make full-speed decisions. We love when we see that in guys ... We grade guys on a 'CT' [competitive and toughness] grade, and that means something to me."
Another element of Quinn's program is the technical side. For example, he aims to give his defensive personnel certain specifics -- little things that may not seem super important, but that in sum can spell the difference between winning and losing.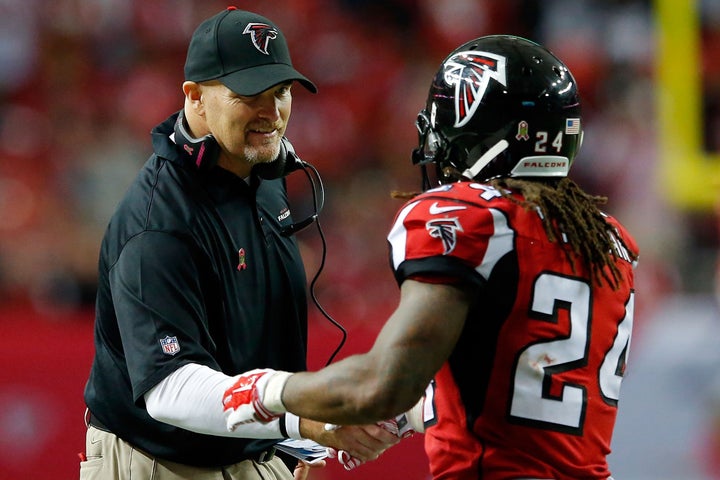 "Receivers hate when they are pressed [at the line of scrimmage]," Trufant said. "That's how they get open. That's how they make their money."
"When I'm patient -- which they're teaching me -- [the receiver] doesn't get any separation," he went on. "I'm being very patient, letting him dance, letting him do whatever he wants to do, and I'm just stepping into position."
A major component of Quinn's coaching philosophy involves drawing connections between football and other areas of life. He shows his players boxing videos as inspiration and has been known to use music -- rap, Bon Jovi, whatever -- to help athletes get into the right headspace.
Quinn and Dimitroff remain hell-bent on pushing toward more victories. For example, they both want to improve the NFL's 30th-ranked secondary, and they both want a more threatening pass rush. But the process takes time, and the winning speaks for itself.
"This really is a 'Not for Long' League," Dimitroff said. Quinn echoed the sentiment: "I don't think we're playing anywhere near as well as we will be."
For his part, Trufant believes that the emphasis on competition and culture has transformed the Falcons.
"Everybody just believes," he said. "Everybody has bought into the system. We believe in each other. The team has grown very close together. We all have each other's back ... We approach every week like it's a championship week, a championship game."
Popular in the Community