As recently as late August, onlookers were making bold predictions about the usual NFL suspects ― Seattle, Arizona, Carolina, Green Bay, New England. We heard some chatter about Pittsburgh, Cincinnati, maybe Minnesota. One team that didn't come up much, though, was the Atlanta Falcons.
This is a bit odd, because when you scroll through the checklist of winning factors, the Falcons hit just about every one. Pro Bowl caliber veteran quarterback? Check. Top flight running game? Check. Elite wide receiver? Yes. Improving defense? Yup. Strong home field advantage? Mm-hmm.
As things stand today, the Falcons sit atop the NFC South (supposedly Carolina's division by a stranglehold) at 4-2, coming off a road loss to the Seahawks. But it was only in the past two weeks ― including last Sunday's 26-24 defeat in Seattle ― that Atlanta fully showed the league why it's a legitimate Super Bowl contender.
There are multitude of reasons, but one thing we know is that when a team successfully adopts the identity of its head coach, good things tend to happen.
For Atlanta, integrating second-year coach Dan Quinn's philosophy has proved to be a winning formula. Quinn, the former Seahawks defensive coordinator on Seattle's Super Bowl champion team, demands a disciplined brand of play ― on both sides of the ball.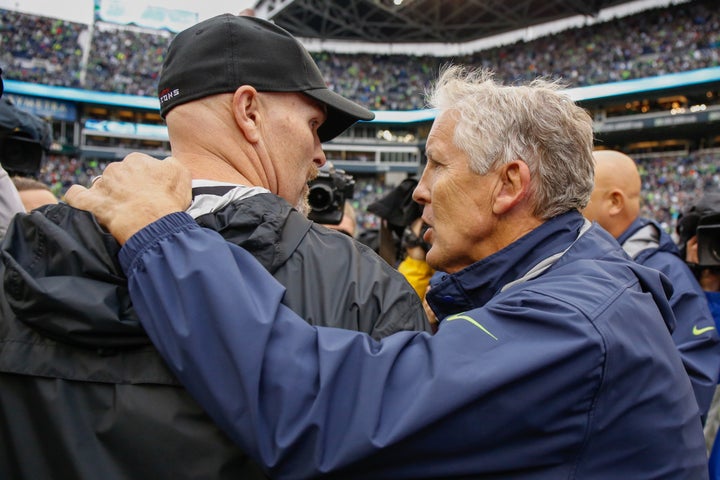 "He's really solid, Dan Quinn, he's a really good guy, he's unflappable," Seahawks head man Pete Carroll told the team's website earlier this month. "He's got a real discipline about him. He presents himself to the players when he's in front of them or when he's coaching or challenging them in a way that they get him and they understand him and he makes sense to them."
Of course, winning also makes sense to players. And the more you win, the more players want to buy into the process.
In 2015, we learned about that process and why Quinn ― alongside general manager Thomas Dimitroff ― values the "how" as much as the result. The Falcons raced out to a 6-1 start, only to falter down the stretch and miss the playoffs. But there's value in failure, too. And the Falcons learned what they needed to from the episode.
"We so desperately wanted [an identity] to happen last year," Quinn said this week after the loss to Seattle. "But I feel like the group is growing. Quite a bit different from last year's group."
When we think of Atlanta, we think of Julio Jones and Matt Ryan, both of whom are well on their way to All-Pro campaigns. We think about Devonta Freeman, his league-best 11 rushing touchdowns in 2015, and how he's now flanked in the backfield by a healthy Tevin Coleman, who's already amassed five touchdowns.
On the road in Denver in Week 5, the Falcons were tasked with finding ways to score on one of pro football's most intimidating and dominant defenses. With a tone-setting touchdown drive to open the game, they did just that ― and against a reigning Super Bowl champion team that hadn't lost a home game since Week 14 last year.
Atlanta stayed the course with the running game ― achieving the balance it needed with Freeman and Coleman ― only to strike late and clinch the game with Coleman, routing a mismatched linebacker for a 31-yard touchdown reception. The 24 points surrendered by the Broncos were the most since November 2015. And in the end, it wasn't just the Falcons' 23-16 win that impressed so much ― it was how they pulled it off with their defense.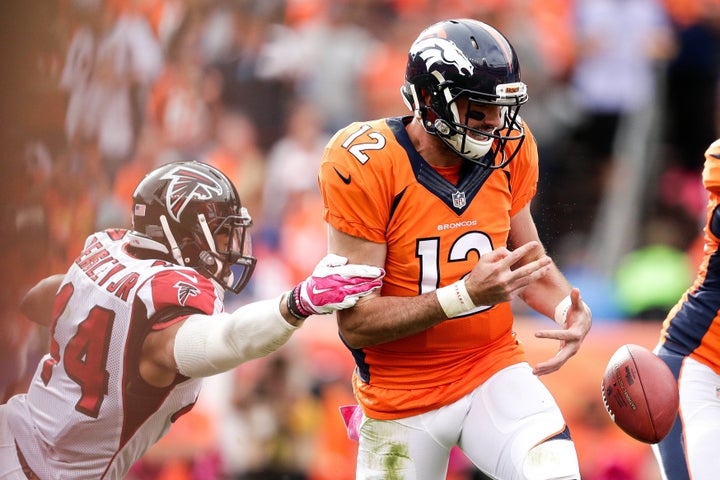 The young defense was able to generate a pass rush, thanks in large part to 2015 first-rounder Vic Beasley Jr.'s 3 1/2 sacks. Then again, it came against rookie backup Paxton Lynch, not starter Trevor Siemian. Perhaps, at this point, the skeptics still lingered.
But surely many remaining doubts were eliminated when Atlanta went into Seattle and pushed one of the NFC's best. Quinn's bunch once again found success against an elite defense ― one that has ranked first in the league each of the past four years.
Guiding Atlanta's balanced offense, Ryan authored four drives of 50 yards or more. It took a dropped Julio Jones pass and a questionable no-call against Seattle cornerback Richard Sherman to seal the Seahawks' win.
The NFL is a grueling gauntlet, and a strong six weeks hardly guarantee sustained success, something the Falcons learned all too well in 2015. This is a different team, though ― better, more balanced. And its head coach knows it.
"I like what our team identity is becoming. It's growing stronger — that toughness, that resolve — to where we can attack in all three phases," Quinn said after Sunday's game. "I feel it's coming together."
Related
Popular in the Community