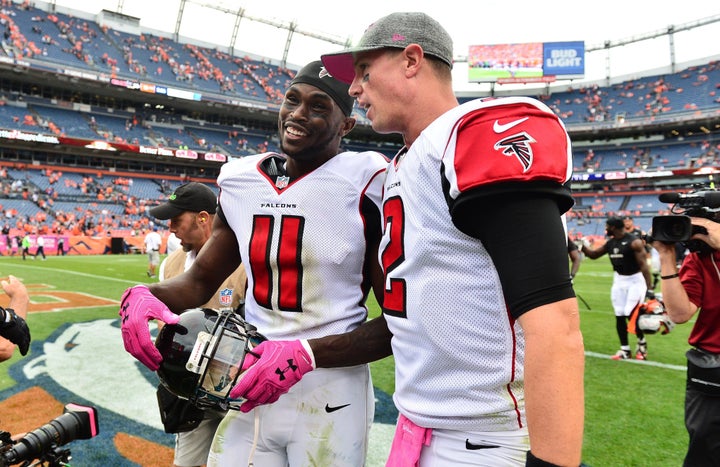 Heading into the NFL Playoffs last weekend, the New England Patriots were the clearcut Super Bowl favorite, according to Las Vegas oddsmakers. With the Pats listed at 7-5, Dallas came in at 7-2, followed by red-hot Green Bay at 8-1.
The Atlanta Falcons, meanwhile, were listed at 10-1, alongside perennial playoff disappointment Kansas City. Hardly any action has come in on the Falcons either.
To be sure, Las Vegas spreads are not the barometer for postseason success ― they're merely designed to drum up equal betting action on both sides. But they do tell us which teams are being ignored by the betting public, and Atlanta is certainly one of them.
Atlanta, the NFC South champs and second-seeded in the conference, is set to host (and seek revenge) against NFC West winners Seattle in the Divisional Round on Saturday.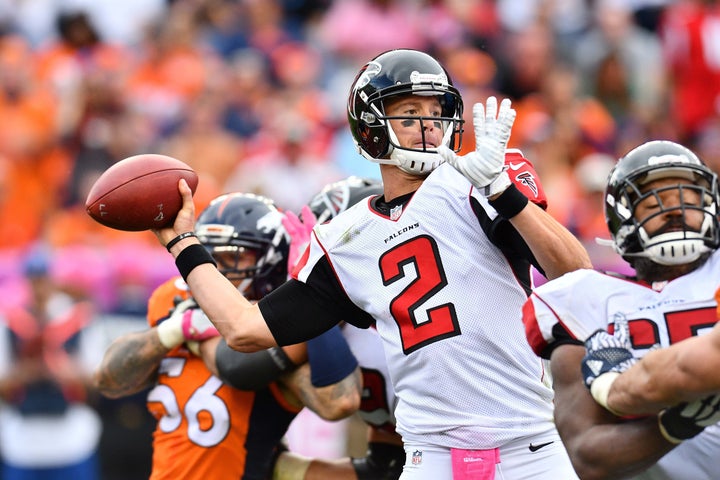 From an offensive standpoint, Atlanta may be the most lethally balanced unit in the league. First Team All-Pro quarterback Matt Ryan ranks second in the NFL with 38 touchdowns ― eclipsed only by Green Bay's Aaron Rodgers ― and he has the best passer rating in the game at a robust 117.1. And he's achieved all this while heaving the ball down the field: Ryan leads this season in yards per attempt. The next closest quarterback, fellow MVP candidate Tom Brady, trails him by more than a full yard.
In fact, ESPN reports, "Ryan completed 30 of 60 passes thrown 20 or more yards in the air down the field for 1,116 yards with 10 touchdowns and no interceptions." According to ESPN, only the Colts' Andrew Luck and the Seahawks' Russell Wilson have better completion rates this season.
Of course, the knock on Ryan in years past has been his slew of turnovers, particularly in critical situations. Last year for example, he trailed only New York's Eli Manning with six red-zone interceptions, according to Pro Football Focus.
This season, however, Ryan has limited his mistakes, tossing just seven picks (one in the red zone) and ranking third behind Rodgers and New Orleans' Drew Brees in red-zone efficiency.
Ryan's prowess is undoubtedly due in part to the spectacular play of wide receiver Julio Jones. The 27-year-old Jones is second in the league in both receiving yards (1,409) and 20-plus yard catches (27). His average of 100.6 yards per game ranks first, and he has dropped just three balls over a staggering 125 times as the targeted receiver.
If we go back to 2012 ― when Atlanta was merely one short completion away from the Super Bowl ― we see that the offense was buoyed by a balanced attack. Roddy White remained a viable second option alongside Jones, and tight end Tony Gonzalez was a First-Team All-Pro. This year's Falcons roster doesn't possess a player like the future Hall of Famer Gonzalez, but the 11-5 team has fielded a quartet of receiving threats other than Jones.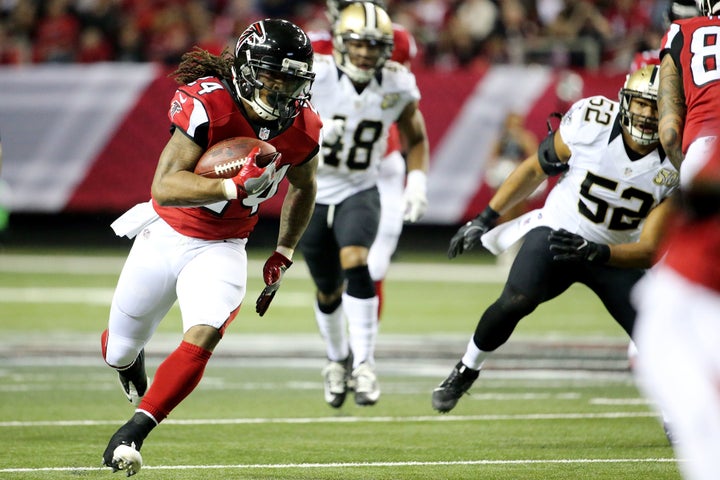 Free agent acquisition Mohamed Sanu is a productive big body inside the 20s, while Tevin Coleman (421 receiving yards) and Devonta Freeman (54 receptions) are two of the premier pass-catching backs in pro football. Freeman, the back-to-back Pro Bowler, lacks no confidence and boasts a 4.8 rushing average, along with 13 total touchdowns.
Perhaps the real surprise has been the 5-foot-8-inch speed demon Taylor Gabriel, who went undrafted in 2014. More recently, the third-year man out of little-known FCS Abilene Christian had been cut by the lowly Cleveland Browns.
But after amassing just eight catches through Atlanta's first eight games this year, Gabriel ― who's not unlike the Chiefs' Tyreek Hill in dynamic ability ― caught fire, totaling 27 catches over the last eight games. His main contribution could be his explosiveness: He has seven total touchdowns, including individual plays of 47, 26, 76, 35, 64, 31 and 27 yards. In fact, Gabriel's 18 percent touchdown rate would be tops in the NFL if he had the qualified number of touches.
That being said, maybe the biggest reason why the public seems to underrate the Falcons is its defensive unit, which ranks just 25th in total defense and 27th in opposition scoring. And that's a fair complaint.
But it's not as if this defense lacks a slew of talented playmakers. (That was more of a glaring issue during the 2015 campaign.)
While Pro Bowl cornerback Desmond Trufant has been lost for the year with a shoulder injury, second-year edge rusher Vic Beasley Jr. earned First-Team All-Pro honors and leads the NFL with 15.5 sacks. He is a viable Defensive Player of the Year candidate.
Additionally, standout rookies Keanu Neal and Deion Jones both have over 100 tackles, including more than 70 solo. Neal, a highly touted first-rounder out of Florida, has received more publicity because of his five forced fumbles, while Jones has three picks, two of which he returned for touchdowns.
Better yet, Neal and Jones clearly pass Quinn's "CT grade," which he described to The Huffington Post last season. "[General manager Thomas Dimitroff] and I both think that toughness is a talent," Quinn said. "You have to be freed up mentally so you can make full-speed decisions. We love when we see that in guys. ... We grade guys on a 'CT' [competitive and toughness] grade, and that means something to me."
With a dominant offense and an opportunistic, if not spectacular, defense, Atlanta has as good a chance as anyone to run the table in the NFL's single-elimination tournament. The NFC in particular appears wide open, with question marks surrounding Dak Prescott and top-seeded Dallas, along with the struggling Seahawks and streaking Packers.
But the bottom line could be Ryan. This is a quarterback-driven league, and the Falcons may have the league MVP in him.
CORRECTION: The Atlanta Falcons are this season's NFC South champions, not the NFC North champions.
Popular in the Community