A gay couple in Atlanta suffered severe burns after allegedly being doused with boiling water in their sleep. (WARNING: contains graphic images) 
Marquez Tolbert and his boyfriend, Anthony Gooden Jr., said they were sound asleep on the evening of Feb. 12 when they were jolted awake by the sensation of scalding hot water being splashed across their bodies. 
"We were just burning. My body was just stinging," Tolbert told Project Q Atlanta. "It was like a really, really severe kind of stinging. I could hardly think straight." (Hear him speak about the incident in the WSB-TV news report above) 
The assailant, they said, was 48-year-old Martin Blackwell, who is the boyfriend of Gooden's mother, The Washington Post reports. Police records show Blackwell was arrested Feb. 13 on two counts of aggravated battery and is being held without bail. 
Tolbert, 21, believes he and Gooden, 23, were attacked because they are gay.
During the attack, Tolbert told WSB-TV, Blackwell "pulled me up and said, 'Get out of my house with all that gay.' I couldn't stop screaming."
Meanwhile, a police report cited by Project Q Atlanta quoted Blackwell as saying he was disgusted by the couple, who had been dating for about six weeks at the time of the alleged attack. 
"They was stuck together like two hot dogs," Blackwell told police, according to the report. He also claimed the two men were having sex when he walked in, although Tolbert family friend Vickie Gray denied that charge to The Washington Post. "I poured a little hot water on them and helped them out," he said. "They'll be alright, it was just a little hot water."
The couple suffered second and third-degree burns as a result of the alleged attack, according to WSB-TV. Tolbert spent 10 days in the hospital, while Gooden returned home March 11 after five weeks.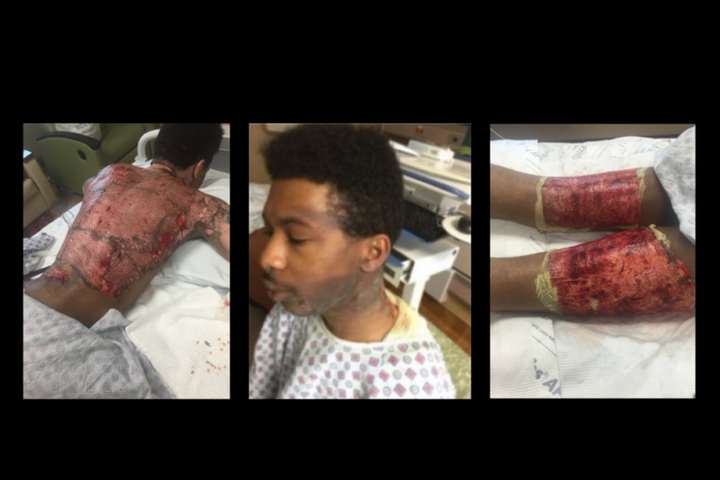 An Atlanta police department LGBT liaison told WSB-TV that federal hate crime charges are a possibility in the case, even though such legislation doesn't exist in the state of Georgia. 
Meanwhile, GoFundMe campaigns have been launched by Vickie Gray, a friend of Tolbert's family, and by Gooden's cousin, Diyawn, in an effort to help the alleged victims pay for their medical expenses. 
Gray told The Huffington Post that Tolbert was "healing nicely," and is attending weekly counseling and physical therapy appointments. He is expected to wear compression garments for the next two years, she said. 
"Emotionally, he has a ways to go," she said. "He has moments that resemble [post-traumatic] stress disorder."
Meanwhile, on her fundraising page, Diyawn said she and her family were "bonding together to do everything in our power to help Anthony [Gooden Jr.] during this difficult time." 
At the time this story was published, over $31,000 had been raised by Gray's campaign, while Diyawn's had generated over $14,000. Meanwhile, queer comedian Margaret Cho and LGBT rights advocate Dan Savage have been among those to tweet their support for the couple.   
On a positive note, Gray told HuffPost that Tolbert was "in disbelief" by the outpouring of support he and Gooden had received in the wake of the incident. 
"I don't think he knew how the LGBT community is unified because he only came out a year ago, and before that, he lived a sheltered life with a close-knit family," she said. "It's still difficult for him to talk about it without breaking down." 
Our thoughts go out to Gooden and Tolbert as they continue to heal.
Calling all HuffPost superfans!
Sign up for membership to become a founding member and help shape HuffPost's next chapter
BEFORE YOU GO
PHOTO GALLERY
Homophobic Tweets By Celebs