In a small art gallery on the west side of Atlanta, former NBA superstar Dominique Wilkins stopped for a second to gaze at an old photo. It was of him, thirty-some years ago, rising for a dunk in the now extinct Omni Coliseum. Alongside Dominique stood a plethora of Atlanta Hawks royalty including head coach Mike Budenholzer, former fan-favorite Josh Smith, CEO Steve Koonin, and the much-hyped first round pick John Collins. They were there to celebrate Scott Cunningham, the team photographer for the past 40 seasons who has captured many of the city's most iconic images.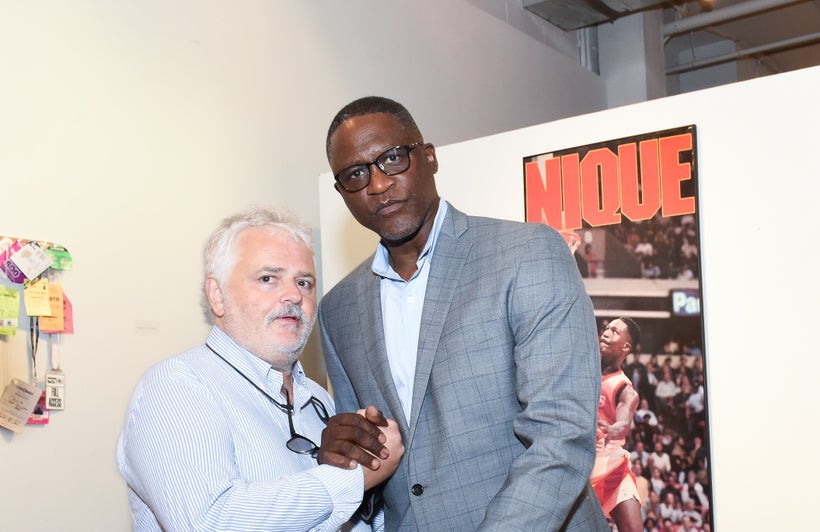 In an exhibit now on display at the Westside Cultural Arts Center, handpicked photographs from Cunningham's career can be seen enlarged and in dynamic color. From Michael Jordan peering down the court, to Bo Jackson kneeling on the sidelines, to Billy Joel leading a chorus behind a piano, the exhibit offers a rare look at some of the most remarkable people in sports and pop culture over the last few decades.
At the private opening of the exhibit on August 2, folks from the Hawks organization lined up to share how Cunningham's work has impacted their lives. "Scott helped make me who I am today," said Dominique Wilkins. "Because he captured every essence of the person in those photos." Wilkins told the crowd of his favorite photograph Cunningham ever took of him: "It's not a picture of me dunking or flying through the air, but it's a picture of me standing with my fist in the air. And he captures the emotions, the expressions, the excitement of that person. That is my favorite photo because it lets you know how detailed and serious his work is."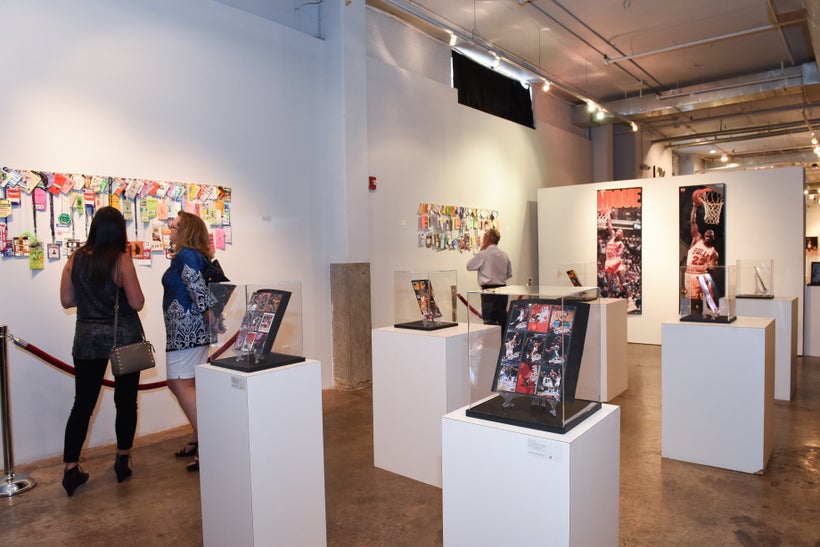 Coach Budenholzer told Cunningham how much he appreciated walking into the arena before every game and seeing him there. "As a coach the number one thing we always strive for is consistency…and as I walked around the gallery tonight, I thought about Scott. I thought about 40 years of consistency, and being consistently great. That's what you've done with these pictures"
To create the exhibit, the Hawks partnered with the non-profit group Atlanta Celebrates Photography to comb through over 20,000 photos from Cunningham's archives. Prominently featured in the center of the gallery are Cunningham's four Sports Illustrated covers and hundreds of his press passes from over the years.
For the Hawks, pulling out all the stops for their photographer was a no-brainer. "It just shows how much we care for one another, and how much we try to support each other within this organization," said Hawks CEO Steve Koonin. Even the newest members of the team, 2017 draft picks John Collins and Tyler Dorsey, showed up to pay tribute to Cunningham.
"I'm a native Atlantan," Koonin told the crowd at the private opening. "And when I walk though this gallery, I don't see sports photography, I see a huge piece of my life."
The exhibit, titled "From the Baseline: 40 Years Beneath the Rim", will be open to the public until August 14.
REAL LIFE. REAL NEWS. REAL VOICES.
Help us tell more of the stories that matter from voices that too often remain unheard.
This post was published on the now-closed HuffPost Contributor platform. Contributors control their own work and posted freely to our site. If you need to flag this entry as abusive,
send us an email
.