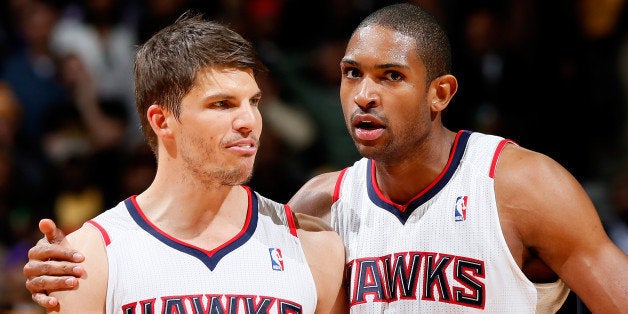 NBA teams need a definitive go-to option for crunch time. When you've got to get a bucket, you either isolate your offensive weapon or run a set to get him a good look. But what if your best offensive weapon is a rotating slate of talented players all capable of making a play? What if -- as the defending world champion San Antonio Spurs proved last season -- you don't necessarily have one go-to player? Well then, you are looking at the Atlanta Hawks, a team with four All-Stars who don't care who gets the last look.
Watch the Hawks for even a few minutes, and immediately what jumps out is an unusual brand of half-court offense. Newly minted NBA Coach of the Year Mike Budenholzer -- a Gregg Popovich disciple -- stresses unselfishness, quality off-ball screening and floor spacing designed to generate solid shots on every possession.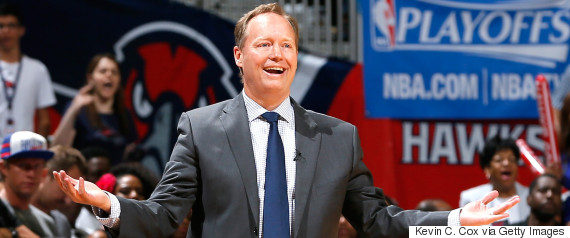 Atlanta, the No. 1 seed in the Eastern Conference with 60 wins, ranked fourth in overall field goal percentage and second in 3-point percentage this season, trailing only juggernaut Golden State. The impetus to the offense is point guard Jeff Teague, a naturally attacking and probing lead guard who is enjoying the best year of his career. Teague's role -- and style -- is not dissimilar to Tony Parker's, and both are highly capable scorers who thrive in the paint and in pick-and-roll. In the set below, he finds a slipping Paul Millsap after Millsap perfectly reads the defense. Brooklyn then over-rotates and leaves DeMarre Carroll wide open for a layup.
Plays like this are the reason the Hawks led the league this year on assisted field goals. Teague's seven helpers a game are a major reason for this success, along with the team's two bigs in Millsap and Al Horford. Both All-Stars can really pass from either the high post or the block, as well as convert around the rim.
Budenholzer likes to run a series of cutters to make the opposing defense have to decide whether or not to help. That decision is made increasingly difficult by Kyle Korver's presence beyond the arc. Korver -- Atlanta's fourth All-Star selection in 2015 -- is often the most important player on the floor. A knockdown 3-point shooter his entire career, the 34-year-old has been especially lethal this season. He has connected on a stellar 49 percent, ranking him second in the league and first for starters. The former second-round pick produces a hefty part of his triples from offensive rebounds, generally the best time to shoot a 3 because the defense is left scrambling, as we see below.
Budenholzer, grasping the extreme value in the way defenses react to just the mere threat of Korver, designed his offense in part around him. As a result, we often see Korver being used as a decoy or even an ancillary option to free up another part of the floor. For example, in the first clip below, Brooklyn's Joe Johnson is forced to stay high so that Korver can't get a clean spot-up look. Atlanta, per usual, reads it and gets a wide open layup.
And here, the Nets are expecting Korver to launch a clean shot from deep, but he instead becomes a willing passer for an even better look.
"There's this really fine line that some coaches don't try to walk," Korver told ESPN.com. "I feel like every coach is either really good at X's and O's or a really good personality manager, and there aren't many coaches who know how to walk the middle. Bud? I've never seen a coach at any level who does it better than him."
All in all, this is what makes Atlanta so dangerous from an offensive standpoint. Unselfishness and ball movement is always a positive in basketball, but between their diverse talent and "Bud's" creative scheming, the Hawks generally enter every possession -- both in the half-court and transition -- as the aggressor with a distinct advantage somewhere on the floor.
As a result, it doesn't matter that they lack a true "go-to" threat, because everyone on the floor becomes a viable option. Remember, the five starters all averaged between 12 and 17 points during the regular season, and nobody -- not even once -- has scored more than 30 points in any one game. For Mike Budenholzer and the Atlanta Hawks, that precise balance translates to consistent success and winning basketball.
Email me at jordan.schultz@huffingtonpost.com or ask me questions about anything sports-related at @Schultz_Report, and follow me on Instagram @Schultz_Report. Also, be sure to catch my NBC Sports Radio show "Kup and Schultz," which airs Sunday mornings from 9 to 12 EST, right here.
Calling all HuffPost superfans!
Sign up for membership to become a founding member and help shape HuffPost's next chapter