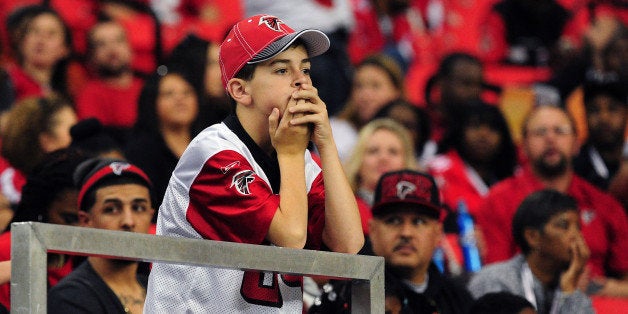 When Mo Speights airballed his fade away three-pointer in the closing seconds of Game 7, it didn't just seal a Cavs victory, but relieved a crushing desperation from a city that has endured a generation of jokes. All of America celebrated with Northeast Ohio, for awhile. But pretty soon the search was on for the new most cursed sports location in the country. Buffalo? San Diego? Rex Ryan's bedroom? There's a lot to choose from, but the answer is clear. The most cursed sports city in the country, ladies and gentleman, is Atlanta.
On the surface, Atlanta seems like they've got it all together. Their three major professional sport franchises have all enjoyed their share of relative success and moreover, have all been consistently good over the past few decades. But what really makes a city cursed? It's more than just being bad. No one would say that Matt Millen's time with the Lions was "cursed". No, you would say he sucked -- it's very different. Being cursed means pain and heartache. It's a ground ball through the legs during Game 6, or watching a middle-aged man sink a corner three to tie the game after you had all but won the NBA Finals, or losing to your arch-rival on a field goal that misses just to the right... four separate times.
Atlanta sports fans can relate -- somehow the Braves, Falcons and Hawks have all perfected the art of raising fan expectations during the regular season just to painfully obliterate them during the playoffs. Being an Atlanta sports fan is like spending months working up the courage to ask a girl out, and then just as she is about to say yes she gets hit by a truck. And then the process repeats three times a year for forever.
If you travelled back to last October, you find a perfect 5-0 Falcons team on top of everyone's power rankings. That team didn't even make the playoffs.
Two NBA seasons ago, the Hawks were the Eastern conference mirror of the Warriors. Both were in the middle of franchise-best seasons with a finely tuned roster of role players and budding stars. The Hawks even beat Golden State in their high-profile regular season meeting in Atlanta. A few months later, the Hawks were swept out of the playoffs while the Warriors went on to win it all and become the league's premiere franchise.
Three years ago, the Braves won 96 games with a lineup full of young and exciting talent. They lost three games to one in the first round. Today, they are on pace to lose over 100 games, and all that young, exciting talent is playing for other teams.
And that's just since 2013.
The excruciating existence of Atlanta sports is widely discussed in north Georgia, but is largely passed by in the national media. The Braves have been to the playoffs seven times since 2002, and have lost in the first round each time. They did of course win a World Series in 1995, beating Cleveland ironically, but they've been to the playoffs a whopping 17 times since the beginning of the Bobby Cox era, and have only managed to win that one title.
The Falcons have been around for 50 years and have never won a Super Bowl, despite their double-digit playoff appearances.
Even, the city's most beloved college team, the Georgia Bulldogs (sorry Georgia Tech but you know it's true), outputs disappointment on a remarkable level. If you're an Atlanta sports fan, you have to go from watching the Falcons blow it in the playoffs, to immediately turn around and see the Haws promising regular season turn into an embarrassing sweep from LeBron, and then go straight into dealing with whatever the Braves are doing.
Atlanta wins the title of "The New Cleveland" because they're the only city that maintains a constant, three-sport level of sadness that exists 365-days a year. But who knows, maybe Dwight Howard will be the hero to come back home and redeem it. Just kidding.
Calling all HuffPost superfans!
Sign up for membership to become a founding member and help shape HuffPost's next chapter