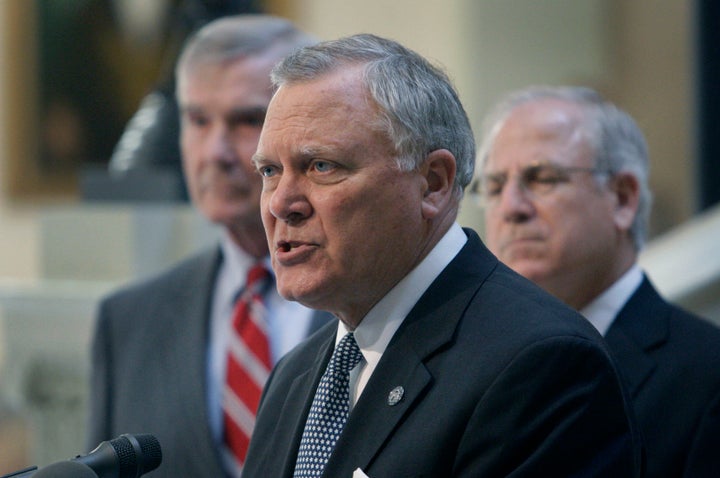 Three years ago, Heather Vogell, an investigative reporter at the Atlanta Journal Constitution, sat down with a data analyst to crunch some numbers.
She had just received the latest crop of scores for the CRCT, a state standardized test. Curiously, Vogell noted, several schools statewide had changed in status between the spring 2008 administration of the test and the summer retest in 2008, going from not meeting Adequate Yearly Progress rates, a calculation set by federal legislation that determines the fates of individual schools, to meeting the measure.
"We saw there were a lot more schools that met AYP than we had expected. It was a larger shift," Vogell told The Huffington Post.
Like any intrepid reporter, she had some questions. "We were poking around. We saw some schools that had very hard to believe gains, just looking with the naked eye," she said.
After performing a statistical analysis with her data guru, computer-assisted reporting specialist John Perry, she found something curious: a handful of schools had increased their performance so much more than they had been expected to that it raised questions over whether educators had intervened in the testing process. She published her first story in December 2008, highlighting schools where the gains seemed astronomical.
Three years later, the answers to those questions made national news, with Tuesday's revelation that a state-commissioned investigation found rampant, systemwide cheating in 44 Atlanta public schools, with 178 teachers and principals routinely erasing incorrect answers on standardized tests and replacing them with correct ones. The cheating inflated the scores of thousands of students, giving the false impression of their -- and Atlanta's -- success.
Mirroring complaints that Vogell and her colleague Alan Judd had been hearing from the city's teachers, the state investigation found a culture of intimidation and humiliation under the helm of marathon (now retired) schools chief Beverly Hall, who stressed results and data and implemented programs that paid teachers bonuses in exchange for achieving results above and beyond the rates required to make AYP.
And the story resonated beyond Atlanta: for one, it is the largest known revelation of systematic test tampering in the history of U.S. public schools. Moreover, it came at a time when the federal government and statehouses stress an incentive-based system to improve teaching at failing schools. Fifteen states now have in place or are working to implement teacher evaluations that count standardized test scores.
Just after Vogell published her first story, she learned she had hit a nerve.
"I started getting calls from Atlanta teachers, people talking about cheating going on, or having tried to report cheating," she said.
The curious thing, Vogell recalls, is that her story was about school districts throughout the state of Georgia, but all the teachers that called were from Atlanta. At first, she assumed it was just because her newspaper based there.
That summer, her team wrote a few more stories. When the 2009 test scores came out, the data crew ran another analysis. By then, the state had gotten involved.
The new analysis showed that the alleged cheating in Atlanta specifically had become more widespread. The AJC's 2009 analysis found 19 schools statewide had "very suspicious gains or drops," Vogell said. Of those, 12 were in Atlanta.
Meanwhile, Andy Porter, Dean of the University of Pennsylvania's School of Education, had been asked by the Atlanta Education Fund to conduct his own report. He sought to replicate the AJC's findings through data analysis -- and, for the most part, he did. He submitted his results on May 11, 2010.
"I submitted my report and never heard another thing," Porter told HuffPost. "I thought they didn't like the results. They were looking for some assurance that there wasn't a problem."
The report, investigators found, was tossed aside by the district. It only saw the light of day that November, when the AJC found out about its contents, several months after the district responded to a July open records request by saying it didn't have the report.
Then-Gov. Sonny Perdue was fed up. In August 2010, he announced the appointment of a special investigator to look into the cheating scandal, calling local efforts "woefully inadequate both in scope and depth." This investigator had something the AJC never had: subpoena power.
But the issue might not have reached Perdue's desk without the AJC. "Without the work the newspaper did, this would have probably not gone very far or would not have been uncovered," Judd said. "It played out at a time when we were greatly reducing our staff."
Though the investigation expanded on the newspaper's findings, some questions remain. The gains on state exams appear to be tampered with, but Atlanta also posted gains on the National Assessment of Education Progress exam, a national test widely considered to be cheat-proof.
Judd explained that the national scores don't say much. "They are up, but they're still trailing most other urban districts," he said. "Everybody's scores go up a little bit over time on all kinds of tests. There's that effect."
While news reports had already revealed much about the cheating in Atlanta, the state commission verified these complaints -- and added scores of details to a systematic scandal and its cover-up.
"We were confronted by a pattern of interference by top APS leadership in our attempt to gather evidence," investigators wrote. "These actions delayed the completion of this inquiry and hindered the truth-seeking process."
"Nobody ever wants to take responsibility for anything," Hall's Chief of Staff Sharron Pitts told investigators.
The report paints a vivid picture of a culture where teachers were publicly humiliated or fired for underperformance, and whistleblowers faced more consternation than cheaters. For example, a group of teachers at Gideons Elementary School held a weekend "changing party" at a teacher's home, where they systematically altered test answers to boost results.
The report describes the case of Michael Milstead, who, upon beginning his tenure as principal of the Harper Archer Middle School, noticed an incredible gap between students' elementary school scores and the scores they were achieving at his school. After he raised the issue of inflated scores at a May 2008 meeting, an education official confronted him -- and he was soon told his services were no longer needed.
"In sum, a culture of fear, intimidation and retaliation permeated the APS system from the highest ranks down," the report concludes.
JOURNALISTS AS SCHOOL WATCHDOGS
A few months ago, former Washington, D.C. schools chief Michelle Rhee visited Georgia with her lobbying group, StudentsFirst. She sat down with Judd and Vogell, and asked them several questions about the Atlanta cheating scandal.
Only a few weeks later, USA Today wrote several stories investigating statistically suspicious testing gains in Rhee's own classrooms.
These episodes, says Caroline Hendrie, executive director of the Education Writers Association, underscore the importance of investigative education reporting.
"Newspaper reporters play a very valuable watchdog role, particularly in the climate we're in right now with regard to test-based accountability," Hendrie said.
Policies that reward testing outcomes, Hendrie said, are likely to face less internal scrutiny. "When you have dramatic improvement, people point to that as evidence that this belief system is right. Those who raise questions, there's this mindset where they're asked, 'are you questioning whether disadvantaged kids can achieve at high levels?'" she said.
"In and of itself, beyond the mechanistic accountability, it's a powerful incentive to not be super-aggressive and not be super-skeptical when there are dramatic leaps," Hendrie continued. "Given that climate, it's really important for journalists not to suspend their disbelief and make sure that they remain skeptical and keep the heat on."
Though many newspapers are struggling to maintain revenues, investigative reporters must continue to seek to expose fraud, Hendrie said. "What the AJC did is a great example of how journalists can play that role," she said.
While Vogell, Judd and their editors map out the paper's next steps, they're still reflecting on the news of the scandal and their role in it. "It's hard to feel good or gratified by any of it, because it is so awful to think about what has been going on every year and the kids not being served by their schools and just passed along," she said. "Who knows what happens to them?"
"It's nice to be right and see things that you were writing about somewhat validated by an independent group," she continued. "But the whole scope of the thing is really pretty bleak."
Andrew Lenoir contributed reporting.
UPDATE: This story was updated to include the name of computer-assisted reporting specialist John Perry.

Related
Popular in the Community