From a contentious school redistricting debate among Atlanta Public Schools has emerged an even more controversial flier that depicts APS Superintendent Erroll Davis in a Ku Klux Klan robe.
"They erased answers, I erase black schools," the bill reads, referencing the widespread teacher cheating scandal in Atlanta that shook the country and the current school redistricting plan that could shut down schools in some of the city's oldest black communities. The flyer made its rounds at a meeting Thursday between APS officials and parents of D.H. Stanton Elementary, the only school in Peoplestown, Ga., which could face closure under the APS plan.
"Most of our schools are in African-American neighborhoods, and if we close the schools that I recommend, most of our schools will still be in African-American neighborhoods," Davis said at a rezoning hearing last month, according to the Atlanta Journal Constitution. "Race is not a factor in this."
The flier was created by Nathaniel Dyer, organizer of Going Against All Odds for our Young People. Dyer doesn't have children in the system, but told WSBTV that he opposes Davis' plan because he thinks it unfairly targets black schools for closure, calling the flier "psychological warfare."
"I don't have children, but that's no excuse for me not to use my talents, abilities and time to speak out," Dyer told Creative Loafing Atlanta. "It's all about the children. It's not about me… All I'm doing is painting a picture. It's not a personal attack on the man -- it's about the perception of the decisions he's made."
"I really think that's over the top," Joyce Grangent, who is fighting to save an elementary school slated for closure, told WSBTV. "While we don't agree with the superintendent's decisions, I definitely would not classify him as a Klansman. So i think that's over the top."
Dyer said he plans to keep handing out the fliers despite neighborhood opposition.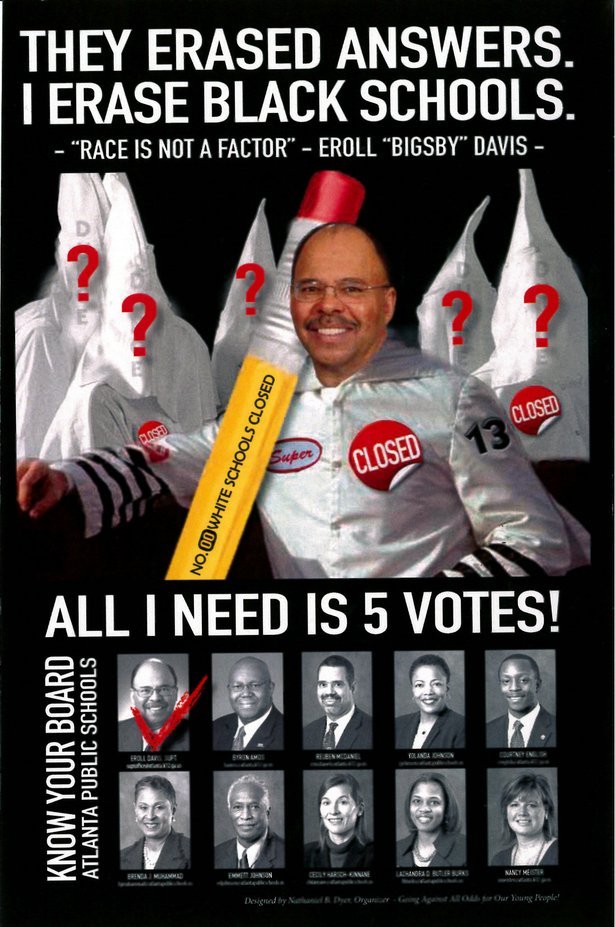 Other controversial school-related documents from around the country:
PHOTO GALLERY
Controversial school-related documents from around the country
REAL LIFE. REAL NEWS. REAL VOICES.
Help us tell more of the stories that matter from voices that too often remain unheard.