Mercedes-Benz Stadium is a behemoth, located delicately in the center of downtown Atlanta between skyscrapers, public parks, and thousands of homes. Huge, triangular glass panes make up the outer walls of the $1.5 billion structure and reflect a diverse city that is hosting three professional stadium projects completing in the span of a year (the Braves open their new ballpark in April and the Hawks are planning a massive renovation ready for next season).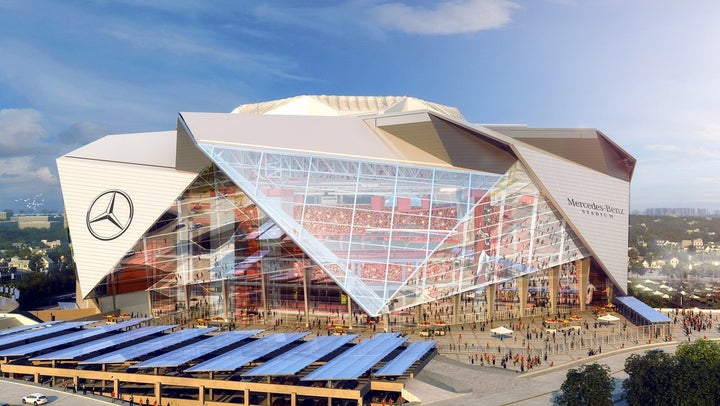 In 2017, sports stadiums have become the source of increasing public criticism. Debate has raged on the ethics of billionaire owners threatening their hometown with relocating in exchange for hundreds of millions in stadium funding. Studies, such as the one done by Stanford's Roger Noll, have created doubt as to how much value a stadium truly adds to a community. So how does a modern mega sports complex answer these questions? Can a billion dollar stadium give back as much as it takes? It's a question that needs to be answered, and perhaps Atlanta's Arthur Blank is the one to do it.
The decision to build a new NFL stadium in Atlanta was not without controversy. The former Georiga Dome was built in 1992 and was only 18 years old when plans were announced for its replacement. Negotiations between Blank and Atlanta mayor Kasim Reed were productive and no shakedown occurred, but that didn't prevent critics from balking at the $200 million of public money that was spent on what might not be the most necessary of stadium projects. What the critics didn't know at the time was just what Blank had up his sleeve; a vision to transform what a stadium could do to a surrounding community, and an ambitious quest to build the most environmentally friendly NFL stadium ever.
To truly understand what this stadium is, you have to understand its surroundings. Mercedes-Benz Stadium sits on the edge of Atlanta's Westside, a fraught neighborhood that has seen the raw end of real estate deals in the past. When heavy storms roll through the city, rain water tends to overwhelm the sewer system and funnel into the neighborhoods in the Westside. The result is heavy flood damage that never gets repaired. It's been an issue largely ignored for decades, but Blank and his team developed a plan to use the stadium to alleviate the problem. In the early stages of construction, a 1.1 million gallon storm vault was implemented to catch rainwater. That harvested water will be used for irrigation and the stadium's cooling system. It's not a cure-all, but it's an example of a new kind of awareness in stadium engineering that Mercedes-Benz Stadium hopes to pioneer.
Through the Arthur M. Blank Family Foundation, more than $15 million has been donated to the Westside for various renovation projects. The most notable is Westside Works, a job training program that staffs many of the people working in and around the construction site. Other initiatives sponsored by the Blank Foundation have included the production of new parks and a program that provides homes for police officers that agree to live in the area.
"No stadium deal is perfect, and there are always winners and losers."
Beyond the Westside, Blank had big expectations for the environmental sustainability of the stadium. To do this, he tapped Scott Jenkins as the stadium's General Manager. Jenkins, who previously managed Seattle's SAFECO Field and is the current Chair of the Green Sports Alliance, came to Atlanta because he believed in Blank's vision. The owner wanted his new building to be nationally certified through the Leadership in Energy and Environmental Design (LEED) rating system, the standard by which Green buildings are measured. When Jenkins came on the project, he realized the potential for something greater - a platinum LEED certification, the highest standard available, and an accomplishment held by no other NFL franchise.
"When I heard the commitment to sustainability, to the Westside, to redefining the fan experience, it was a dream come true," says Jenkins. Under his leadership, 4,000 solar panels were installed that generate enough energy to power nine Falcons home games. A 680,000-gallon cistern and state-of-the-art water efficiency fixtures were added in as well. As a result, the massive Mercedes-Benz Stadium will use 47% less water than standards and 29% less energy than a typical stadium. It's a remarkable achievement that has been noticed even in Washington, DC when it was given a special recognition by the White House last October.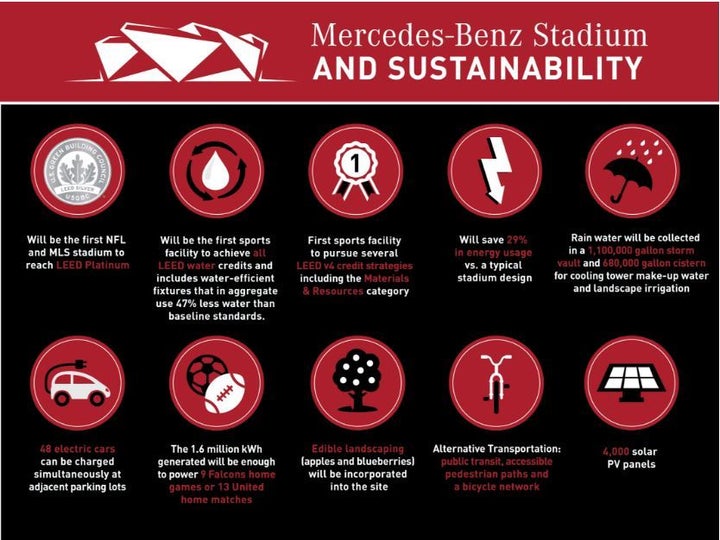 Part of Jenkins' approach when putting together the environmentally friendly infrastructure of the stadium was to disguise it as just another element of the fan experience. The huge solar panels double as a shield from rain for fans standing outside the stadium. The million-gallon storm vault is hidden underground, out of sight and out of mind for any visitors. So why put such an emphasis on sustainability? For Jenkins and his team, it's all about responsibility. "It's a huge investment," says Jenkins, "but it's just part of being a good neighbor."
You may not be too familiar with Mercedes-Benz Stadium now, but you are certain to see a lot of it in the near future. In the next three years, the stadium will play host to a Super Bowl, a College Football National Championship, and an NCAA Final Four, and will be the first stadium to host all three events in consecutive years. Meanwhile, Blank has also brought a much hyped expansion MLS team to Atlanta that will call the new stadium home. It all amounts to an immediate return on investment for a city that is in the midst of a cultural rejuvenation that has captured that attention of the nation.
No stadium deal is perfect, and there are always winners and losers. But if it goes right, Mercedes-Benz Stadium will usher in a new era of responsibility and awareness to an industry that definitely needs it.
Related
Popular in the Community