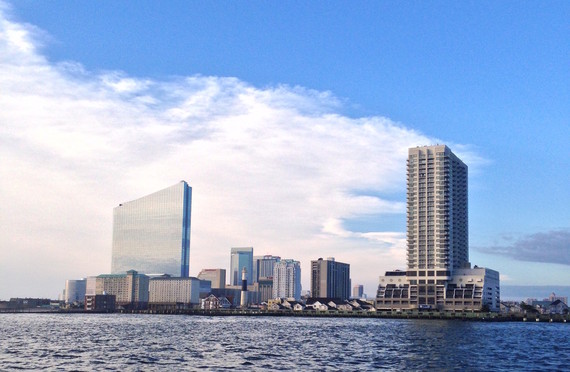 Who doesn't love a good game of Monopoly especially a real life one? Large swaths of the Atlantic Boardwalk are changing hands. Philadelphia developer Bart Blatstein is buying up practically everything that is for sale on the boardwalk. Miami based Bruce Kaye, the CEO of Fantsea Resorts, is also looking to expand his holdings in Atlantic City and is spending millions of dollars to upgrade his current properties.
Kaye is a charismatic entrepreneur that had a long storied career in real estate before he entered the timeshare industry. He previously co-owned the world renowned Fontainbleau Hotel and co-developed the million square feet Miami International Mall. Fantsea Resorts, currently owns three properties in the Atlantic City Area-the Flagship located in the inlet, Atlantic Palace on the boardwalk, and La Sammana in Brigantine. The properties are in high demand with 45,000 vacation owners for the approximately 900 studio, one bedroom and two bedroom units that all are equipped with kitchenettes. Most importantly for Atlantic City; he attracts tourists who stay the longest duration, about a week, and want to spend money in the region not just at the gaming tables.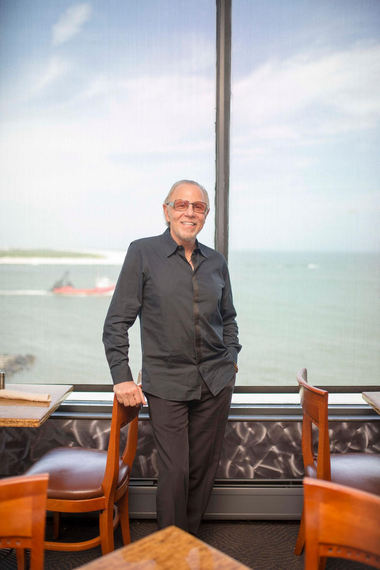 The high demand for units is attributable to his ability to put out a good product at a fair price. Fantsea Resort rooms are larger than average hotel rooms and include mini-kitchens, making longer stays more affordable and easier for families. The Atlantic Palace includes a pool, hot tub, member's lounge, and gym. The Flagship, which is in the midst of major renovations, will feature a lobby bar, pool, hot tub, grill, children's play room, movie theater, gym that offers classes, full service spa and large outdoor deck over the ocean perfect for weddings and parties. Their restaurant, the Blue Water Grille, has the best views in Atlantic City.
One could be forgiven for thinking they were in the South of France as boats sail by at they eat their expertly cooked branzino or surf and turf. The Flagship property will get an even bigger boast when the boardwalk in front of the property is finally refurbished next year. This will be the first time the boardwalk is completely walkable for possibly the first time in 25 years.
Kaye is seeing such great demand in Atlantic City that he is negotiating with Revel Casino owner Glenn Straub to take over the 12 unfinished floors of the building and convert them to timeshares. Kaye has also expressed an interest in buying 25% of the equity of the Revel and running the casino for Straub. He believes he can complete a deal with Straub and made a competitive bid. The question is whether Straub, who is the opposite of a decider, can concentrate long enough to make a deal. Straub may also be unrealistic about current market prices in Atlantic City. The one disadvantage of a timeshare deal at the Revel would be the casino operator would not be able to fill those rooms with gamblers dropping money at the tables.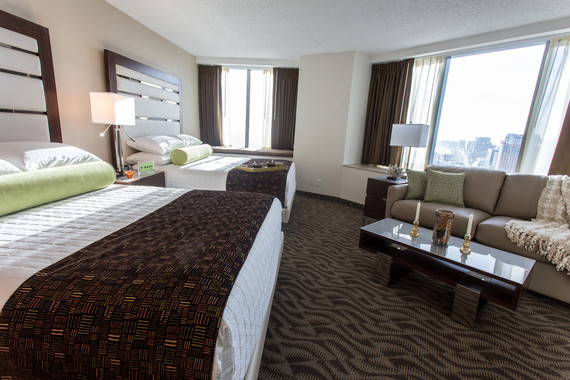 The timeshare industry has been rightfully criticized in the past for some shoddy practices. It appears to have cleaned its act. The industry has grown 7% annually since 2011 with $8.6 billion in sales for 2015. Kaye was honest about the industries past reputational problems by indicating that there were some bad apples in the business in the 70's and 80's, but pointed out the largest leaders- Marriott, Disney, Hyatt, Starwood, Wyndham; are part of the leisure industry today. Perhaps, most telling 50% of Fantsea's owners upgrade their original purchase indicating great satisfaction with the product. In addition, the company experiences very little defaults on purchases.
The gregarious mogul treats his employees, many of whom have been with him a long time, as extended family. He serves 3 meals a day to more than 500 employees at the Flagship. When his son declined to enter the business, he established an ESOP (Employee Stock Option Plan) to sell the company to his employees with the share price rising appreciably since inception.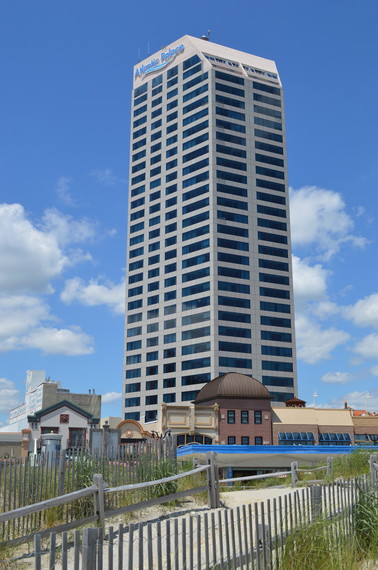 While Kaye has been in Atlantic City for over 25 years, Blatstein is a new entrant into the Atlantic City market buying his first commercial property last year. He believes he is buying real estate at a rock bottom prices in Atlantic City, which still attracted more than 24 million people visitors last year despite the closing of 4 casinos in 2014. He said, "Property on the boardwalk in Atlantic City is going for $30 a square foot. In nearby Margate and Ventnor, it's going for $1000 square foot. When I go into an area, I buy critical mass. I welcome other developers to come in."
He has thrown out the idea that if Atlantic City could attract celebrities it would become "hot". So it would not be surprising if when the Showboat re-opens next summer, after a major overhaul this winter, there is a celebrity living there. Let's hope it's not Kanye and Kim Kardashian West. Or he could go the entirely opposite way in developing Atlantic City. He has proposed to New Jersey legislators that they declare Atlantic City an Opportunity Zone which does not levy state and local taxes on senior citizens. While Florida never has to feel threatened that Atlantic City will become more popular for the elderly, it certainly could become a viable alternative for many in the Northeast that want to stay more involved with their grandchildren and are fearful of the Zika virus. Blatstein, ever the showman, likes to do the big reveal so he is keeping details close to the vest for now.
He is also in talks with investor Carl Icahn to take over the currently closed Trump Plaza. Unfortunately, his 2015 lease/purchase of the pier near Caesar's, now called The Playground, did not include any parking, which has prevented its rebound. The Plaza acquisition would give him the much needed parking capacity. He has big plans for the property including a walkway which would connect the Tangers Outlet to the boardwalk. He pointed out that "shoppers currently have to use narrow alleyways to get to the outdoor mall from the boardwalk".
The Showboat's controversial neighbor to the right, Straub, has proven to be toxic to everyone-the Casino Reinvestment Development Authority (CRDA), politicians, and fellow developers. He is no closer after 2 years of ownership to opening the property. Unfortunately, this is modus operandi. After he bought the Palm Beach Polo Golf and Country Club, the Palm Beach Post labeled him "The Man Wellington Loves to Hate" after home owners at the property complained about him.
On my last visit, there will signs of life at the Revel. There were about 15 male executives, possibly from the Connecticut casino operator that he has contracted with or the E sports fantasy company that is considering making the Revel their national headquarters, working in the office. Straub seems almost prisoner of the palace that he bought on the cheap. He is no longer living on his yacht, the Triumphant Lady, but in a makeshift bedroom smack in the middle of his offices. On the day we met to discuss his plans for the casino, he was rambling, for some reason, about bringing up 2800 horses from Florida to house at the currently closed Atlantic City racetrack. Although he bought a casino property, he clearly wants to be in any other business but gambling. One idea that he has thrown out is to house one of the leaders of the E sports fantasy industry in the Revel. He dreams of holding their competitions at Boardwalk Hall.
The cantankerous developer blames his problems on NJ politicians. He complains to anyone who will listen that "no one from the governor's office or the state legislature has come to see me." Meanwhile his neighbor on the boardwalk, Bart Blatstein, was able to partially open the Showboat in 5 weeks. Although he has threatened to leave Atlantic City, I suspect his bizarre threats are just a cry for attention since he has told me in several interviews, "I am stubborn and never give up." He also has no reason to sell. Straub said, "I bought for $89 million a building that was built for over $2 billion, the power plant next door for $50 million, and my carrying costs so far have been $24 million ($1 million for 24 months). That is a total of $150 million for a building that cost over $2 billion to build. I can afford to hold on."
Could 2017 be the year that Atlantic City finally rebounds? Those of us that are nostalgic about the ocean resort have been saying next year is the year for decades. Every time, Atlantic City takes two steps forward, such as luring new money to the city and electing a competent mayor, it takes three steps backward with the New Jersey legislature threatening to legalize gambling in North Jersey. The difference this time is that exceptionally talented real estate developers such as Blatstein don't stop until they succeed. It would help if the banks, which have been burned in the past in Atlantic City, started investing again.
Calling all HuffPost superfans!
Sign up for membership to become a founding member and help shape HuffPost's next chapter