As Hurricane Sandy battered coastal New Jersey on Monday morning, Atlantic City felt some of its worst effects, with floodwaters surging through the streets and emergency responders facing mounting calls to evacuate residents who tried to ride out the storm.
Pounding waves have already broken up sections of the Atlantic City boardwalk, according to photos posted to social media and discussion on police and fire scanners.
"Be advised that there are heavy timbers floating in Atlantic Avenue," a first responder alerted dispatchers on the Atlantic City police and fire scanner at 10 a.m.
The National Weather Service station in Mt. Holly, N.J., warned early Monday morning that the storm was poised to make a direct strike on New Jersey and cause devastation up and down the state.
"This is an extremely dangerous situation for our area," forecasters wrote.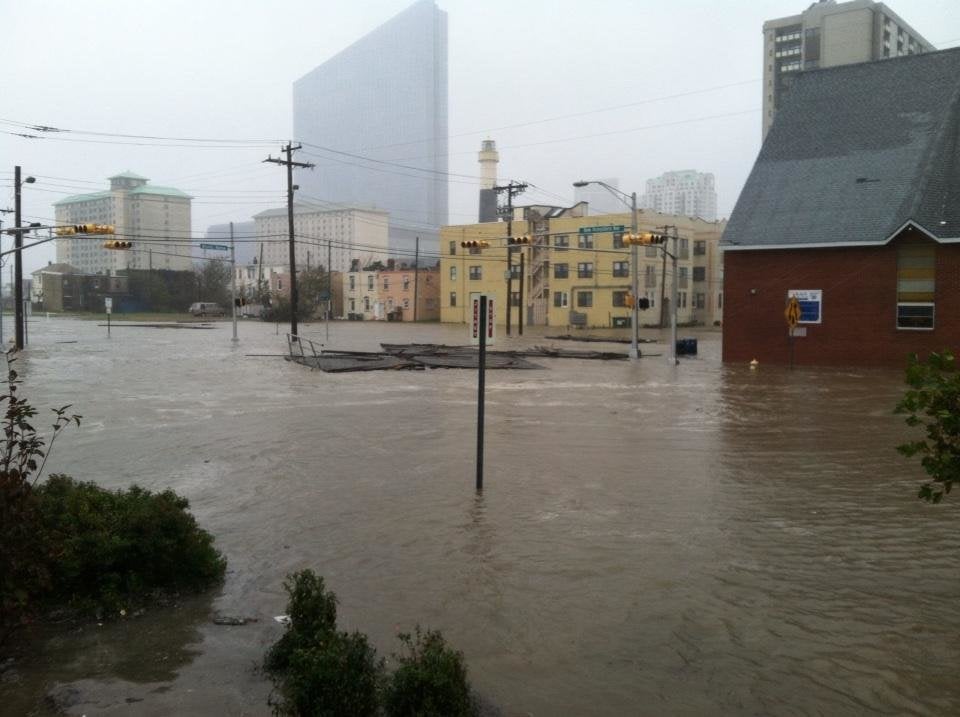 Hurricane Sandy Atlantic City, NJ Flooding
Gusts of between 80 to 85 mph are expected for late Monday afternoon, along with heavy rain and pounding surf, the Mt. Holly forecasters said. Up to 8 inches of rain was expected today in southern New Jersey.
"The high waves slamming ashore will add to the high probability for severe damage," they wrote. "Anything within 15 feet of normal sea levels is in harm's way."
Power outages and surging waters were being reported along the southern coast, affecting main arteries into Atlantic City from the outlining areas of South Jersey. Parts of the Black Horse Pike, Route 9, Route 559 and Route 30, known as the White Horse Pike, were all experiencing flooding. Gov. Chris Christie has ordered the Garden State Parkway closed south of Exit 38.
As waters rose in Atlantic City, the city's emergency responders struggled to bring people to safety. Some responders appeared to risk being trapped in floodwaters themselves as they attempted to reach stranded residents, even as a growing number of roads became impassable.
"The water is really deep down here," one responder told dispatchers. "We're barely making it through."
The city's back bay areas, all of the beach areas and much of Baltic Avenue is already heavily flooded, residents said. In some neighborhoods, only the caps of the fire hydrants can be seen poking from beneath the floodwater.
Denise Bowles, a pharmacy tech at Atlantic City Medical Center, rode into Atlantic City this morning from nearby Egg Harbor Township at about 5:00 a.m.
"It was scary," she said, describing the desolate, wet roads. But beyond the eerie, ghost-town feel, Bowles said it's the memory of the last "big one" to hit Atlantic City, and comparisons of Sandy to it, that rattle her nerves.
"You want to talk about scary? The way the media is portraying it, they're comparing it to the flood of 1962," Bowles said this morning via cell phone. "A lot of people who were here for that flood remember what it was like."
That storm, a March Nor'easter, battered the region for three days, causing extensive damage and flooding and leaving 40 people dead.
Bowles was a little girl then and recalls seeing her family's home go up in flames from atop an uncle's shoulders.
"Those of us that have been around remember what that was like," she said. "Ten feet of water, everything around us was under."
Even with lingering memories of that nightmare storm, Bowles said many of her friends have not heeded warnings to get out of town.
Nothing happened during Irene, they say. Others say they "were treated like dogs" at the city shelters they were directed to. So, Bowles said, a lot of them have opted to stay put.
"It just really seems stupid to stay," Bowles said.
Bowles' mother and father, who live right on the bay, evacuated their home yesterday for her home in Egg Harbor, about 14 miles inland from Atlantic City.
But Kelly Woody, a colleague and friend of Bowles' who lives in an apartment building just yards off the ocean, said she's hunkered down despite the rising tide just beyond her doorsteps.
"It's like the beach is at my front door," Wood said from her home at Pacific and New Hampshire avenues.
"It's that bad," she said. "The water is just coming from right up off the ocean. In front of my apartment building there's nothing but water."
Woody's building is 10 stories high, she said, and that it has weathered several major storms over the decades gives her a sense of security.
"The only reason I'm not really nervous is the building I live in, it's been here since the '30s and it went through a lot of other hurricanes," she said. "The one in '62 that was so bad, it went through that. It went through Gloria in the '80s. That was really bad and I was here. It went through that, so I'm really not nervous."
But across the street there's a standalone home butting up against the beach, where Woody said an older couple lives. The couple opted not to leave. Instead, they stacked sandbags around their house before hunkering down.
The ocean is already lapping over those sandbags, Woody said.
"The water is right there at their door," she said. "They're still home. Now that would make me nervous."
Popular in the Community