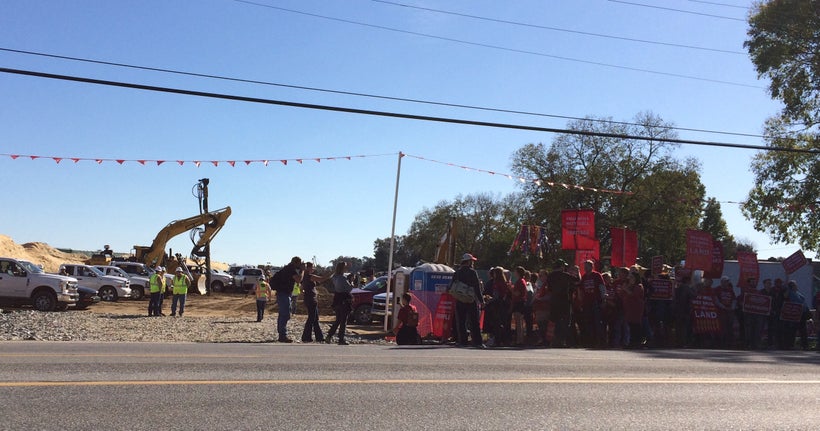 Construction of the Atlantic Sunrise pipeline stopped for a few minutes today as scores of peaceful protesters entered the construction site to pray, sing, and offer bread made locally in Lancaster County, Pennsylvania to pipeline workers. Oklahoma-based pipeline giant, Williams Partners began its work last week on the land that belongs to a religious order, the Adorers of the Blood of Christ. The sisters have made national and international press with the chapel they erected on the pipeline route. The chapel's backdrop of a field of corn has been replaced with green snow fencing just thin enough that you can make out the razed land, pick-up trucks, heavy equipment, and expanses of the 42" pipe itself.
There were no arrests today. Last week, twenty-nine people were arrested in actions during the first days of construction. The pipeline is planned to span 137 miles, cutting through ten counties in Central Pennsylvania, but Williams chose to begin construction at the site that has been a gathering place for those opposed to the pipeline who come to worship in the chapel and participate in peaceful protest. Choosing to start construction there may be more than a symbolic show of dominance. The sisters are still engaged in a religious freedom lawsuit against the Federal Energy Regulatory Commission, the agency that reviews natural gas transmission pipeline projects. They were denied the injunction they sought to delay construction until their legal challenge ends. Construction began almost immediately and is proceeding at such a pace that the pipeline could be in the ground before the case is settled.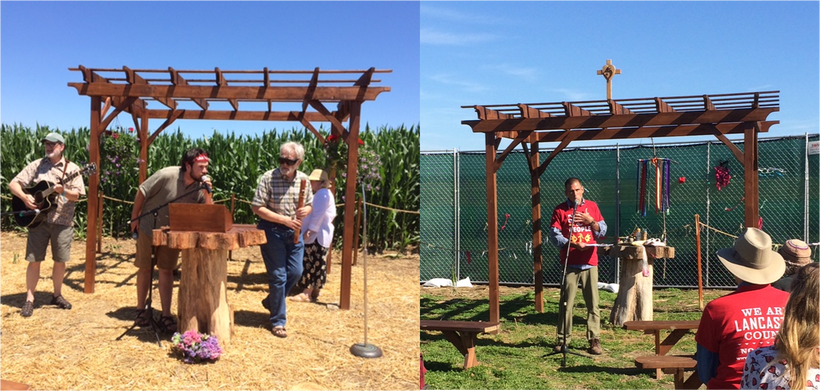 Ashton Clatterbuck is the 16-year old son of two of the lead organizers of the group Lancaster Against Pipelines and one of those arrested last week. In a recent Facebook video, he said of the nearly four-year long battle that it "sort of is just my life now."
Indeed, pipeline fights often go on for years. Citizens don't start out protesting. They start out going to open houses and public meetings where they hear about the project from company representatives and regulators. They fight to keep surveyors off of their properties. They go to public hearings and municipal meetings. They become experts in the labyrinth known as the Federal Energy Regulatory Commission's website where they add comments to the project's docket and where subject matter experts engaged by them submit comments on specific concerns. All of that happens during a phase known as pre-filing. As soon as the company formally files its application, citizens become interveners on the docket. They prepare even more comments to submit in writing or in "public" testimony at even more hearings. (FERC has adopted a practice of herding participants into an ante room where they are then sent one at a time into a separate room where they deliver their comments to a FERC representative and a tape recorder.) By this time, they may be engaging in legal challenges to attempts to take land using eminent domain long before any official approval of the pipeline has been granted. And it's not just FERC they have to go up against. They need to write comments and deliver testimony to the state's environmental agency and others. Throughout the process, they meet and organize. They canvass neighborhoods, get petitions signed, make yard signs, make t-shirts, set up tables at farmer's markets and festivals. They start websites and social media pages. They do everything they can to attract press. They talk to their state and federal representatives, looking for support. Very often, they try to get the support of their municipal governments by asking them to pass resolutions opposing the pipeline. They organize marches and demonstrations to let the world know that they have no intention of backing down. For pipeline opponents, their fights become sort of just their lives.
By the time the protests begin, pipeline opponents have exhausted every political and legal option available to them. By the time the protests begin, pipeline opponents have seen FERC's environmental assessments that always say that the projects pose no serious environmental threats – no matter how many comments they've submitted that say otherwise, no matter how many experts have submitted detailed comments explaining the science to back up those concerns and many others, no matter how many pipelines have exploded or leaked, no matter how many innocents have been killed or injured by pipelines, no matter how much property has been ruined by pipelines, and no matter how many climate scientists urge all of us to keep all fossil fuels in the ground. Left with no options and the specter of what will come if pipelines keep getting built, pipeline opponents become protesters, many of whom subject themselves to arrest. By the time the protests begin, pipeline opponents have been failed by just about every elected official, every regulator, every entity they'd thought was out there to protect them.
Ann Neumann narrated a video she shot as she followed the protesters onto the construction site. She sums up the Atlantic Sunrise opposition's plight by saying, "We have no legal way to stop it. It doesn't exist because this industry owns Pennsylvania's ass."
Calling all HuffPost superfans!
Sign up for membership to become a founding member and help shape HuffPost's next chapter
This post was published on the now-closed HuffPost Contributor platform. Contributors control their own work and posted freely to our site. If you need to flag this entry as abusive,
send us an email
.