The iconic bookstore of Santorini is facing extinction but the people who have supported it throughout the years are not ready to lose the battle. Who is going to help them win it?
The sun has almost set over Santorini's caldera and everyone hanging out at the Atlantis Books terrace is pulling out their jackets and shawls to cover up against what seems to be the first evening chills of September in Greece. Every now and then, squeals of literary joy climb up from the bookshop's basement or some line slips out of a poem and hangs for a while in the air, while the reader's voice lowers again to a light murmur.
This is the 2015 Caldera Arts & Literature Festival, organized by Atlantis Books, the iconic bookshop of Oia, Santorini, that has gained international attention and acclaim, both for its eclectic collection of books and for the story and the vision behind its creation. The festival has been held yearly since 2011, bringing together both Greek and foreign writers and musicians, to create a varied cultural mix that doesn't fail to attract tourists and locals alike.
"We love to put our time to good use, by doing things that matter" says Viviana Miliaresi who has been on the festival's organizing team since 2013. "This festival goes a long way toward reinforcing Oia's cultural identity and it is one of the very few literary festivals to be held in Greece nowadays. And I find this to be very important, especially under the current social and financial and cultural circumstances".
Earlier in this year's festival, Greek writer Auguste Corteau shared his experience of the Iowa Writers' workshop, along with family stories of bipolar disorder and coming out as gay. In their joint talk, writers Soti Triantafyllou and Amanda Michalopoulou discussed friendship, forgiveness, extraversion in literary writing and why it is so hard for Greeks to be translated abroad. David Sedaris read some of his hilarious short stories that are going to be published soon, while musicians Ross Daly and Julian Gargiulo delivered their live performances in the Panigirospito cultural hub of Oia.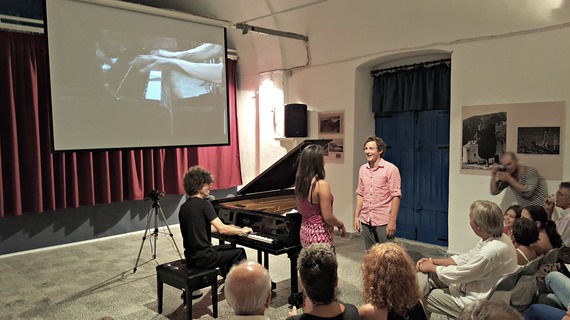 On this evening of September 13, four Greek poets are here to recite on a one (or two)-to-one basis some randomly chosen poem or work of prose by Constantine Cavafy, one of Greece's most famous and beloved and insightful poets. And we are waiting, somewhat anxiously, for our turn.
The readings, which have been organized under the auspices of the Onassis' Foundation, are happening both inside and above the main store, with people leafing through books and asking one another "what did they read to you?" and then googling their newfound love of an excerpt, in order to have it available in times of need.
Later, when the readings come to their reluctant end, everyone will prepare to meet the former Poet Laureate of the United States, Billy Collins, who has been, until now, largely unknown to the Greek public but is now awaited, in this guerrilla literary hub, with a noteworthy excitement that sweeps readers and fellow writers alike.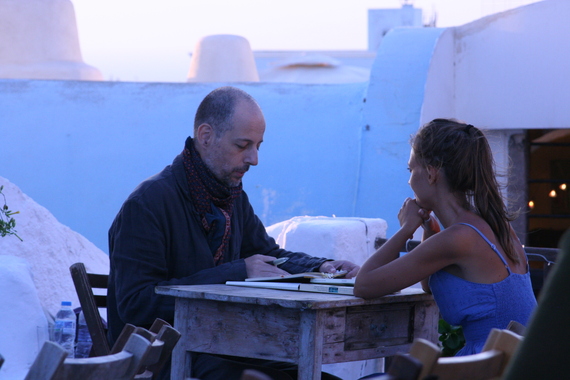 For now, though, seated in front of our poet/reader, we ask him to choose a poem of his liking, experts of Cavafy as we aren't. He picks The Ships, a piece of prose on the difficulties and the perils of the writing journey.
From Imagination to the Blank Page. A difficult crossing, the waters dangerous. At first sight the distance seems small, yet what a long voyage it is, and how injurious sometimes for the ships that undertake it.
His choice is apt.
The story of the Atlantis
Located in the basement of one of Santorini's white houses, Atlantis Books was founded in 2004 by a group of young American and European book lovers who happened to find themselves stranded in Oia with no more books to read and no bookstore to buy them either. The story has it that Craig Walzer and Oliver Wise first conceived the idea of the Atlantis bookstore after a few too many glasses of wine and managed to pull it off mainly because they persuaded four of their friends to join them before realizing what they were getting themselves into.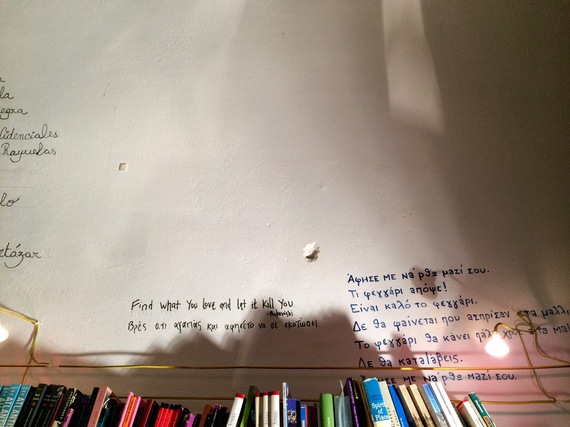 Over the next few years, the bookstore became a main staple of the Santorini experience, a point of reference for young and not-so-young enthusiasts with big dreams and seemingly unrealistic visions, and an international media favourite. Through hard lessons and mishaps, months of fundraising, sleeping on beds incorporated into the hand-made bookshelves and managing a never-ending rotation of employees from all over the world, who were eager to come and work (and live) for a few months in a Shakespeare & Co-inspired bookstore in a remote Greek island, Craig and his friends managed to build a business that not only met their dreams but probably exceeded them.
They even created Paravion Press, a home-run publishing house that both satisfies the founders' literary obsessions and provides an additional revenue stream indispensable to the business. Paravion was built around the idea that "the future of books lies in looking at books as works of art" and has given birth to a host of artful publications that are a joy to leaf through. Along with those, Atlantis features a great collection of literature, poetry, translated Greek works and also rare gems, such as a Grapes of Wrath first edition and an original T.S. Eliot copy to boot.
Up until recently, you could also find among them a 10,000 euros The Great Gatsby first edition, which Luke, one of the original Atlantis' founders, who now lives in Bologna with his wife and two kids, had bought for 2 euros in an Athens flea market. Luke had been keeping the book as seed capital for a bookstore he wanted to open in Italy, but then he decided to offer it as a gift to Craig, under one condition: he would only use it to contribute towards the - still unofficial - investment and crowdfunding campaign to build an artists' residency, which the Caldera Festival is also part of, and which is planned as the next stage in the evolution of the Atlantis venture.
A modern struggle
This isn't he first time that the Atlantis team has turned to crowdfunding: In 2011, they raised 40.000 USD through a two-month Indiegogo campaign which was organized in order for the owners to meet needs such as "overdue renovations to the shop interior, the transformation of our terrace into a flexible retail and performance space and the buying of fresh stock of unique books that will help solidify our niche as a purveyor of the fine volumes and small press gems from around the world". Some of the collected funds went towards organizing the first version of what is now the Caldera Arts & Literature Festival.
"Raising these funds is imperative to the survival of the shop and if we fall short, we do not expect to be able to open our blue doors for another season in Oia" stated the owners then. "We are asking for a lot of money because we only want to ask once. Less than this and we would be in the same position next winter."
Thankfully, four winters and summers have passed since then, with the bookstore continuing to attract tourists through its steady, if eclectic, flow of English, French, Italian, German, Spanish and, sparingly, Greek books, and engaging the locals through an interesting stream of art events, literary festivals and workshops for kids and adults alike, that inject the community with a much needed dose of culture and inspiration.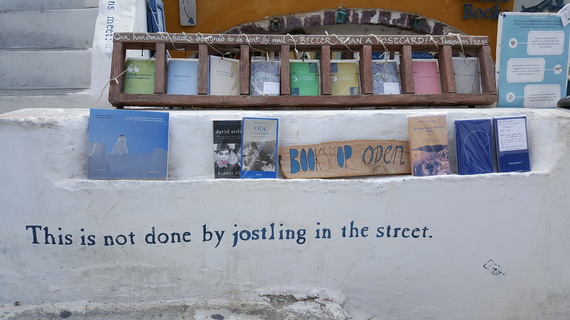 For the Atlantis crew, giving back to the community has been one of the main pillars of their mission, even before the shop was officially established in Oia. The active and eager involvement of the residents (who make up about 10% of the shop's customer base) and especially of Father Nicholaos, the priest of the local parish, to the organization of the Caldera Festival, serves as a testament to the value that the community itself ascribes to the store, its concept and its activities.
Throughout this time, Walzer, the only one of the original founders who still works in the shop, being now, in effect, its sole owner, has continued to live as he did at the beginning of the Atlantis journey: during the medium- and high- season, he sleeps in the store, along with the junior interns and employees and has taken no salary whatsoever, apart from a modest daily stipend for his living expenses. During winter, he sustains himself through projects that he's running in other parts of the world.
It is no surprise, then, that by the end of 2014, Walzer was pondering on the idea of creating a writers' and artists' residency in Santorini, which would work as a collective and would hopefully become "the coolest artists' residency in Europe", when disaster struck: the owner of the picturesque cave house that has accommodated the Atlantis bookstore since 2005 came in with the news that he was ready to sell the property to someone else.
Although no legal documents have yet gone around regarding this sale, the owner claimed that he had secured a 1,000,000 euro deal for the building. Realizing what this loss would mean for the business, Walzer immediately suggested a deal: would the owner be willing to sell the property to them, if they managed to secure the same amount of money by the fall of 2015? The guy replied that he would, signalling the start of a fundraising race that is going to decide the future of Atlantis.
As part of the race, along with his own personal savings, which he is willing to invest towards the store buyout and the setup of the artists' residence, and the 10,000 that came from The Great Gatsby sale, Walzer also decided to tap into this year's festival allure in order to raise awareness around the Atlantis' struggle.
According to his estimates, for the building to be bought out and the business to be kept sustainable (and, hopefully, also expandable), any crowdfunding campaign held from within the US, will have to raise $1,500,000, which will go towards the cost of buying out the bookstore building and paying off the IRS tax that will be imposed on the campaign revenue.
Why do we care?
What if Atlantis fails to secure the money it needs?
Even Walzer isn't sure about how much more time and money and energy he can invest in this venture, however much he loves it. Trying to secure a new location for the store would be hugely problematic, cost-, logistics- and discoverability-wise.
But does it really matter? Is it actually important for a mainly foreign-language bookstore to exist on a Greek island? Is it even realistic for a traditional brick-and-mortar bookstore to thrive in a place of indescribable natural beauty and wild touristic development, where people usually come to enjoy more sunsets than books, more wine than stories, more custom-set wedding photographs than real cultural adventures? Who is going to miss Atlantis if it gets, indeed, lost?
"I don't mean to sound boastful, but we have indeed become a landmark for the area" says Walzer. And, all things considered, he doesn't sound boastful, he sounds about right: In a rather paradoxical way, through its sheer existence and of course through its commendable work in favor of the Santorini community, throughout the year, Atlantis manages to be both an actual pole of attraction and a balancing force to the touristy character of the place.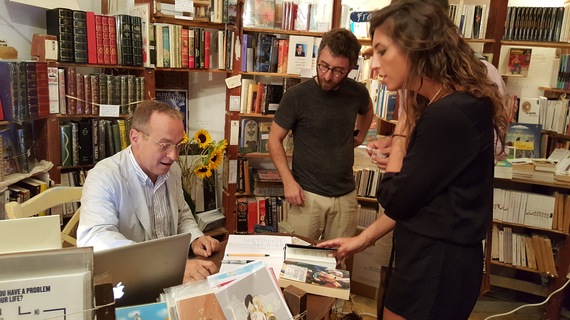 Walzer, in fact, loves to recite stories of tourists who have left their mark at the shop, in their own different ways. "I could tell you about the time I stamped a girl's actual Hong Kong Passport with the bookshop stamp - only after a very long and serious back-and-forth asking "are you sure this won't land you in prison?" And I could tell you about the fact that it's still funny to watch Italians come in to the shop - they're always the most fun customers, and the most complimentary about the shop ("Che bello! Complimenti!") and then I wait to see their faces turn like they've smelled something awful when they notice the super-cheesy Silvio Berlusconi autobiography I've strategically placed on the shelves for exactly this purpose, to enjoy watching them see it and make funny horrified noises and expressions ("O dio!"). Or about the man who had read about us in China and walked in speaking no English and presented us with a beautiful paper-cut good luck charm, without a further word. Or the quiet girl from Australia who had a day to spare and told us she'd paint a bird for us if we gave her a couch to sleep on that night, and we wound up with the gorgeous Kingfishers painted on our courtyard wall, or the Korean man who looked at our twin oscillating fans pumping air through the shop last August, and smiled and laughed as he exclaimed, "I designed those!". That's the best of tourism coming together with the best of bookstores. The familiar and the foreign - the world coming together in a very small good way."
And that is to say that, international tourist anecdotes aside, Atlantis Books stands for something much bigger, both for the local people and for the world at large. Its story serves as a standout for ethical business, for working hard in order to keep your castles in the clouds alive, for doing your best within a country that often punishes difference, creativity and an entrepreneurial spirit. One of the store's interns once put it this way:
I had always held the assumption that business was essentially a Darwinian struggle to best competition, while fending off would be predators, in order to vie for the business of customers. The bookshop however operates on an entirely different paradigm. Most notably for me is the complete lack of adversaries it inspires. The island locals are proud and grateful for the store, especially since they can find books in Greek. The tourists are delighted at the unexpected opportunity to refresh their travel reading, or take home a colorful coffee table book. The surrounding business are happy the bookshop does its part to attract people to the area, while not directly competing with them. The people working the store like myself are grateful for the opportunity to stay in such a beautiful location with inspiring company. And of course the owners are happy the store is performing all the above functions, as well as being profitable for them. In short the bookstore improves the lives of everyone it touches.
Cavafy, on the other hand, could have put it thus:
[...] certain huge ships go by with coral decorations and ebony masts, with great white and red flags unfurled, full of treasures, ships that do not even approach the harbor either because all of their cargo is forbidden or because the harbor is not deep enough to receive them. So they continue on their way. A favorable wind fills their silk sails, the sun burnishes the glory of their golden prows, and they sail out of sight calmly, majestically, distancing themselves forever from us and our cramped harbor [...].
Calling all HuffPost superfans!
Sign up for membership to become a founding member and help shape HuffPost's next chapter