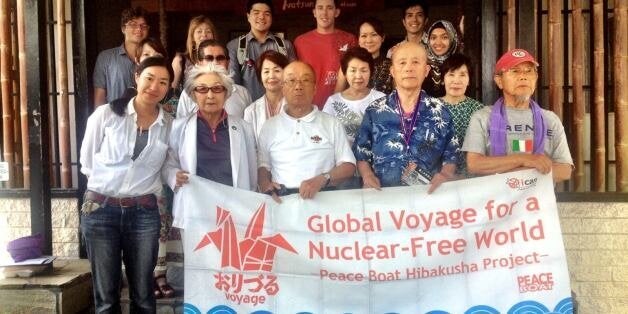 In June 2014, I flew to Honolulu to meet the Peace Boat and a few friends from my 2006 voyage aboard the ship as a voluntary English teacher. While the ship was docked for two days, I was fortunate to share a most memorable afternoon with eight atomic bomb survivors, traveling aboard the ship to share their stories around the world.
The view of sunlit Pearl Harbor through the window at Natsunoya Tea House looked vastly different to 86 year old atomic bomb survivor (hibakusha) Michiko Hattori June 2014 than it did to 27 year old Japanese spy Takeo Yoshikawa in 1941. From this same window, Yoshikawa peered through his telescope to study fleet movements and map the location and number of warships. These coded notes were sent to Tokyo a few months before the bombing of Pearl Harbor--a ripple that carried itself into the ringing of Hattori's 16 year old ears four years later in Hiroshima--a wave of repercussions she rode for years after. Sixty-three years after the attack on Pearl Harbor, at the adventurous age of 86, Hattori decided to get her first passport in order to travel outside Japan aboard a ship sharing her testimony around the world.
August 6th and 9th marked the 70th anniversary of the atomic bombing of Hiroshima and Nagasaki, respectively. The last of the survivors, who remember anything other than the stories their families told, are in their late 80's. Some of them, like Hattori, are making a concerted effort to share their stories around the world in hopes that history won't repeat itself.
Since 2008, a total of 150 hibakushas have boarded the Peace Boat for a 100 day voyage around the world--but this boat and its mission at ports of call are unlike what you might expect. The Peace Boat is a Japanese based international nonprofit organization that "works to promote peace, human rights, equal and sustainable development and respect for the environment." Through its Global Voyage for a Nuclear-Free World program, hibakushas share their testimonies about the effects of the atomic bomb with people in ports along their global voyage.
Michiko Hattori, for example, tells how she lost consciousness when the bomb exploded 3.5km away and was later shaken awake by a Japanese soldier. For several days without food or water, Hattori disposed of the dead and cared for the injured and their maggot infested wounds. She remembers people walking around without eyeballs "waving their hands in front of them like seaweed." Years after charred corpses drifting in rivers and the smell of cremated bodies had drifted away, hibakushas carried with them the stigma (and ailments associated with radiation). Many Japanese feared the hibakushas' exposure to radiation might infect others. Marriages were annulled, jobs were denied, children were excluded.
Hattori sat quietly with the other seven hibakusha at lunch in the tea room, contemplating the day's visit to the Arizona Memorial and their current vantage point of Pearl Harbor. The day had stirred-up a battle of emotions including embarrassment, anger, disappointment, shock, patriotism and heartache.
Some were irritated with how the US victory was emphasized and the US soldiers were portrayed as heroes. In comparison to the "gloomy" memorial parks in Nagasaki and Hiroshima, the hibakushas thought the bright grandeur of the Arizona Memorial seemed more like a theme park.
"We need to learn humbly about war history (including what Japan did to other Asian countries)," said one hibakusha. "However, I don't believe the atomic bombing in 1945 can be justified. Justice and victory are two separate things."
While around 2,400 people (mostly soldiers) died in the Pearl Harbor attack, close to 220,000 died in Hiroshima and Nagasaki. The survivors agreed that lives are precious no matter their status; however, they thought it more a tragedy that the victims in Hiroshima and Nagasaki were mainly civilians (women and children).
It now appears the American public was fed a steady diet of convincing guilt reducing arguments. They were told the atomic bomb was necessary--that millions more lives might have been lost had the atomic bomb not been dropped to encourage Japan's surrender (August 15th). And while it's true that Japanese citizens received air dropped leaflets encouraging evacuation, it was only after the bombings of Hiroshima and Nagasaki. The inflated numbers and skewed stories have since been debunked by historians. In the tearoom feelings of resentment were met with shame. "I felt sorry for the people in Hawaii for what Japan did to them. I was very embarrassed being Japanese while I was there at the memorial," said one hibakusha.
Their aged staunch faces revealed the visceral impact of the day at the Pearl Harbor memorials--although hardly comparable to the maggot infested scars and visions of kimono-skin enmeshment some endured after the bombing. Honolulu was their last stop to share their testimony before returning to Japan.
Over the past eight hibakusha voyages (the most recent 87th ending in Nagasaki on August 9th), exchanges with other victims of war have included survivors of Auschwitz, Agent Orange, Hamburg bombings, civil war in El Salvador, Palestinian refugees in Jordan and many more. Hibakushas have also talked with communities in China which survived Japanese aggression. According to Peace Boat International Coordinator, Meri Joyce, one of the main themes discussed in more recent exchanges has been how to pass on the experiences of first-hand survivors to the younger generations.
Hiroshima's legendary child survivor Sadako Sasaki was only 2 years old when the bomb dropped. She is remembered for the 1,000 paper cranes she folded to wish away the radiation induced leukemia that eventually took her life at age 12. One of these cranes was donated and put on display at the Pearl Harbor Visitor Center. With the Iran Nuclear Deal on the table, hopefully these survivor story exchanges will spread to people and places 1,000 paper cranes could never reach and the wish for a nuclear-free world will be granted.
Support HuffPost
The Stakes Have Never Been Higher
Related
Popular in the Community