 Director Joe Wright met actress Rosamund Pike when she played eldest daughter Jane in his adaptation of "Pride and Prejudice," and they got engaged. Pike became famous when she played Miranda Frost in "Die Another Day."
A Daily Mail reporter writes this week:

I have further revelations following my report last week that the wedding between actress Rosamund Pike and her film director fiance Joe Wright had been suddenly called off.

It appears that Wright put an end to the September nuptials after 29-year-old former Bond girl Ros sent out hundreds of wedding invitations without his approval.

'The invitations featured a picture of them together in a hot tub,' says a pal.

'Joe dumped her for sending them without consulting him and she had to tell all the guests the wedding was off.'

To add insult to injury, Wright was then spotted cavorting with a handful of girls at his local lap-dancing club in Shoreditch just days later.
Last week's report, to which this was an update, said:
The 29-year-old star was due to marry last month but the wedding was called off at the last minute after Miss Pike told friends she couldn't go through with it.

According to friends, the actress is devastated about the split and cancellation.

Wright, 35, proposed on the shores of Lake Como in northern Italy earlier this year and the wedding was to have taken place in England last weekend.
Pike

My source says: 'It's not common knowledge and only a few people know. Rosamund obviously wants to keep it as private as possible but she is devastated. She's a lovely girl and we all feel very sorry for her.

'She was meant to be out at a party on Thursday night but she cancelled at the last minute. She just couldn't face going out.'

Rosamund's mother, who had been planning the wedding, has been consoling her daughter and cancelling florists and cake orders.

Meanwhile, Wright has been hitting the London party scene. 'Joe was out four weeks ago at a party. He was surrounded by girls and ended up taking a group of them to a strip club. He's a regular there and all the dancers know him,' says my scantily clad spy.

The pair at the Venice Film Festival last August: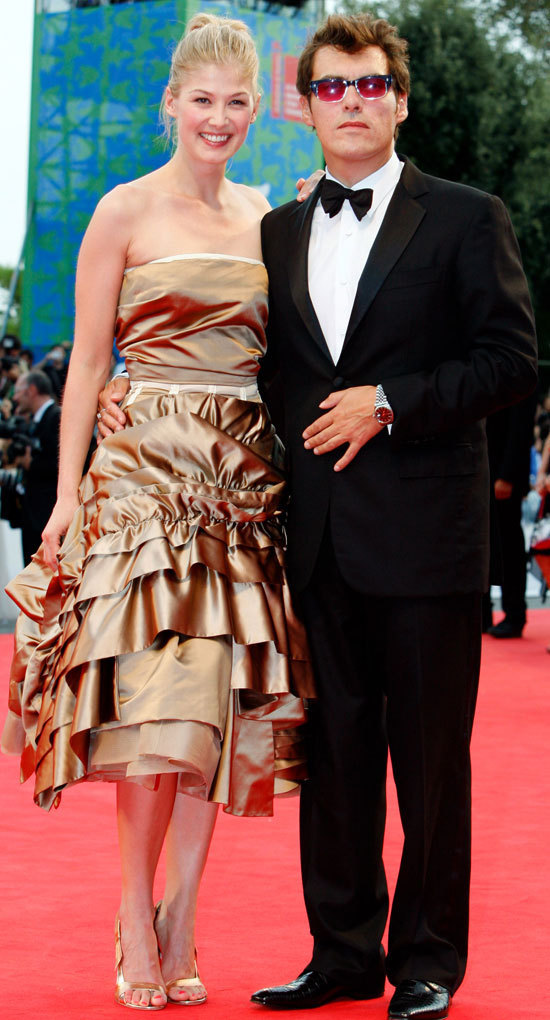 Popular in the Community