If you're planning a trip to San Miguel de Allende, be sure to budget a day at the nearby town of Atotonilco. Here are four solid reasons to make the trip (and to take the time to figure out how the heck you pronounce Atotonilco).
Bathe at the (not too terribly hot) La Gruta hot springs. Shop (by appointment) at the upscale folk art store Galeria Atotonilco. Have lunch at the Nirvana Restaurant and Retreat. Or splurge and spend the night.
A World Heritage Site, the Santuario de Atotonilco was built in the 18th century by a Father Luis Felipe Neri de Alfaro, who, tradition has it, experienced an apparition of Jesus wearing a crown of thorns and carrying his cross.
The Mexican Baroque mural work on the walls and ceilings of the Santurario is mostly by Antonio Martinez de Pocasangre, and took thirty years to execute. The world-class murals have earned the Santuario the nickname "Sistine Chapel of Mexico."
Too bad for me, time was short and I had less than an hour to contemplate the murals. I was able to grab a few photos of the church, but they don't begin to capture the beauty of the intricate paintings, whose artistry is matched by the artist's uncanny ability to retell the Gospel stories -- solely with pictures.
So, if you're into Mexican art or the Christian Gospel -- but especially if you're into both -- consider allowing a full morning or afternoon to just sit in this masterpiece of a church.
Don't forget to check local listings for hours. Cab fares from San Miguel are affordable.
And, it's pronounced "ah-toe-toe-NEAL-coe."
For more on art and spirituality, go here.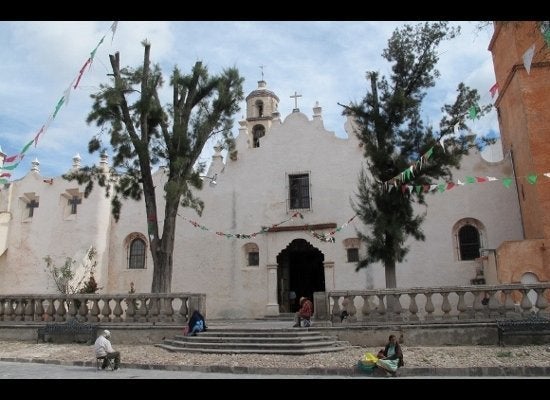 At Atotonilco -- High Art, Folk Art, Hot Springs, Food!