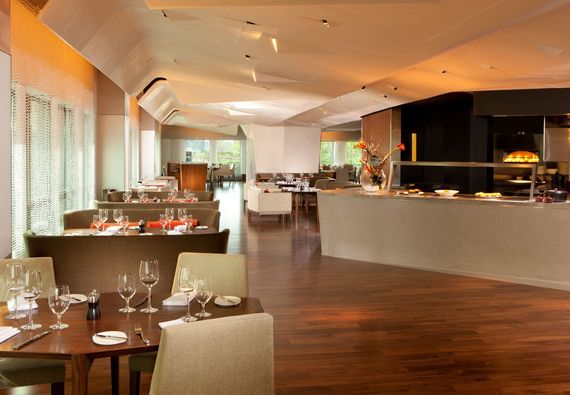 Despite the fact that so many of the world's finest restaurants, both in the U.S. and abroad, are in hotels, some people still place an onus on dining at one, in the supposition that such restaurants are on premises merely as an amenity for those staying there. Knowing this, many hoteliers in the U.S. hire big name chefs to open restaurants said to be "free standing" or "attached" to the hotel, like Jean-Georges at Trump International Hotel in NYC.
Oddly enough, in Las Vegas restaurants in hotel-casinos are the norm, though the celeb chefs are rarely ever in them, while exquisite dining rooms like La Pergola at the Cavalieri Waldorf-Astoria and Imago at The Hassler, both in Rome, are set on high floors that present a magical panorama along with superb cuisine and wine.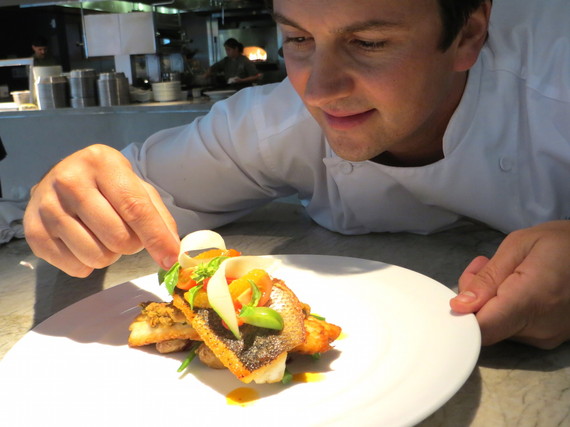 Which brings me to Atrio in the Conrad Hotel, which sits adjacent to the second floor lobby that is itself a work of monumental art, and the restaurant itself is a sleek, handsome, glass-walled room that serves as a very popular wine bar up front and as a smart-casual dining venue further on. There the sofas are deep and wide, the wooden tables well set, and the lighting as romantic as you might wish, but this is also a fine spot for a business meal in the Wall Street area, just blocks from the Freedom Tower. Indeed, the area is now home to several notable restaurants, with Atrio one of the first in the aftermath of 9/11 to turn the lights onto the barren streets.
Chef Antonio Carduso, 34, (above) was born in Lisbon, where his grandmother inspired him to cook, and he has never forgotten the smoky flavors of Portugal and Iberia, which lend marvelous personality to his cuisine. This was evident from the start of our meal upon the presentation of truffled arancini rice balls with a red pepper conserva and the chorizo-flecked batata bravas with romesco sauce and saffron aïoli. His background gives ballast to his extremely tender grilled Portuguese octopus with shaved fennel, spiced garbanzo salad and a reduction of Pedro Ximenex Sherry ($19). (That night, though, the octopus was extremely salty.)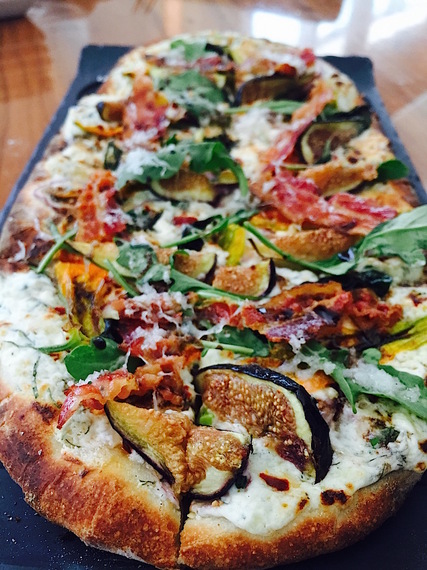 There are many Mediterranean flavors throughout his menu, including spring's colorful ricotta-stuffed zucchini flowers with a lovely Green Goddess dressing ($14). Excellent cream-centered burrata is anchored by richly flavorful heirloom cherry tomatoes ($18), though the La Quercia prosciutto on the dish should be replaced with a finer ham imported from Italy or, even better, Iberian ham, available at Atrio, which is some of the best in the world.
A special appetizer of real note was a duet of silky scallop and tuna crudo with orange and yuzu soy.
Among the main courses I tried, there was a fine, sweet and creamy corn risotto riddled with chunks of Maine lobster and a benediction of light parmesan foam ($32); Carduso's wild branzino, pan-roasted and served with a farro and quinoa salad, pimiento conserva and delightful lemon chips ($34) was a canny marriage of tastes and textures, while the perfectly grilled, nicely chewy hanger steak ($38) came with charred shishito peppers, patatas bravas and onions caramelized with balsamic vinegar--a terrific dish. A half of an excellent roast chicken ($26) had a hard-to-achieve crisp skin (which stayed that way even the next day as my lunch) with black kale, Moroccan couscous, tangy preserved lemon and a shot of heat from harissa.
My favorite dessert was the pistachio-infused crème brûlée, but the ricotta cheesecake with tart lemon curd and blueberry compote, and warm, crispy apple crostata lavished with caramel sauce and slowly melting vanilla ice cream were certainly of the same quality.
This being a wine bar, Atrio's list is solid and, as you might expect, many of the best prices are for Portuguese and Spanish wines, some available by the cruet or glass. Mark-ups on much else on the list can go 250 to 300 percent above those at the wine store.
Atrio has managed to deflect any thought of its being a mere appendage to the hotel around it by appealing to the after-work crowd from the area, its own guests, wine aficionados, and, increasingly, those who know that Carduso is the best chef working way way downtown.
Breakfast: 6:30 a.m.-11 a.m. daily; Lunch: 11:30 a.m.-3 p.m. daily; Dinner: 5 p.m.-10 p.m. daily; Brunch: 11:30 a.m.-3 p.m. Sat. & Sun.