The world's largest communications company has been bankrolling a right-wing conspiracy network, an investigation by Reuters revealed.
Without AT&T's $250 million offering, OAN's value "would be zero," according to an accountant's court testimony obtained by Reuters. More from the publication:
OAN founder and chief executive Robert Herring Sr has testified that the inspiration to launch OAN in 2013 came from AT&T executives.

"They told us they wanted a conservative network," Herring said during a 2019 deposition seen by Reuters. "They only had one, which was Fox News, and they had seven others on the other [leftwing] side. When they said that, I jumped to it and built one."

Since then, AT&T has been a crucial source of funds flowing into OAN, providing tens of millions of dollars in revenue, court records show. Ninety percent of OAN's revenue came from a contract with AT&T-owned television platforms, including satellite broadcaster DirecTV, according to 2020 sworn testimony by an OAN accountant.

Herring has testified he was offered $250 million for OAN in 2019. Without the DirecTV deal, the accountant said under oath, the network's value "would be zero."

Dallas-based AT&T, a mobile-phone and Internet provider, also owns entertainment giant Warner Media, which includes CNN and HBO. AT&T acquired DirecTV in 2015 and in August spun off the satellite service, retaining a 70% share in the new, independently managed company. AT&T's total U.S. television subscriber base, including satellite and streaming services, fell from 26 million in 2015 to 15.4 million as of August.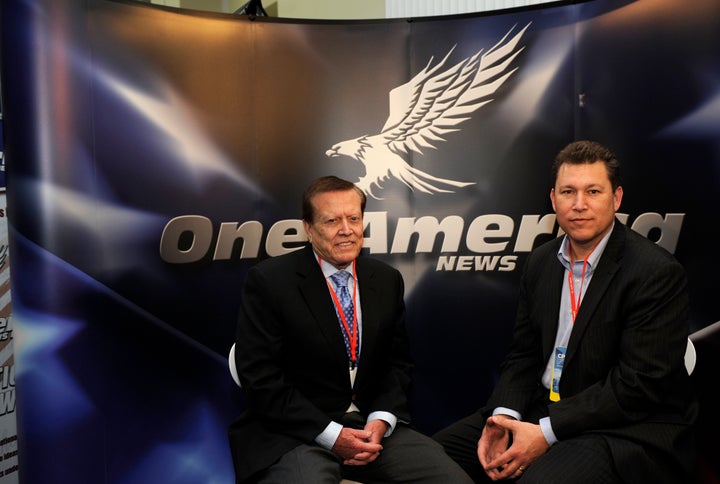 Court filings obtained by Reuters show that Herring cited monthly fees in a five-year deal with AT&T as costing approximately $57 million.
In the last two years of his presidency, Trump repeatedly urged his followers to watch OAN, a network that has been loyal to the former president even when facts have gotten in the way of praise. Last year, as the coronavirus swept through the U.S., OAN saw a ratings boost as Trump and the network churned out lies about the virus.
The channel employs an on-air reporter who was simultaneously working for Kremlin-funded propaganda outlet Sputnik and who falsely claimed that former Democratic presidential nominee Hillary Clinton gave antifa protesters $800,000 for weapons. Far-right media activist Jack Posobiec, who pushed the "Pizzagate" conspiracy, is another correspondent.

The outlet has suggested chemical weapons attacks and war crimes in Syria are a hoax by rescue workers ― a narrative pushed by Syrian dictator Bashar Assad and the Russian government. Last December, OAN aired an unhinged three-hour special featuring Trump's personal lawyer Rudy Giuliani that tried to frame the impeachment scandal as a hoax targeting the president.
If OAN did not have the backing of a financial behemoth like AT&T, the network likely wouldn't exist.
"If Herring Networks, for instance, was to lose or not be renewed on DirecTV, the company would go out of business tomorrow," OAN lawyer Patrick Nellies told a court, a transcript obtained by Reuters shows.
Popular in the Community