Telecom giant AT&T will be allowed to move forward with the merger it negotiated with Time Warner, a federal judge ruled Tuesday in a long-awaited decision expected to have major implications for future mergers and how consumers navigate the media landscape.
In the lawsuit brought forward by the Department of Justice, Judge Richard Leon sided against the government's claims that the $85.4-billion deal between the two companies would violate antitrust laws and unfairly lead to higher prices for consumers.
AT&T says it plans to move forward with the deal in less than a week, leaving a small window of time for the justice department to file an appeal.
Analysts say the judge's go-ahead will likely rewrite the rules on how courts apply antitrust laws, paving the way for a number of other potential sales involving names like Comcast, Disney, 21st Century Fox and several other content creation and distribution companies.
AT&T, a content distributor, first announced a deal in October 2016 that would let it acquire Time Warner, a content creator that counts HBO, Warner Bros. and cable network giant Turner Broadcasting among its biggest assets.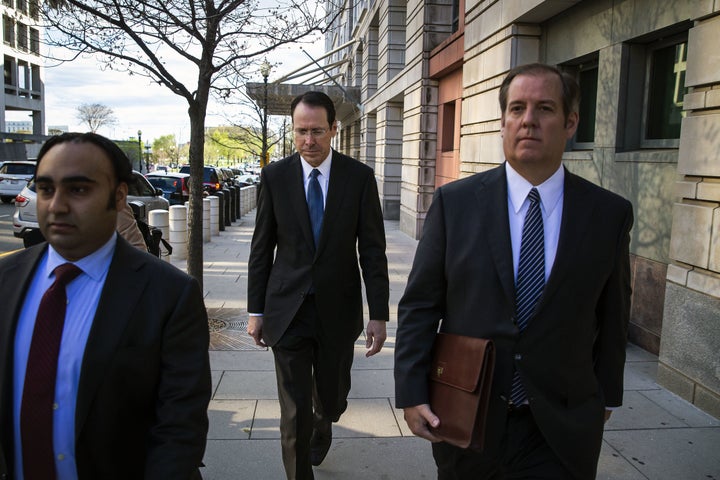 AT&T has argued that a merger consolidating control over both sides of content operations would enable it to collect valuable customer data, which it could then use to sell high-priced targeted advertising. With that added revenue, it could eventually lower the cost of its subscription services, the company argues.
But government regulators, who brought forth the lawsuit last November, alleged the merger would result in higher prices across the industry. For instance, AT&T could charge other content providers (including Verizon, which owns HuffPost's parent company, Oath) artificially high prices to air the cable channels it acquired through Time Warner. Those other providers would have to pass that cost onto their customers and risk losing them to AT&T, regulators argued.
"We are disappointed with the Court's decision today," Assistant Attorney General Makan Delrahim said in a statement. "We continue to believe the pay-TV market will be less competitive and less innovative as a result of the proposed merger between AT&T and Time Warner. We will closely review the Court's opinion and consider next steps in light of our commitment to preserving competition for the benefit of American consumers."
President Donald Trump also once weighed in on the deal, commenting that an AT&T victory would put too much power "in the hands of too few" ― but many speculated that his aversion to the merger had more to do with his issues with CNN than anything else (Turner Broadcasting is CNN's parent company).
Other companies considering acquisitions have been eyeing the case as a bellwether on whether their mergers would go unchallenged. Other acquisitions on the table include Disney's offer to buy 21st Century Fox, drug store CVS's bid for Aetna and T-Mobile's potential merger with Sprint.
This story has been updated with a statement from Makan Delrahim.
Related
Popular in the Community