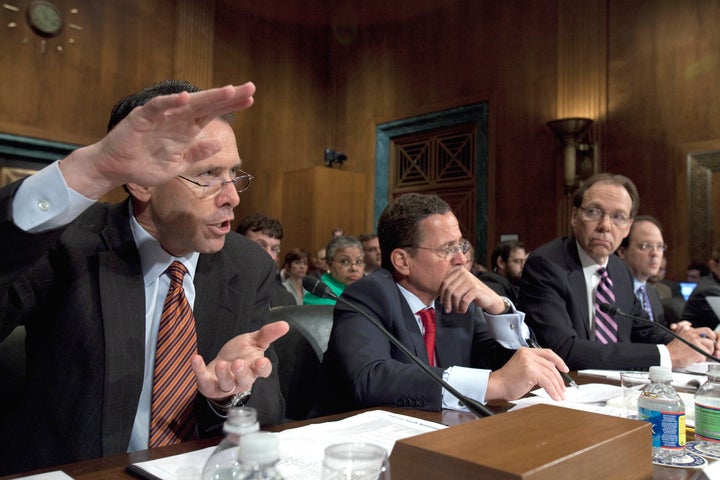 A proposed merger of AT&T and T-Mobile may result in an industry-wide duopoly, or it may provide better access to broadband Internet for more consumers.
These possibilities were at the center of a Senate hearing discussing whether a merger of the two carriers would reduce competition, raise prices, and harm innovation, or whether, as AT&T and T-Mobile argue, the deal will actually benefit consumers.
If AT&T acquires T-Mobile, 80 percent of the wireless industry will be controlled by two entities--AT&T/T-Mobile and Verizon. AT&T/T-Mobile alone would hold 43 percent of market. Sprint would take third place with 16 percent.
"Four competitors are better than three," said Senator Herb Kohl, who chaired the hearing.
And there was consensus that should the deal happen, Verizon's acquisition of Sprint would be an inevitability. Were that to happen, 96 percent of the market would be in the hands of two companies.
"The deal would make it more difficult for Sprint to compete," Sprint CEO Daniel Hesse said at the hearing. "It would put us in a position to be acquired." Sprint, which competes directly with AT&T, has been openly critical of the proposed merger since it was announced.
Hesse also spoke of backhaul, an infrastructural necessity that connects wireless towers to the larger network. This backhaul is still almost completely controlled by Verizon and AT&T, meaning that Sprint must pay over $2 billion each year in fees to its competitors, who make huge profits.
In 1984, an AT&T-led monopoly known as Ma Bell was dismantled by federal mandate. In 1993, the FCC auctioned off wireless spectrum to let competitors break up what had become an uncompetitive industry. Those speaking at the hearing warned that letting AT&T and T-Mobile merge would indeed put Humpty-Dumpty back together again.
"I fear that if approved, the merger would take us one more step toward the monopoly market that we had under Ma Bell," said Senator Al Franken. "It took the DoJ more than 30 years before they eventually broke up Ma Bell, and it is important to keep in mind the stakes of the merger of this size and scope."
Both AT&T's CEO Randall Stephenson and T-Mobile's CEO Phillip Gumm focused on the idea that merging would allow both companies the capacity to improve services for American consumers. But when pressed on issues involving industry competition, consumer choice, and price hikes, their answers were less than convincing and even, at times, contradicted evidence presented by other speakers.
Though Stephenson suggested that it was "simply not true" that prices would increase after the merger, the testimony of Gigi Sohn, president of advocacy group Public Knowledge, suggested otherwise.
"AT&T obtains approximately 17 percent more revenue per customer than T-Mobile does and certainly will act to preserve its higher returns," she said. "AT&T has stated publicly that it does not intend to retain T-Mobile's pricing structure for newly acquired customers indefinitely."
For consumers, she said, this means that T-Mobile subscribers will not be able to keep their preferred plans and go either with higher-priced AT&T plans, or downgrade to less competitive alternatives.
Stephenson, on the other hand, countered that letting the merger pass would not decrease consumer choice but would open up more choices.
"All T-Mobile customers will have the choice of retaining their existing rate plans or switching to an AT&T rate plan, and they will thus have more choices than before," he said. "The U.S. wireless marketplace will remain the most competitive in the world."
Especially at issue were AT&T and T-Mobile's guarantees that they would use expanded capacity to better broadband access and improve network qualities.
Hesse called this promise "a myth," pointing to the fact that even without the merger, "AT&T has the largest, licensed spectrum holdings of any wireless carrier. But it does not use that spectrum efficiently."
Senator Patrick Leahy did not seem convinced either, asking why AT&T had not yet utilized the large amount of spectrum it currently holds in Vermont.
"Forgive me if I'm a bit skeptical," he said. "Given past promises."
Sohn pointed out that Verizon has already committed to replacing its 3G network with 4G LTE by the end of 2013--the same service AT&T is promising.

"Every single public interest benefit AT&T has claimed as a result of the merger can be accomplished without removing a competition," she said.
Perhaps the most passionate plea came from Victor H. "Hu" Meena, the CEO of Cellular South, a small private wireless company, who laid out the possibilities for the future starkly.
"Are we are going to continue down the path toward an era of nationwide duopoly, or are we going to lay the foundation for a second competitive era in wireless?" he asked. "There is no third option--either AT&T will be allowed to acquire T-Mobile (paving the way for Verizon to acquire Sprint and cementing a national wireless duopoly); or it will not. All that will remain is the endgame, where the remaining non-Bell carriers wait their turn to be acquired or bled dry by the biggest two carriers."
Calling all HuffPost superfans!
Sign up for membership to become a founding member and help shape HuffPost's next chapter