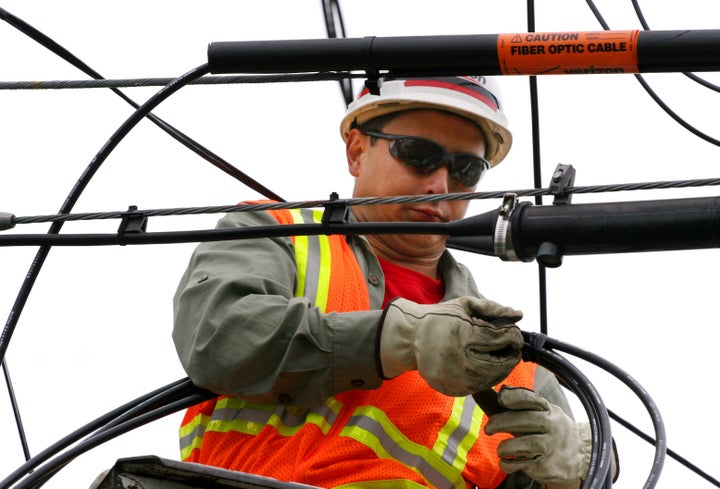 For several days after Hurricane Sandy, Donna Cardillo struggled to make contact with the outside world.
At her home in Wall Township, N.J., which was hit hard by the storm, wireless service failed, rendering her cellphone useless. She also lost power, causing her Internet-based landline to go dead.
But just a few miles away, her parents, who are in their 80s, had no problems communicating. They could make and receive calls during the power outage because they still rely on an old form of technology: a corded telephone that runs on copper wires.
"It was really a lifeline for my parents," Cardillo said.
The divide beween Cardillo and her parents after the storm illustrates one of the major concerns with the reliability of the new telecommunications infrastructure, consumer advocates say. Phone companies are phasing out their aging copper-line networks and moving customers to either wireless service or landline phones that run over the Internet. But the newer technology relies on something that didn't exist for days across the Northeast: electricity. After the storm, Cardillo's parents found that their phones worked only because copper wires carried electricity from the phone companies' offices.
"This storm highlighted that you might want to think twice about removing copper because it provides an alternative source of access," said Christopher White, an attorney with the New Jersey Division of the Rate Counsel, which represents consumers on utility issues.
Phone companies dismiss notions that their old copper networks are more reliable. They say copper lines can be disrupted by falling trees or poles, or get damaged by heavy flooding. Verizon said its newer fiber-optic cables are less vulnerable to water damage.
"Generally speaking, this storm presented challenges that go beyond the typical reliability question," Verizon spokesman John Bonomo said in a statement. "In the long run fiber is a more reliable technology.
Phone companies say they are moving customers to wireless or fiber-optics because people are demanding more bandwidth for data and video. The newer infrastructure is also more profitable in the long term -- the old copper networks are expensive to maintain, while the new networks allow companies to sell lucrative bundled services.
On Wednesday, AT&T announced plans to phase out its old, copper-line phone system -- which covers 76 million homes and business in 22 states -- and replace it with a fiber-optic broadband network or high-speed wireless. Verizon has similar plans to abandon its old phone network and move customers to wireless or digital phone service.
Phone companies are also trying to get out of their obligation to provide landline phone service in rural areas by saying rural customers can rely on high-speed wireless instead. By freeing themselves from regulations, AT&T and Verizon would no longer need to maintain their aging copper networks. But Hurricane Sandy exposed how vulnerable wireless networks can be in severe weather. After the storm, about a fourth of cell towers were knocked offline, and thousands of wireless customers lost service.
On Friday, Federal Communications Commission Chairman Julius Genachowski said the power outages gave the commission "new lessons to learn" about making phone service more reliable after hurricanes, though he did not say whether the agency would introduce new regulations.
"Power goes down and that's the biggest hit to our communications networks," Genachowski said Friday on CNBC's "Squawk Box." "We need to make sure we take the steps so our communications networks are up and running, even when power goes down."
Verizon customers who rely on web-based landlines to make calls have eight hours of backup battery power before the lines go dead. Bonomo added that most Verizon customers use cordless phones that run on electricity, so they could not have made calls during a power outage even if the company still used the old copper system. He suggested that customers use portable generators to keep their phone service running if they lose electricity.
AT&T, which has 2.7 million digital phone customers, says their customers are responsible for ensuring the backup batteries for their digital landlines, which last for four hours, are operating.
"We recommend that all customers always have an alternative means of accessing 911, such as a wireless phone," AT&T spokeswoman Emma Goss said in a statement.
But after the storm, Tyrone Sylvester, 55, who lives in lower Manhattan, found that neither his cellphone nor his Internet-based landline from Verizon worked. He said he needed to call his parents to make sure they were safe, so he rode his bicycle 30 blocks uptown until he found a working pay phone to check on them.
"I thought my landline would be on in an emergency situation," said Sylvester, who lives in the Jacob Riis Houses, a public housing complex in Manhattan's East Village neighborhood. "But that was not the case."
Edwin Pereira, 55, who also lives at Jacob Riis, said he recently switched from an old corded phone to Verizon's digital phone service. He said the old phone worked the last time there was a power outage, and he wished he had it last week. His mother, who is in her late 70s and lives in his building, has arthritis and diabetes He needed to call her doctor because she was running out of medical supplies.
"Her vital medication was being delayed because I didn't have phone service," he said. "It could have been life-threatening."
Marilyn Askin, 79, of Monroe Township, N.J., said she never switched to Verizon's digital phone service because she wanted to ensure she could make a phone call if there was an emergency and she lost electricity. After Hurricane Sandy knocked out power in her neighborhood for several days, Askin said her corded telephone kept working, allowing her to contact family and friends.
"I wanted to keep my old reliable service," she said. "Otherwise, what happens if we're without power for a week?"
Related
Before You Go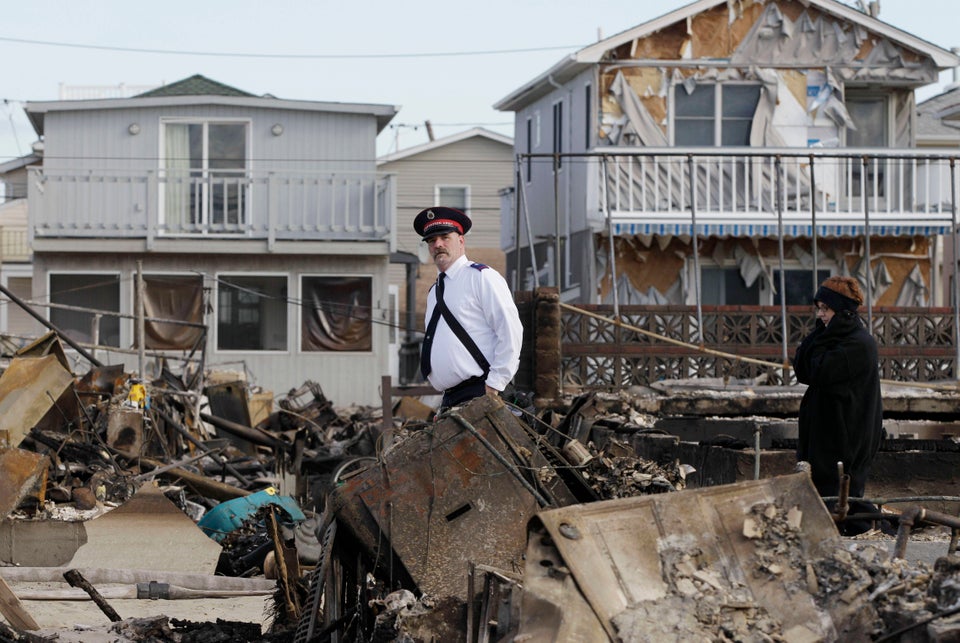 Hurricane Sandy
Popular in the Community