President Donald Trump's politicization of his contacts with families of fallen soldiers has thrust a spotlight on a deadly attack on U.S. forces in Africa this month that remains a puzzle, with crucial gaps in the military's investigation.
A U.S. patrol team on a routine train-and-advise mission in Niger on Oct. 4 was ambushed by about 50 militants affiliated with the so-called Islamic State in the Greater Sahara. The attack killed four U.S. soldiers and at least one member of the Nigerien armed forces. Two Americans were injured.
More than two weeks later, military investigators still lack accurate information, Defense Secretary James Mattis said Thursday.
What we do know is that the handful of soldiers was meeting with locals in a village on Niger's border with Mali, not expecting to come under fire.
It's still unclear how militants managed to mount a surprise attack on the U.S.-led forces. The details of militants' identities and what happened during the firefight are also murky. The security of the troops also has been called into question. Patrol members apparently were only armed with rifles, and were driving in unarmored vehicles.
"They met an overwhelming force," a counterterrorism official told ABC News of the U.S.-led patrol. "They were outgunned and outmatched. The enemy had relative superiority in numbers and fully enveloped and outflanked the team. I think they got cut in half with suppressive fire."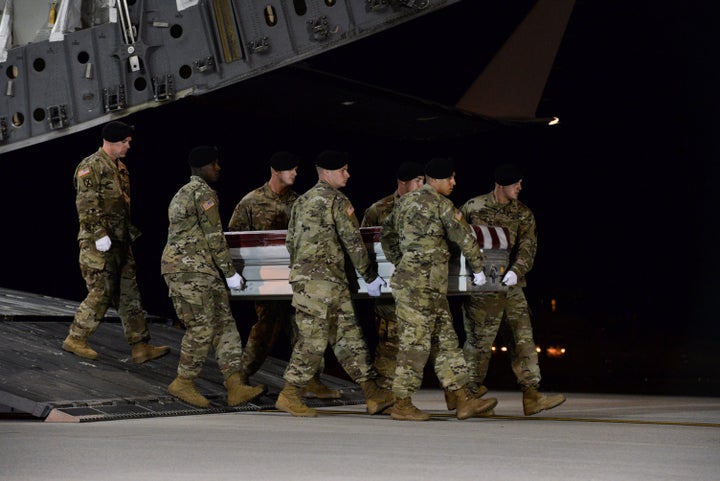 Sgt. La David Johnson was missing for up to 36 hours after the attack, leading to a search-and-rescue operation, the details of which have yet to come to light.
A U.S. contractor evacuated U.S. and Nigerien troops following the gunfight, the U.S. Africa Command said, although it's still unclear when that rescue happened and whether it involved an airlift. There also were reports that French helicopters rescued the ambushed troops from 275 miles away.
The recovery of Johnson's body suggested other soldiers in his team made a "tactical withdrawal" under fire, leaving Johnson as the person behind.
"If they had stayed, everyone would have died," the official told ABC.
Mattis contradicted this on Thursday, saying "the U.S. military does not leave its troops behind." U.S., French and Nigerien forces "never left the battlefield" until Johnson was found, added Lt. Gen. Kenneth F. McKenzie, the joint staff director.
The group behind the attack is part of the puzzle. Islamic State in the Greater Sahara was created in 2015 and was officially recognized as an ISIS splinter group the following year. Its leader, Adnan Abu Walid, has belonged to various other local terror organizations, including al Qaeda's affiliate in West Africa. No group has claimed responsibility for the attack.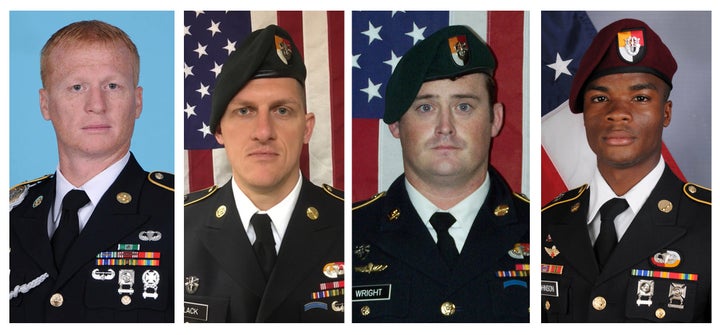 "We did not know about Niger until it came out in the paper," Sen. John McCain (R-Ariz.) told reporters on Thursday. "We need to have a process of communications, which I've had with other administrations, of exchanging information and knowledge."
McCain, chairman of the Senate Armed Services Committee, said he wants answers from the Defense Department, and his demands "may require a subpoena."
Trump this week invoked chief of staff Gen. John Kelly's son, Marines 2nd Lt. Robert Kelly, as he claimed former President Barack Obama and other previous presidents didn't call the families of fallen troops.
Rep. Frederica Wilson (D-Fla.) then came forward to recount a conversation she overheard this week between Trump and the pregnant widow of Army Sgt. La David Johnson, one of the four soldiers killed in Niger. Trump reportedly told the woman that her husband "must've known what he signed up for" and referred to him repeatedly as "your guy."
The Sahel region has become a hotbed of extremism, and American special forces teams are operating in remote areas across the region, an official said. Army Green Berets have gone to the Mali-Niger border 29 times in the last six months.
The U.S. is in the area training local forces and assisting French forces battling terrorist elements primarily based in Mali. Hundreds of troops are spread across several outposts in Niger to provide intelligence, surveillance and reconnaissance.
Popular in the Community