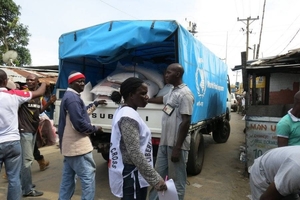 We have to do more to stop the Ebola virus. Everyone knows that starts at the source in West Africa.
As we speak, the UN World Food Programme (WFP) is taking the lead in Sierra Leone. WFP said today they are carrying out the largest single food distribution there since the Ebola outbreak began. Waterloo, an area near the capital, is receiving the bulk of the food.
It's a huge and dangerous mission. Over 700 aid workers are involved. There are safety issues too of course with this deadly virus. The workers have to deliver the food, while avoiding contact with anyone who might have Ebola.
Over 265,000 people today in Sierra Leone will receive rice, pulses, vegetable oil and salt. Gon Myers, the WFP director in Sierra Leone, says,
"Providing food to such a large number of people in one day is a challenge. We have to deploy many staff and speed up the distribution process to reduce risks both for the people receiving food and for staff, as Waterloo has seen some of the highest cases of Ebola infections in recent days."
The food is critical for so many reasons. Sierra Leone is a country that suffered from hunger even before the Ebola outbreak got started. A virus can thrive more effectively where the population is weak from malnutrition. So food aid helps prevent the spread of Ebola.
Families who are facing quarantine need the food to survive. Otherwise, they will head out to look for food, and risk spreading the disease even more.
The WFP rations being delivered today in Sierra Leone will hold families for 30 days. It's part of a larger West Africa mission to feed over one million people. Liberia and Guinea also are receiving WFP food aid as part of the Ebola response.
What the international community has to do is make sure WFP and all agencies have the supplies they need. WFP, for example, relies on voluntary donations. They are really stretched on resources because they are leading relief missions in Syria and South Sudan, which requires tons of food.
For West Africa, WFP needs $179.6 million to get through February 2015. However, only one-third of the funding has been received.
It would be catastrophic if WFP were forced to reduce rations or cut food aid in West Africa at this critical time. The international community cannot fail when it comes to funding
What about UNICEF? In a recent report they highlighted the need of food for small children in quarantined households and care centers. However, UNICEF is short on funding too. They are providing clean water and medical supplies but cannot sustain this unless donations come in.
This humanitarian aid is needed now more than ever to stop the Ebola threat. Afshan Khan, UNICEF Director of Emergency Programmes, says,
"Ebola is killing people and undermining futures. It is closing schools, destroying health systems and threatening the very fabric of communities. This is a crisis of enormous proportions...We can save lives now if every country, every agency that has the means to support, does so."
The Ebola virus is causing fears in almost every nation now. There is a course of action that can solve this crisis. That means knocking out the virus in West Africa. That will virtually end the threat to all nations.
Lack of funding for humanitarian agencies will limit the Ebola response at the source. So a simple way to help is to support WFP, UNICEF and other agencies that are working in West Africa. If everyone does a little, we can accomplish a lot.
Related
Popular in the Community