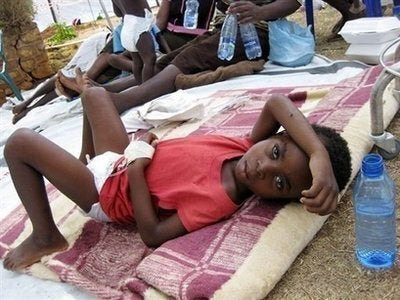 This morning, one billion people around the world woke up hungry and tonight, they will go to sleep hungry. This issue has not gotten the attention it deserves, and it is a personal priority of mine and of the Obama Administration to address the challenge of chronic hunger with a very high level of focus and dedication.
Hunger is not only a physical condition. It is a drain on economic development, a threat to global security, a barrier to health and education reform, and a trap for the millions of people worldwide who work from sun-up to sun-down every day to produce a harvest that often doesn't meet their needs.
Today at the World Food Prize ceremony at the State Department, I am honoring Dr. Gebisa Ejeta, who has transformed farming in many parts of the world and saved millions of lives by identifying varieties of a key African crop resistant to drought and specific types of weeds.
We have the resources to give every person in the world the tools they need to feed themselves and their children. So the question is not whether we can end hunger. It's whether we will.
The Obama Administration is committed to providing leadership in developing a new global approach to hunger. We will look to 7 guiding principles to support the creation of effective, sustainable farming systems in regions around the world where the current methods aren't working:
We will seek to increase agricultural productivity, by expanding access to quality seeds, fertilizers, irrigation tools, and the credit to purchase them and training to use them.
We will work to stimulate the private sector, by improving the storage and processing of food and improving roads and transportation so small farmers can sell the fruits of their labor at local markets.
We are committed to maintaining natural resources, so the land can be farmed well into the future. That includes helping developing communities adapt to climate change, which has had a major effect on the world's farms.
We will expand knowledge and training by supporting R&D and cultivating the next generation of plant scientists.
We will seek to increase trade so small-scale farmers can sell their crops far and wide.
We will support policy reform and good governance, because sustainable agriculture flourishes in a clear and predictable policy and regulatory environment.
We will support women and families. 70% of the world's farmers are women, but most programs that offer farmers credit and training target men. This is unfair and impractical. An effective agricultural system must have incentives for those who do the work. And it must take into account the particular needs of those whose futures will shape our world: our children.
These seven principles will guide us and help us set benchmarks to measure the impact of our efforts. We are committed to collecting data, assessing our progress, and when necessary, correcting our course.
Supporting sustainable agriculture won't be a side project of the Obama Administration. Attacking hunger at its roots will directly impact whether we meet our foreign policy goals and I invite each and every one of you to join this effort.