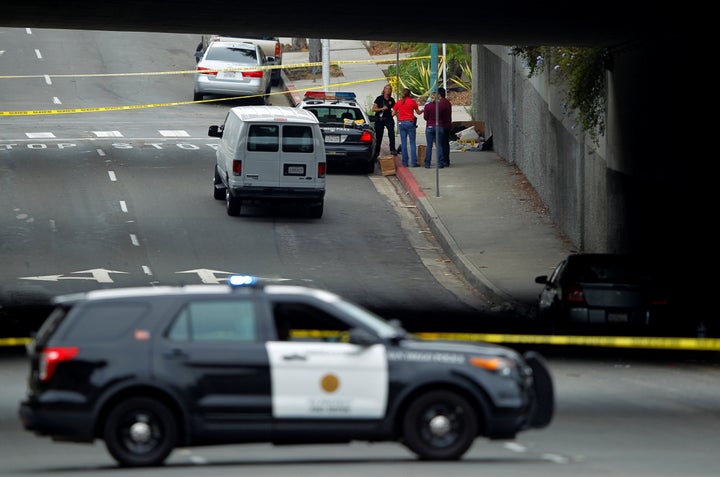 Violence against homeless people is on the decline in the U.S., but the nature of such crimes hasn't changed much, according to a new report.
While the drop is bolstering news, advocates say that the crimes are just as heinous as ever.
In San Diego, for example, a 36-year-old man was arrested earlier this month in connection to four attacks on homeless people. Two were killed – one burned to death, the other beaten to death ― and two were severely injured, according to CNN. 
In April, two brothers allegedly tied up George Lowery, 50, who lived in a makeshift camp, robbed him and beat him. He died four days later.
That these crimes happened in such close proximity to one another isn't all that surprising, according to the new report.
A quarter of all attacks against homeless people in 2014 and 2015 happened in California, the most of any other state. Florida had the second most crimes committed against homeless people. 
The National Coalition for the Homeless said it continues to analyze and release this data in an effort to demonstrate why homeless people need increased protections and to encourage lawmakers to commit to combatting such hate crimes.
The FBI currently doesn't recognize protected status for people experiencing homelessness.
But advocates say the nature of a homeless person's situation makes him more susceptible to getting attacked.
"Without shelter, the homeless population is particularly vulnerable to both the elements of nature and the abuses of society," the report noted.
A number of states, however, including California and Florida, have classified attacks against homeless people as hate crimes. Such categorization is important because it comes with heavier sentencing. 
NCH says that changing general attitudes toward homeless people is just as critical when it comes to fostering an environment of reduced violence.
"Many attacks occur because they are simply dehumanized in the bigoted minds of violent offenders," the reported noted. "Targeted violence against the homeless further isolates and degrades them individually and communally while diminishing their collective sense of security."
Calling all HuffPost superfans!
Sign up for membership to become a founding member and help shape HuffPost's next chapter