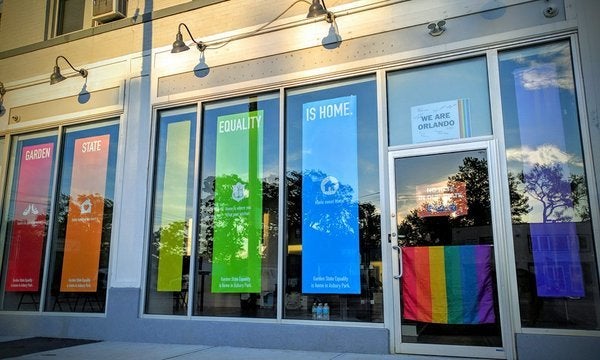 Cities like Orlando, FL and Asbury Park, N.J. have been though of as haven of sorts for the LGBT community, with services, nightlife and restaurants that were openly supportive to the community and the citizens of these cities. In what is becoming a new normal of sorts in the political climate that we are in, both Equality Florida and Garden State Equality have both had their headquarters attacked in recent weeks.
On February 23rd, someone threw something at the front of the Equality Florida office in Orlando, although the implement that created the damage was never found.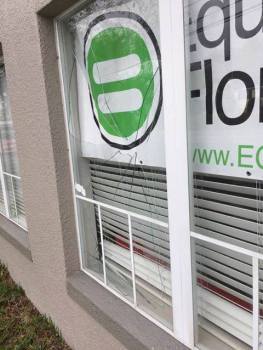 EQFL wrote on its Facebook last night that "EQFL staff member Michael Thomas Farmer is currently at our Orlando office after receiving a call that something had been thrown through one of our office windows," We are waiting for the police to arrive to receive further information. But know, if this was some kind of an attempt to scare us from doing the work that we do – it will not work. We will not be intimidated, and we will not back down from our fight to end hate and secure full equality for ALL."
While there was no note left, the intent and message is more than clear. Thankfully, no one was in the office at this time and the window has been generously repaired by an anonymous donor, but the damage and general uneasiness will reverberate through the community for quite some time.
On March 4th, the office of Garden State Equality was attacked and vandalized while Executive Director Christian Fuscarino was inside (thankfully he was not injured). Garden State Equality states in their press release ; "This kind of incident shows that hate knows no boundaries. It is not restricted by geography, even in a state as historically progressive as ours. While we have been shaken by this attack, the LGBT community in New Jersey will not be intimated, nor will it be silenced. We will continue to fight for equality for all our members, and for any individual or group who finds themselves the victim of a similar hateful and dangerous act," said Fuscarino.
In New Jersey, the LGBT community is lucky to have a diverse, vibrant and active group of allies, all of which spoke up immediately following this disturbing attack. Their press release continues;
"Garden State Equality is on the front lines of the fight to advance equality for all. An attack against any community is an attack against us all. I condemn acts of hate against all communities, whether Jewish, Muslim or LGBT, in the strongest possible terms. We must stand united with love against the shadow of hate that has been cast over our great nation" said Senator Cory Booker (D)
"Garden State Equality is a pillar of our community fighting to make sure every citizen of New Jersey has the respect and equal rights they deserve, regardless of their sexual orientation or gender identity. There is no room for this kind of shameful violence, vandalism, or hate in New Jersey or anywhere in America. We stand with Garden State Equality and the LGBTQ community," said Congressman Donald Norcross (D)
"As soon as I heard about this disturbing act at the offices of Garden State Equality, I called Christian to make sure everyone was ok. There is no room in our society for this. Period." said Congressman Tom MacArthur (R)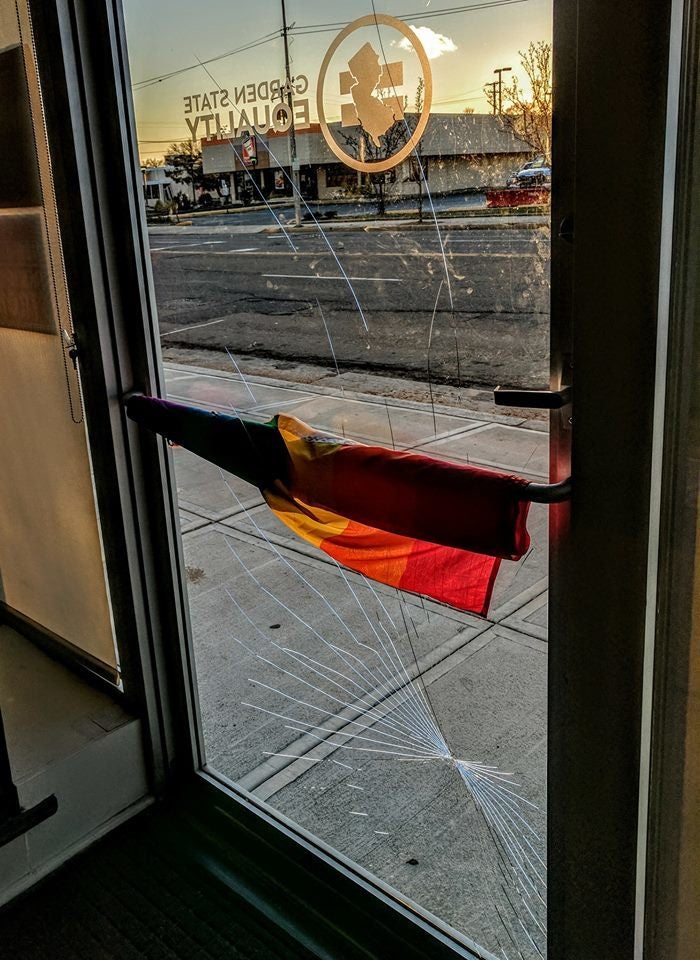 "It is a sad time in our country when Americans must fear their neighbors, we must work to respect each other more than ever before. No American citizen should be targeted with violence, the LGBT community here in New Jersey should be as safe as any. All victimization makes each of us less safe, let's work to be vigilant and protective of each other" said Assemblyman Tim Eustace (D)
"Asbury Park has been a haven for the LGBT community for decades. That vandalism does not represent the town as a whole & strengthens our resolve to stand with our gay, lesbian, bi, and trans brothers and sister." said Asbury Park Councilwoman Amy Quinn.
The Orlando community has always been a tight knit community, but with the events at the Pulse Nightclub last summer, they have a now unbreakable bond within the community and it's allies. As for Asbury Park, the LGBT community is largely credited with bringing the city back from a very blighted time, with Garden State Equality making Asbury Park their home base being a definitive moment for LGBT rights and activism in New Jersey.
It is glaringly obvious to us all of us that we are living in a very different world now. We hear the almost daily news stories about attacks on minorities, with the aggressor stating that it is now "_____'s America." While these attacks are indeed saddening, and while it may feel like we have taken one step forward (with the last administration) and two back with the "administration" in charge now, the one thing we must not do is give in. We must continue to fight, to persevere, and to be aware and diligent of the changes that are attempting to be made. Above all, we must speak up loudly if we disagree with these potential changes, especially if they infringe on our rights as Americans. Our equality my friends, is not something that is up for negotiation.
After many of us watched the incredible ABS miniseries "When We Rise" this past week, I am reminded of a quote by longtime LGBT activist Cleve Jones; During those days when you're exhausted and during those days when you're frustrated, during those days when you're being attacked by your own people for doing what you think is right, remember you're part of a progression that goes back a long time of ordinary people who are doing their best to make it a better world.
To visit Garden State Equality visit : http://www.gardenstateequality.org/
To donate to Garden State Equality visit: https://gardenstateequality.nationbuilder.com/donate
To visit Equality Florida: http://www.eqfl.org/
Related
Popular in the Community