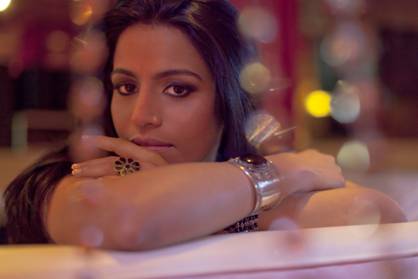 Photo Credit: Studio Dima
Based in New York, India born songstress Falu drops her new album Foras Road on May 28th, which was produced by Grammy-award winning producer Danny Blume of Jewel and Lisa Loeb fame. The road referenced in the title is located within the oldest red-light district in the Indian city of Mumbai, and the album itself traverses the musical traditions and cultural history of India's centuries-old brothels. Falu sings in seven South Asian languages throughout the album and while blending Indian classical and folk music with her own original compositions, she adds modern instrumentation.
Falu explains the song being premiered here. "'Ghumar'--a type of fancy dress worn in the state of Rajasthan, India, the language is Rajasthani--is about celebrating the fact that a girl is finally attaining womanhood. In the song, I describe that she wants to get a beautifully decorated skirt along with gorgeous ornaments. She also wants the stars to decorate her sari as a sign of her entry into womanhood. The song is about feminine strength and instinct."
FYI, Falu performed a high profile duet with Slumdog Millionaire composer A.R. Rahman at the Time 100 Gala with First Lady Michelle Obama and Oprah Winfrey in attendance. The artist also will be performing at New York City's Highline Ballroom on May 29th in conjunction with the release of Foras Road.
For more information on the new record and the Highline show: http://www.falumusic.com.

Tracks:
1. Ghumar
2. Savan
3. Bahaar (13)
4. Govind
5. Tarana
6. Jaagne
7. Hori
8. Lal Lal
9. Rangalo
10. Basti
11. Badra
12. Alaap
Calling all HuffPost superfans!
Sign up for membership to become a founding member and help shape HuffPost's next chapter